Lovecraft Country follows its strong start with Whitey's on the Moon. The theme of trust runs deep and if you thought things were weird before, they decided to raise the crazy bar considerably.
1. Trust
The time period and setting continue to do a great service to this show. The intro gives us a bit of an emotional breather, but from that point forward, the Braithwaite Lodge feels eerily uncomfortable. As Tic pointed out, Black people would not normally find such treatment and accommodations from white people, especially not rich white people that consider our trio strangers. It is an interesting dynamic. Tic, Leti, and Uncle George do not know that something supernatural is happening quite yet, but their positive treatment is the first clue that something is not right.
Questions of trust run deeper with Christina Braithwaite. She has a conversation with Tic regarding friendship and trust but you can tell all of her cards are never on the table. She wants trust without vulnerability; to present herself as "one of the good ones" while never separating herself from the Sons of Adam mission. Even in acknowledging that she will never be given a seat at the table of the organization she serves; she cannot force herself to cross them in any significant manner.
This is a dramatization of genuine mistrust between Black people and the "good" white people. Declining membership to any racist group does not mean you have Black people's best interest in mind. The absence of hate is not love and a common enemy does not equate to ally-ship. Just as things played out in the episode, a misunderstanding on trust can have deadly consequences.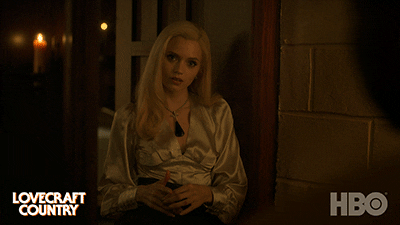 2. Trauma and Mystery
Whitey's on the Moon definitely took a step up in the supernatural spectacle. In Sundown racist sand flesh eating beasts were the worst of things. Now we have bloodline cults, biblical zealots, cannibalistic black-tie dinners, and witchcraft to worry about. There are points in the episode where we get peaks into people's thoughts or desires. Uncle George dances with a woman that is not his wife. Leti is comforted and then assaulted by who she believes to be Tic. Tic is attacked by someone he seemingly knows form the war. We are finding out that all our leads are working through something that, if they are not careful, can get the better of them.
I'm sure these visions will have greater purpose in later episodes and I cannot wait to find out more. That being said, I am not convinced that Uncle George is dead for good. You don't cast a Courtney B Vance in that role for 20% of a season.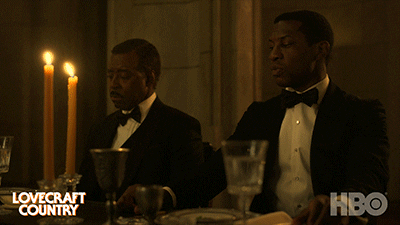 3. Acting
Those that are familiar in the community are aware of the difference between a "singer" and a "sanger". The later implies an intangible mastery of the art form. Now, apply that logic to these actors, because they are "sanging". Michael K Williams is continuing down his life's path of being phenomenal for HBO (Boardwalk Empire, The Wire). The few brotherly exchanges he shares with Courtney B Vance are electric.
The pièce de résistance of the episode if right after Tic escapes the collapsing lodge. Jonathan Majors and Jurnee Smollett take you on an entire emotional rollercoaster without speaking a word. The relief that Tic made it out, Tic celebrating that Leti is actually okay after all, the realization that Uncle George did not get his turn to be healed and all the pain and anguish that followed. I got up and walked away from the screen. How dare they be able to convey so much with just their eyeballs. It was a powerful 30 seconds to say the least. On top of all that, this cast is also able to deliver the funny beats when needed.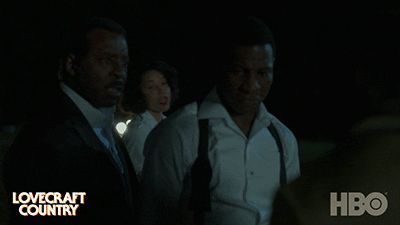 TLDR
Whitey's on the Moon is break neck turn into the more blatant supernatural. This show continues to do great work explaining how where we are today will always be tied to the uglier truths of where we have come from as a country. Misidentifying an ally can cost a life. This show will be getting Emmy nods.