The time has come to say goodbye to two of our own. We have grown with them, shared with them, and loved with them. This week's episode gave a final farewell to Nora Darhk and Ray Palmer.
The Announcement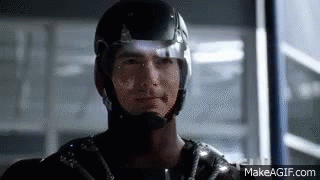 It is the morning after the happy couple's wedding. Nora wakes to another proposal from Ray, to move out. Our two Legends discuss and ultimately decide to leave the ship after one more mission. The next question is, how do they tell their friends?
The bathroom line seems a good as time as any. Yes, you heard me, the bathroom line. The Waverider appears to have only one bathroom. Zari is in it doing her hair. She is taking so long that every single person is in line, except for Nate.
Ray is about to make the annoucement when Mick beats him to it.
"You're moving out. You got married and the next logical step is to move out."
Mick steals his thunder. Everyone is sad but understands. Nate joins the line and everyone hushes up. Ray doesn't tell Nate. Instead he tells them they are leaving for their honeymoon.
Bachelor/Bachelorette
The team set out to find the first piece of the Loom of Fate. It turns out it is with Charlie's old friend, William Shakespeare. It has been fashioned into a ring and sits on his finger. While the boys and Charlie are out getting it, the women are having book club.
Book club soon turns into Sara suggesting they throw Nora a proper Bachelorette party. Mind you Sara is already two drinks in when she suggests this. Let the insanity begin!
A montage begins. First the girls are racing animal bikes through the Waverider.
Then they are dancing and drinking. They get Nora a pony.
Finally, a male stripper and more drinking.
Meanwhile in London the boys are at a bar getting drunk sharing their feelings. Charlie grabs the ring so Nate proclaims Ray's Bachelor party has begun. Yet, they continue to drink and share their feelings.
Romeo V. Juliet
The bachelor party doesn't end well as one would imagine. They end up fighting the entire bar and everyone sees their powers. Nate drunkenly tries to memory flash them but he does it in the opposite direction. The Legends leave the bar with a whole room full of witnesses.
Shakespeare writes a play about superheroes instead of Romeo and Juliet.
The Legends have to go back and set it right.
Nate finds out that Ray is leaving for real.
Nate is really angry at him for lying. He tells Ray to just leave and they will finish the mission without him. Mr. Heywood realizes he is being stupid. He runs back to the Waverider, but Ray has already left. He starts to cry. We all do.
Ray appears behind him and says he couldn't leave without saying goodbye. Cue the most adorable farewell and hug. The next morning everyone is at the table. They all drink Ray's horrible green juice. They cheers to Ray and Nora.
Well world, how do you feel? It was an emotional episode. Saying goodbye to Ray and Nora was awful. Ray was one of the last OGs. They will be missed every single day. Thank you to an amazing 5 years, Ray and Nora. We love you!
Legends of Tomorrow airs Tuesday nights, at 9pm on The CW.