Legends, it finally happened. After 8 years of Arrow and 5 years of Legends of Tomorrow, Caity Lotz directed an episode of Legends. Let's see how she did!
Terminal
John Constantine has 24 hours left to live. He must figure out a way to prolong his life, or he will die of severe lung cancer. This isn't a super stressful event, because everyone dies multiple times on this show. It does, however give us a glimpse of the softer side of John Constantine.
Nora tries to get her kid to wish him better. Fail.
One of the creatures from a previous episode, tries to heal him. Fail.
John tries convince Ray to let him cut him open. Fail.
Finally John must visit Astra. He promises her he will bring her Mother back, if she lets him live. We all know it never ends well when we try to change fate. She agrees, but warns him, if he doesn't keep up his end of the bargain he will die. Fun Fact: If John were to actually die, he is leaving his house to Gary!
Fate
Speaking of fate, let's get back to the loom. The Loom of Fate determines a person's fate. It is as basic as it sounds. John wants to find the loom so he can change Astra's Mother's fate. Charlie doesn't want him to. We found out last episode that Charlie found the Loom and destroyed it.
She scattered the pieces throughout the multiverse. When the multiverse became one, they all ended up on the same Earth. This is causing Charlie to have major headaches and her face to shift. Why you ask? We find out that Charlie was one of the Greek Fates! I know right?! Charlie's name is actually Clotho (The Spinner). Her job was to spin the loom.
Charlie believes that people should create their own destinies. That's why she destroyed it. Now that the pieces are all on one Earth, they have been activated. Charlie's sister's are coming for her and when they find her they will kill her. The Legends tell her they got her back. It's as adorable as it sounds.
Mortal Khanbat
Ava is still our interim Captain, while Sara is gone. The Legends mission is to find Genghis Kahn in Hong Kong and capture him. The dude has a magical sword that vaporizes people and he isn't afraid to use it! Genghis is trying to take control of the Triad. His goal: World Domination.
The Legends try to tranq him. It doesn't work.
Next, Behrad goes after him alone.
Finally, Behrad and Charlie capture him.
How do they do this? Behrad uses his wind power to stop the Triad's bullets. Meanwhile, Charlie fights Genghis and wins. She stabs him with his own sword and he dies. They finally have a weapon that can kill the encores! Yay. Also, I love how they still have Marie Antoinette on the Waverider. We also find out Behrad and Charlie slept together. Charlie doesn't care and neither do we. We stan #Zarlie.
Debut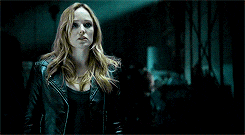 Sara comes back at the end of the episode.
"What did I miss?"
The Legends fill her in. Well what did Caity miss? As far as her directorial debut on Legends goes she did pretty well. Caity has directed 2 other projects. You could tell she was a first time television Director. She had some great action shots. A hilarious and crisp scooter chase. With the John Constantine storyline she gave us some solid dramatic scenes.
Hopefully Caity will direct Legends in the future. I would love to see her grow and develop. She has the right stuff! What did you think of the episode? How did Caity do? Did you enjoy the Hong Kong adventure?
Legends of Tomorrow airs Tuesday night, at 9pm on The CW.