Superfans, 100 episodes have been made. We have sat by and watched as enemies have been made and redeemed. We have followed Kara Danvers as she becomes Supergirl. Superfans have cried at our losses and rejoiced in the happy times. In the 100th episode we take a look back on one of the biggest relationships in the Arrowverse, Supercorp!
Whether you believe Kara and Lena to be best friends, or something more is up to you. One thing is for sure, out of all Kara's past and current relationships, her friendship with Lena has been the most intense and well developed. (We are excluding the Danver's Sister's relationship, because that is obviously the best.)
Join me today as we take a look at the highs and lows of their friendships. Things we wish wouldn't have happened or things we wished did. The 100th episode gave us these moments. Love or hate the episode, it was definitely a ride!
1. Mxyzptlk gives Kara a front row seat of her life.
Mr. Myxzptlk is back with a new face! He knocks on Kara's door and informs her of his return. Myxz can no longer use his powers for evil, because of a 5th dimensional court order. He must spend the rest of his sentence using his powers to help the people he has wronged. One of these people, is Ms. Kara Danvers.
Myxz wants to help Kara fix her friendship with Lena. I assume like everyone else who watches the show, he is sick of seeing the two of them on opposite sides. Yes, I know that isn't the reason, but seriously how long do we have to endure this?
Really Myxz acts as the voice of the people in this episode. He points out everything that didn't make sense and collects tapes of top #Supercorp moments. His character is hilarious and a breath of fresh air. Which we all needed from all the doom and gloom this season!
2. Kara gets a re-due.
Kara, unlike another superhero we know, doesn't mess with the timeline. Myxz and Kara sit on the couch in her apartment. He and Kara run through the different moments in Kara's life she could have changed in reference to her relationship with Lena. Kara is allowed to go through each world and see what happens. If she likes one, she can officially choose it.
Kara first tells Lena the truth right before Mery Graves attacks L-Corp. It goes horribly and Kara ends up dead in 2018.
The second time she tells Lena is during the Reign storyline. That ended even worst, because Lena, Mon-El, and Sam die.
Third time is a charm right? No. In this one Kara tells Lena she is Supergirl when Lena first brings up the betrayals of her past. They do a lot of great things together.
The third one ends with everyone knowing Kara's identity. It does not end like Oliver's storyline. Everyone she loves gets hunted and dies. One last go before you hang in the towel, right?
3. The Final Reality
Have you ever wanted to see Lena Luthor go fully evil? No you haven't? Me neither. Luckily this reality doesn't stick either. We knew this final one would not actually happen, but it still gave us all the feels. What made our dear Lena become a full fledged villain? Kara thinks Lena's life would have been better without her. Myxz makes it so.
Kara and Lena never met. This leads to Evil Dictator Lena.
National City has become a police state, where Lena rules all.
The world is rubble and only the Superfriends are left to fight her.
Naturally this world sucks. They fight evil Lena and her supersuits so Myxz can get his powers back and send them back to the current reality. Kara realizes she must deal with her failures and move on. She flies to see Lena and talk to her one more time.
4. The Villain
Kara thanks Mxyz for trying. She tells him he has fulfilled his duties, so he leaves. Ms. Danvers is off to see Ms. Luthor. As you can imagine this doesn not go the way we all wanted it to go. It can't or else the story arc of the season would end. Is it wrong that even though I knew how it would end, I still had the smallest hope that Lena would come around.
Kara tells Lena she is sorry that she didn't tell Lena she was Supergirl sooner. She has apologized a million times and she doesn't know what more she can do. Supergirl tells Lena if she decides to forgive her, she will be there for her always. If Lena does not, then everything that happens from this point on, Kara will hold her accountable. (She is referring to Lena and Lex's partnership.)
Supergirl utters these sad words,
"If you continue down this path with Lex, I will stop you like every villain before you."
Did your heart stop beating? Are you devastated? It finally happened. Kara called Lena a villain. We were all thinking it, but she said it. Yes, I know she didn't present day call her one, but she warned her against being a future villain!
5. The Guest Stars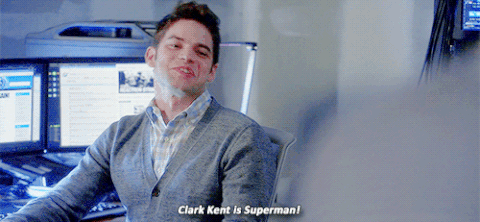 The 100th episode was filled with mostly sadness and regret. We can take some closure in the fact that Kara is done apologizing and accepts her past. Although it was mostly heartbreaking, the audience got to see many #Supercorp scenes in one episode. Which is what we deserve. Not to mention the fact that we had some great guest stars. Talk about blasts from the pasts.
The Graves' brother returned. Sam and Mon-El stopped by. Winn made another appearance, Ben Lockwood, and many more. We ran through the five seasons. Changed some things, saved the others. We laughed, we cried, and we basked in the nostalgia. As far as 100th episodes go, this one was pretty great.
What did you think of the episode?
Supergirl airs Sunday nights, at 9pm on The CW.