Legacies 2×10 "This Is Why We Don't Entrust Plans to Muppet Babies" aired January 23, 2020
Oh, Alyssa! Salvatore School baddie Alyssa Chang isn't just your average mean girl. She's an troubled teen with an even more troubled past. In 2×10 "This Is Why We Don't Entrust Plans to Muppet Babies", we learned that Ric and Emma basically Jean-Grey'd her, erasing the memories of all of the terrible things she's done. (And also that Wade is a FAIRY!)
Emma and Ric have also been sending troubled students to a prison world, the same prison world that Josie and Lizzie created when they were kids with Bonnie Bennett. I may be way off here, but sending a group of evil/troubled/supernatural beings to a prison world—together—is a recipe for disaster.
Er, what's the worst that could happen, right?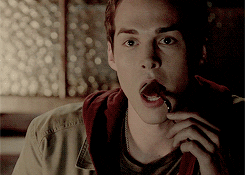 Who wants to bet that Kai (who is also in this prison world, guys!) is rounding up the troubled supernatural youths sent there to exact revenge? Live dive-in to some predictions as to what will take place with Ric, Josie, Lizzie, (and Sebastian!) in the prison world.
More familiar (and new) faces
We learned that Sebastian was sent to the prison world, who else has been sent there? And what are they going to do when they see Ric?
This is a long shot, but my hope is that someone we REALLY aren't expecting is there. What if Penelope Park never went to (Europe?), and somehow ended up in the prison world instead? Maybe Ric found out she knew about The Merge, and if she knew about The Merge, she might know more secrets he wouldn't want broadcasted. Like, say, he's been sending teens to the prison world where his psychotic brother-in-law is trapped?
Sebastian treats Lizzie like a GD lady
Full disclosure: I was salty about the car sex. Not only was Landon's body in the trunk, Sebastian grabbing Lizzie's neck resulted in me yelling at the TV screen. I thought long and hard about Sebastian, and I'm rooting for him. I'm rooting for him to do the right thing, and he can start by dropping the "I don't care" act, and letting his heart open up to a little humanity.
Kai!
The first photo of actor Christopher Wood's return as the TVDU's best villain Kai Parker was released this week, promising an insane two-episode stint, beginning on February 6. It's confirmed that one of his lines is, "Welcome to the supernatural Hunger Games," and given that everyone in the prison world was sent there to be trapped (forever), by Ric (and Kai of course by his nieces), it's not looking good for the Saltzman clan.
But let's not forget, there's a whole lot of dark magic that's been sent to another prison world…
Is dark magic in play here?
We know that the dark magic incased in the hourglass-thing was sent to the other prison world created by Lizzie, Josie, and the rest of the student witches in 2×10. Because Alyssa placed a linking spell on the old ascendant for the Kai-prison world and new ascendant for the new prison world, could these worlds be connected in more ways than one? Could the dark magic somehow be tapped into from Kai's prison world? I have a feeling there's a loophole here (there's always a loophole, right?), but it's not one that works in favor of Ric and his girls.
What are your predictions for next week's episode, "What Cupid Problem"? Comment below or tweet me @lizprugh.
Legacies airs Thursdays at 9pmEST/8pmCST on The CW.
Images: The CW