Supernatural 15×04 recap: Season 15, Episode 04, "Atomic Monsters," Aired November 7, 2019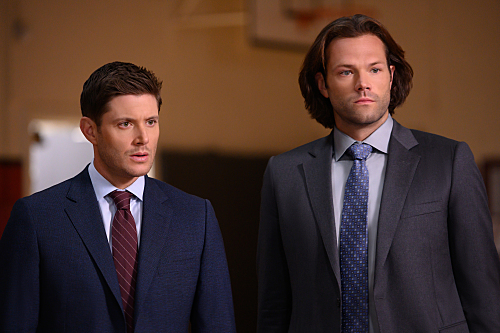 Dream sequence. The opening of the episode is a haunting and eerie version of the bunker. Dean is fighting demons left and right when he comes across a dying Benny (his vampire pal from seasons ago). Dean watches him die (again – ouch) before bumping into a very demonic Sam. It's been a hot sec since they talked about Sam and his demon blood. We are loving this season's constant throw backs! Any-who, Demon Blood Sam snaps Dean's neck and then wakes up. Dark – even for the Winchesters.
Pain and the meat man. Rowena's death is still hurting the boys, and it comes right on the heels of Jack's death making it all hurt even more. Loss is something the Winchesters know well, but it doesn't make it any easier, especially now that the show is ending. Everything feels more final for us, and for them. And side note, don't bring veggie bacon into the Meat Man's kitchen!
Becky and Chuck! Chuck is still hurt and turns to his old flame and former number one fan – Becky! Chuck is looking for someone to give him an ego boost, but Becky refuses. She is running her own Etsy shop and writing Supernatural fan-fic. She is living her dream life. She tells Chuck that the reason he is sad is because he is a writer that needs to be writing. So he writes.
Save the Cheerleader. After a bit of research, Dean and Sam figure out who took the cheerleader. They confront the family, thinking it's the dad, but it's really the son. It's actually pretty sad because these parents just want to help their son and were willing to kill and to die to protect him. The vamp kid is actually super reasonable about all of it. He willingly goes with Dean to get his head cut off. Yikes.
Oh, God. After Becky challenged Chuck's simple story for Dean and Sam, Chuck writes an ending for the boys that is so horrific, Becky is almost in tears. She begs Chuck not to go through with the ending that he has planned for Sam and Dean, but Chuck doesn't seem to care. He zaps Becky and her family away and he's never been more terrifying.
Hope? Dean and Sam have a heart to heart in Baby after they kill the vampire kid and it hurts our hearts. Dean says they owe it to everyone that they have lost to keep fighting, but Sam says he's suffocating under the grief and the strain of it all. It's a terrible and hard life that they lead, and this episode does a great job of showing the emotional toll it is taking. It makes us even more worried about what Chuck has planned.
What did you think of this episode? What do you think Chuck has planned for Dean and Sam? Hit the comments and let us know!
Check out our own Men of Letters Bunker for more Supernatural recaps, reviews and news!
Supernatural airs Thursdays, at 8/7PM CST on The CW.