Charmed, Ep 2×04, "Deconstructing Harry" aired on Nov 1, 2019
Okay, I've watched this one at least a half dozen times and have a few thoughts and questions. Please be aware that reading forward, you will encounter spoilers for the episode. The episode kicked off with some Hacy goodness. The two interrogated Abigael about her being attacked by Dark Harry. It seems that the assassin ambushed the half-demon and interrupted her BDSM fun. Abigael tells them that she never got a look at the assassin's face, but she's been known to withhold certain facts (more on that later). She does admit that she is responsible for the attempts to reunite the demon factions.
The Truth About Abigael
While not my favorite person after trying to kill Macy last week, I'm down for Abigael taking down the demon horde patriarchy. After the attempt on her life, the half-demon thought that her attackers were witches. Hence, the murders in Vermont that for which she claimed responsibility. It's only later when she is with Mel and Macy that Abigael drops the truth bomb about her link to the sisters' past. She is the daughter of Alastor Crane, but no worries she's not that broken up about her father or half-brother's deaths.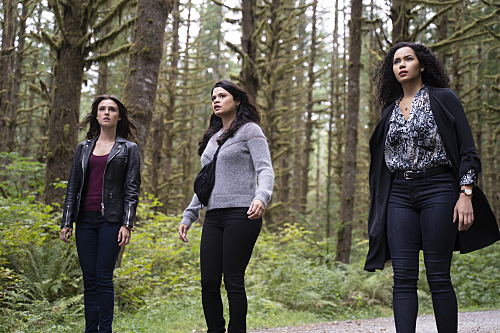 She does take great pleasure in needling Mel when possible. She also has proven helpful on more than one occasion. I'm still very unsure about the girls keeping her so close to them or bringing her to the manor. Loved that response from Maggie when she spotted their "prisoner" at the house". On one hand, they don't have many other places where they could stash her. They can't really let her go, right? Plus, she proved valuable in helping the sisters find Dark Harry's collection of powerful creatures. Sure she's a pain in the butt and let's her dark side out to play quite a lot, but she's funny and it's interesting watching her spar with the sisters. Anyway, Mel gets the last laugh of the evening when she hits Abigael with that containment spell.
Maggie Didn't See That Coming
Maggie's new power gets the spark it needs while she is talking to Jordan about a way to save his gym. Like her mama, our girl has the power of foresight. It's funny and awkward as hell watching her use every excuse she can find to lay hands on Jordan again to trigger another vision. The vision is quick and she doesn't realize what has happened until the moment replays in real time. At that point, Maggie comes to understand that her new crush didn't really just say that he loved her and he has a girlfriend. Oops. It will be interesting watching Maggie as this new power grows and her interactions with Jordan going forward.
Now that Maggie is empowered again, it's definitely time for Mel's new power to put in an appearance. Don't get me wrong. I love what this show does with magic and science. It was amazing watching Mel cook up that vanishing potion. And she was particularly badass with her fanny pack full of potions, no matter how much Abigael goaded her about it. Mel was a total badass and MVP of the episode even without her power. Granted, I maybe have yelled at that screen when she decided to be the test dummy for that locator potion. Still it was a damned cool effect watching that change come over her and hearing that screech as Mel channel became one with her inner Kyon. It was Mel's interactions with the Kyon Queen that kept the creature from eviscerating them all. Sure, Abigael was able to conjure that fireball, but how would that have been any justice for the poor Kyon who just escaped Dark Harry's prison?
My Deep, Dark Soul
"Deconstructing Harry" serves up some major answers about the assassin that has been tracking the girls. Do we know why Dark Harry has been collecting the most powerful of creatures and keeping them in cryogenic sleep chambers? No, but that was a new development and I can be patient on that one. We do now know why Dark Harry looks like our favorite Whitelighter. The assassin is Harry's dark half. He's a Darklighter. I shouted at that revelation. Why did that give so much joy? I'm just so ready for the show to explore and build on that mythology and they got a damn good start with this episode.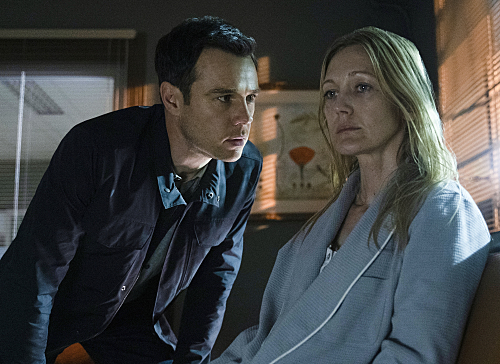 Harry and Maggie find billing statements and a magical fake ID that allow's Harry entry into a mysterious facility. He finds a patient there who cannot speak (or hasn't for quite some time). Despite several attempts, Harry gets no reaction until he mentions the Elders. She is clearly not a fan and immediately goes for Harry's neck. She draws blood, but quickly moves to heal the wound. Turns out Harry isn't the last Whitelighter after all. This woman, Helen appears to be the first Whitelighter.
He finds papers that make it clear that Helen is from another time and place. It turns out that Whitelighters were created in 1693 around the same time as the Salem witch trials. He also discovers that Helen isn't alone at the hospital. The nurses believe that Helen has a twin, but Harry guesses the truth almost immediately. In creating Whitelighters, they separated the dark from the light and split the two personas literally in half. The light side goes on to become Whitelighters and the dark half…get committed? Or killed? We'll get answers on that soon enough I'm sure. This confirms yet again that the Elders were seriously the absolute worse.
Gone Girl…
Harry heads back to the manor with the papers and news clippings he took from the hospital. He's beyond troubled when the girls return home without Macy. His alarm grows further when he finds out that Macy was taken by his Darklighter. Uh-oh. Totally, saw that moment coming the minute Dark Harry popped up when those creatures started breaking loose. First, his orbing was totally dark whereas Harry's is full of light. The girls didn't call for him or mention his name. He was rocking that dark shirt. He looked very unHarry-like and didn't know about the safe word that Harry and Macy agreed on at the top of the episode. Sure, we didn't see him answer her, but he orbed away pretty quickly with Macy. Not good, ya'll. Not good at all. That's how the episode left us until we get S2x05, "The Truth About Kat and Dogs".
What was your favorite line and moment from "Deconstucting Harry"? Madeleine Mantock revealed that they refer to the Darklighter as Dirty Harry. How have you been referring to Harry's darker half? What do you think of Maggie's new power? Can Abigael be trusted? Mel's power has to be coming soon. What do you think it will be? This definitely ranked as one of my favorite episodes of the series so far, where did it land for you? Hit the comments section below or visit us on social media.
Photo Credit: Michael Courtney/The CW
Charmed airs on Fridays at 8/7c and is available streaming on The CW app
Photo: The CW/Charmed