My NYCC Saturday started and ended at Hammerstein Ballroom today. The morning kicked off with an awesome reminder of how cool fandom can be. Before Gossip Girl and Gilmore Girls, I was fangirling out over BTVS and Angel. Unbelievable that it's really been 20 years since David Boreanaz took his broody vampire away from Sunnydale. As much as, I loved the BTVS spinoff, my BAngel loving heart still weeps at that separation. Of course, I ended up loving the spin-off as much as the original show, so all was well.
This morning, there I was freezing my katookis off since Fall decided that it wanted to make an appearance. I wasn't sure what to expect upon arriving outside of Hammerstein. The line already stretched nearly halfway down the block was a happy surprise and made me not feel so old. Sure it was chilly and the line was long, but kids this is where the true magic of fandom happens. Meeting total strangers in person and bonding over that thing you happen to love. Sharing bagels and holding a place in line with said strangers while someone goes to the restroom. Thanks again for that Matt and Michelle aka Wednesday and Pugsley Addams.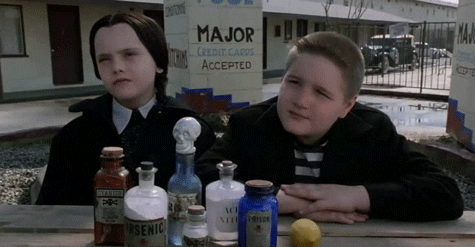 Angel- 20th Anniversary
Inside the Ballroom for the first panel of the day, "Angel- The 20th Anniversary". We managed to find pretty decent seats. Most of us were still holding out hope that despite earlier news, David Boreanaz would pull off a surprise appearance. That didn't happen, but the panel that followed was still pretty fantastic.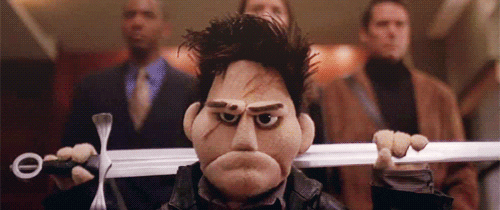 We had James Marsters, Charisma Carpenter, Amy Ackerman, J. August Richards, Alexis Denisof, and Clare Kramer coming together to discuss their shared experiences working on BTVS and Angel. They shared so very interesting stories that I had never heard. Like Spike was only supposed to have a five episode arc and then Angel was meant to kill him. Thankfully, James managed to charm us all with Spike's bad boy ways and his twisted love with Drusilla. Damn, I adored those two.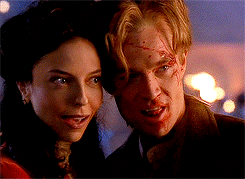 Charisma talked about the major changes that came for Cordelia once she left Sunnydale behind. She had been worried that her character was always off making out with Xander or waiting to be rescued. She felt more empowered as Cordy grew further throughout the seasons on Angel. She voiced her disappointment that the character returned to the show only to be killed off. Charisma made clear her passion for her character and Cordy absolutely deserved better. J. August Richards really wanted to see what happened after his character was turned into a vampire. He thought there was great irony in the situation after the way Gunn initially joined the show and his character's feelings about vampires. It was a good start to the morning and it's quite clear that this group of actors have become friends and family to one another over the past two decades. There's a Buffy reboot coming to us at some point, can we hope for more for Angel as well? This fangirl can only hope.
Snowpiercer
I was able to attend a portion of the panel before I had to head down for the press room and you guys…this show is going to be amazing. It's no wonder that TNT already renewed it for a second season. I'll give a brief overview here, but keep an eye out for a full debrief of interviews with cast members and Executive Producer/Showrunner. A few highlights and things that you should know. The tv show will not be a direct prequel for the 2013 film of the same name. The show will be set 7 years after the "Big Freeze" has turned the entire world into a frozen wasteland. The show will center on the last known living human beings who boarded the train cars to escape certain death. 1001 cars house what's left of humanity. Showrunner, Graeme Manson (Orphan Black) expressed his enthusiasm for the different moods and tones that can be struck from one episode to another giving the different atmospheres of each car. There's class warfare, social injustice, complex characters, and a possible revolution on the horizon as the perpetually-moving train circles the frozen world. Keep an eye out for my full interview with the cast. This show is going to be soooo good.

For All Mankind
Apple+ kick's off it's streaming service as of November 1st. Among the programming, viewers will find this interesting re-imagining of the historic Space Race to the moon. The show's premise? What if the Russians made it to the Moon ahead of the US and what if the race as still on. It's still the era of Nixon, but there a quite a few ripples that come with this initial change. Including? Women are allowed into the astronaut program a lot earlier. I only really saw a preview for this show a week ago and my interest was piqued. I mostly ended up in this panel because I wanted to make sure I had a good seat for the Wynonna Earp panel happening a couple of hours later.
The new series comes from Ronald D. Moore. He scored with Battlestar Galactica and Outlander so I have even more confidence going into this one. Two of my favorite shows for sure. Those attending the panel had a chance to see the first 15 minutes of the show and the visuals were crisp and you felt transported back to the 70s. There is a lot of attention paid to details. The show engaged a consultant from NASA to work with the cast and crew on getting all of the minutiae in line with what it would look like stepping into Mission Control. Cast members shared stories about finding their way into their characters' wants and traumas. Absolutely worth checking out especially to see the ladies entering the Space Race and stepping inside Mission Control.
Earpers Gonna Earp
Hide your dads and Nedley! Hammerstein closed out NYCC 2019 on Saturday night with an Earp Party. Wynonna Earp show creator, Emily Andras and the cast served up one helluva panel. They made clear their love for Earpers and each other. It's so easy to understand why fans were so passionate and happy to #FightforWynonna when it seemed like the promised Season 4 might not happen after all. Unfortunately, Tim Rozon (Doc Holiday) was out of the country for another project, but he did record a message for the fans. Everyone on this show is so dang lovely. I absolutely want as many more seasons as they want to give us to tell what remains of the story.
What's coming up for Season 4? Emily is heading back to the writers' room to pick things back up after the long hiatus. Melanie completely forgot about Wynonna drugging Nicole and that Peacemaker was gone and her character would need to learn how to wield a sword. I'll be doing a full breakdown post for this panel so keep an eye out for that this week. It will include more highlights and news from the panel. Until then, check out the room full of cosplaying WayHaughts and Wynonnas.
Stay tuned to PureFandom for more NYCC 2019 coverage. Also, be sure to check out "Brad and Cort Talk" for all things Syfy and horror. We got a cool backlog of recaps and interviews.
Photo Credit: Cort R
GIFs via GIPHY