I don't think it's a secret that I am trash for the Dark Swan arc (season 5A). In fact, I am pretty vocal about it, so if you didn't know that about me, now you do! Even though we only got 11 episodes of the Dark Swan arc, it is definitely in my top three for my favorite arcs from the series. Sorry, but nothing can ever beat 3B…or season 3 overall.
There are multiple reasons as to why 5A goes down in the history of best arcs on television. And no, it's not just because Dark Hook's hair was hot af. Okay, it may have a small contributing factor to my decision of arc rankings…
Dark Swan was cray
I thought Jennifer Morrison was AMAZING as the Dark Swan. It was an Emma Swan that we no longer recognized. Emma as Dark Swan was an interesting plot twist because we saw seasons of her as the light of Storybrooke, but that was all stripped away in 5A.
Even though her motives for being evil and stuff were good, how she went about trying to save Hook from finding out the truth was pretty bad. She was going to kill Zelena, chaining Hook up in the process. That was textbook crazy. Fortunately, Zelena managed to survive Emma's evil plans. Unfortunately, Hook found out that Emma turned him into a Dark One anyway…Awkward.
In a way, she was still Emma, but just had some darkness in her. Thankfully Hook was there to help her find the light again.
Dark Captain Swan was what dreams were made of
Oh my gosh do I love Dark Captain Swan. You thought my love for Captain Swan was strong? Well, Dark Captain Swan sent my love for them overboard. (No pun intended.) Obviously, they were a little whack, but Dark Captain Swan was all the fire emojis. Words can't even do them justice.
However, their dynamic as Dark Ones was a side to the couple we never got to see. There was a push-and-pull between them. There was too much power between the two that, sometimes, it imploded in their relationship. However, they managed to put aside the dagger and deal with the darkness together. In a real evil way. Again, not their fault.
Also, I loved seeing Colin O'Donoghue play another version of an evil Hook. I had always enjoyed when Hook was a villain because he was portrayed so well.
Camelot was an interesting place
I liked Camelot! King Arthur wasn't a story I was much familiar with, as I tended to stick to the princess stories when I was younger. Delving into Camelot was like learning something entirely new, even if it is completely fictional.
One of my favorite scenes was the ball scene with our main characters swirling around the dance floor in Camelot-type dresses. The teamwork to rid Emma of the darkness is what I really enjoyed, though. Everyone was able to put aside their differences, for the most part, to save the one they loved. Even if that meant traveling to a different realm. Sure, tensions arose, but I think that's what made things interesting.
Plus, Arthur was a little jerk face. The actual worst. However, we got sweet moments like the above with Snow and Emma.
That Storybrooke drama, though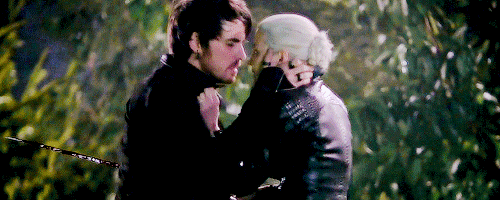 Here I thought the Camelot drama was crazy. There's nothing quite like Storybrooke drama, in any season, really. However, since there was darkness abound in the Savior, the drama increased slightly. Of course, the drama with Hook trying to figure out Emma's motives was my favorite drama. And it was definitely dramatic!
The reveal that Hook was a Dark One, too, was something I didn't see coming. I tried to avoid spoilers like the plague when I first started watching the show, so this was a plot twist I didn't know would transpire. Him being the Dark One might be the best plot twist throughout the entirety of the series. I am talking jaw-dropping kind of plot twist.
"Swan Song" alone was the most dramatic episode yet…and the saddest. IT WAS SO GOOD, THOUGH. The emotions Jen and Colin displayed in the episode were unreal. I can't not cry when I watch that episode.
I am SO SORRY for this gif.
Oddly enough, I am currently on 5A for my rewatch. I think we can all agree that this arc was crazy and intense, but that's why I love it so much. What are your thoughts on the Dark Swan arc? Sound off below or fangirl/boy with me on Twitter!
Feature image via Walt Disney Television/ABC Press