You guys. Titans season 2 drops next week.
After the sizzle trailer earlier this month, DC Universe followed up with an official full trailer yesterday. Pure Fandom broke down the sizzle by the second, and you can check out the final trailer here:
Be Batman?
The trailer immediately brings up Dick's identity crisis. He has shunned the Robin alias while the show has continuously teased Nightwing transition. The teases continue in the trailer, such as when Rose/Ravager slices his staff into two.
For the less comic-familiar, Nightwing preferred his escrima sticks – two batons that can clip together to be a staff. The trailer shows Dick (Brenton Thwaites) spinning a baton, but he is still wearing a Robin suit.
At the end, the trailer throws us for another loop – Dick is asked to be Batman. Dick has put on the black suit in the comics, but that was after a long tenure as Nightwing.
So which will it be, Nightwing or Batman? One hypothesis is that Dick will be pressured to ascend Bruce as Batman, and he will eventually forge his own identity, becoming Nightwing. That would rationalise the casting of an older Bruce Wayne.
Where's Joey?
Unlike his sister, Joey Wilson/Jericho has been quite absent in all the promos. We've only had two glimpses of him across both trailers and he is also missing from the official poster.
I for one am very excited to see what Jericho has to offer. Furthermore, the character is portrayed by deaf, transgender artist Chella Man. "In the comics, [Jericho] has always used sign language, as his vocal cords severed by assassins," Man wrote on Instagram following his casting announcement.
"I RARELY saw sign language authentically represented on screen growing up, so this incredible opportunity has made my heart soar. Who you are should NEVER limit what you dream to achieve."
Where's Gar?
One complain about Titans' first season was that Garfield Logan (Ryan Potter) was ancillary. As fun as the 'Doom Patrol' episode was, it was more a backdoor pilot for Doom Patrol than a deep dive into BB's origin.
So far, Gar can only shift into a tiger. However, he started to fear his inner beast(s) after mauling a handler while trapped in an asylum, hinting at more potential forms.
Titans has barely scratched the surface when it comes to Gar, and the trailers haven't had much of him. Here's hoping for development come September.
What is Superboy's role?
Connor Kent and Krypto stole the show with their post-credits scene at the end of season 1. The boy, played by Joshua Ophrin, is a genetically-engineered clone of Superman.
From what we can glean, Connor awakes in the lab, finds Krypto, and figures his name from a tag or something. He escapes with his new friend, snagging an apt T-shirt with the 'S' insignia along the way. It'll be fun to see how he eventually runs into the rest of the Titans.
Kory back to Tamaran?
Or rather, is Tamaran coming back for Kory? The trailer shows a man apprehending her while addressing her as "Your Highness". Kory also apparently knew the man – or his organization – when he approached her.
In Titans, Kory (Anna Diop) has a mission from Tamaran to find and stop Rachel releasing Trigon. However she lost her memories for a while, during which time she ended up befriending Rachel. And Trigon is now loose anyway. It wouldn't be a stretch for other Tamaraneans to think Kory has gone rogue.
Beyond these 5 immediate questions, there is a handful more talking points:
Everyone goes dark
Titans left us hanging last season when it ended with Trigon possessing Dick. The episode "Dick Grayson" was meant to be the penultimate episode, but the intended finale was moved to premier the second season.
Released stills show that Trigon possessed everyone else who shows up to fight.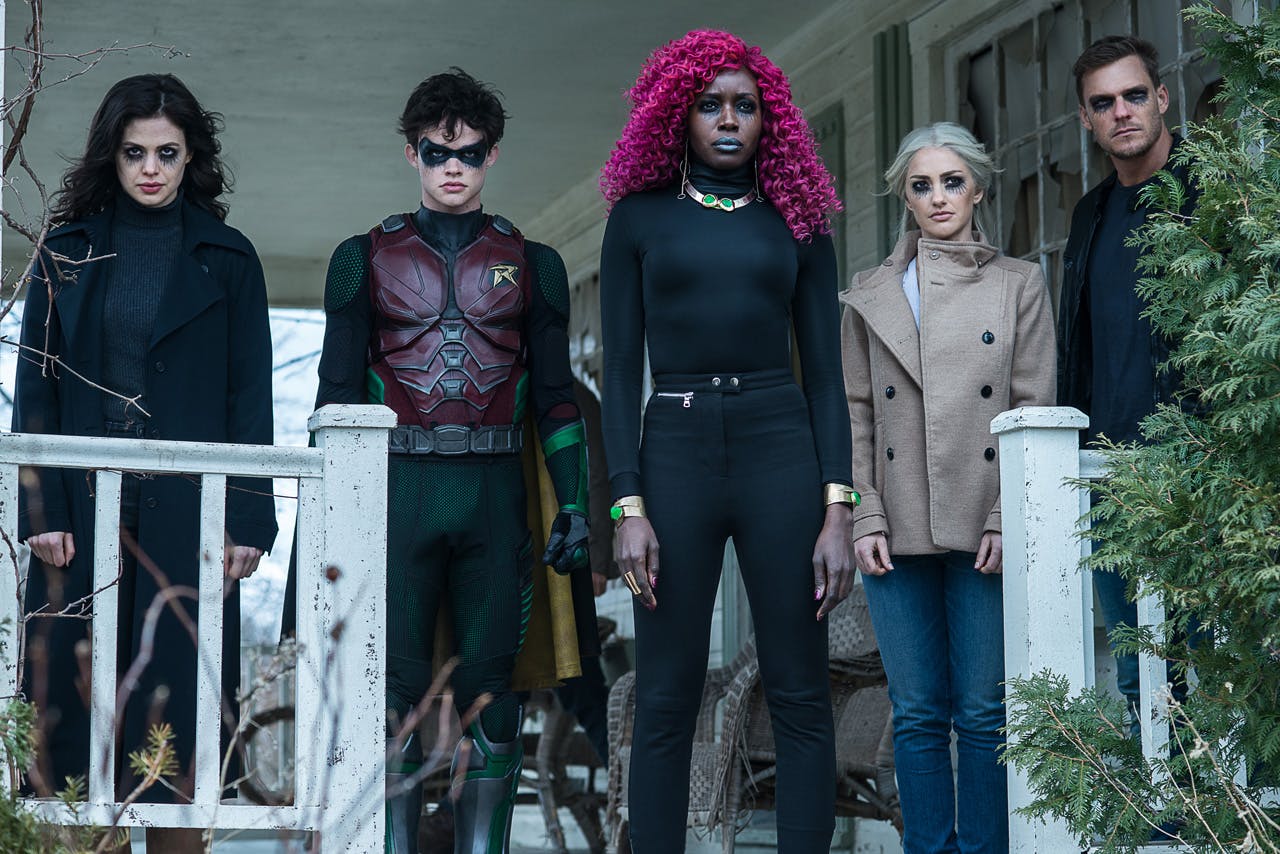 This leaves Rachel on her own to gain her chakra, stop her father, and save everyone. Sounds like a tall order for an episode.
Old Titans on rocky ground
Titans is definitely not sunshine and rainbows, and things are far from for the older/former members. The trailer suggests Dick, Donna (Conor Leslie), Hank (Alan Ritchson), Dawn (Minka Kelly) and Garth (Drew Van Acker) didn't end the first coming of the Titans on good terms.
Hank is ready to retire from superhero business. Donna and Dawn have respective grievances with reopening Titans Tower. And is that romantic subtext between Donna and Garth? Read into that what you will.
First look at Deathstroke
Jason's little TV stunt has consequences. Turns out, the former Titans have encountered Deathstroke before. The villain was a key factor in their disbanding, and now he knows the "Titans are back".
The new trailer shows Esai Morales unmasked and in action as the formidable assassin. The team presumes he wants to kill them off. Might he do so with an infiltrator? Some fans are expecting an adaptation of the Judas Contract run from the comics.
Girl friends
While the former Titans aren't quite getting along, some old and new members a struck up a rapport. Particularly, Donna and Kory are teaming up, and it's gotten some fans going. Not convinced? Let me point you to another DC series, Legends of Tomorrow, and their 'AvaLance' pairing.
Sarah and Ava started out similar to Donna and Kory – duelling. Eventually they had to work together and the rest is history. Donna/Kory could easily go down this path.
Everyone expects a Dick/Kory pairing because of the characters' comic biographies. However, shows don't necessarily have to follow, especially when superhero comics are so convoluted. Arrow, another DC adaptation, is notable for ditching the classic Arrow/Canary pairing for something different. Maybe Titans can give us something new.
But if they don't, Donna and Kory would still make a cool female friendship.
Rachel is different
When Rachel appears in the newer trailer (and the slightly alternate version from the casts' instagrams), she seems more confident and less afraid. Well, considering she would have defeated her demon father, that's great for her. But there's something about the way she talks that's a little…chilling. Haughty. Not to mention she doesn't flinch when Dick points a sword at her.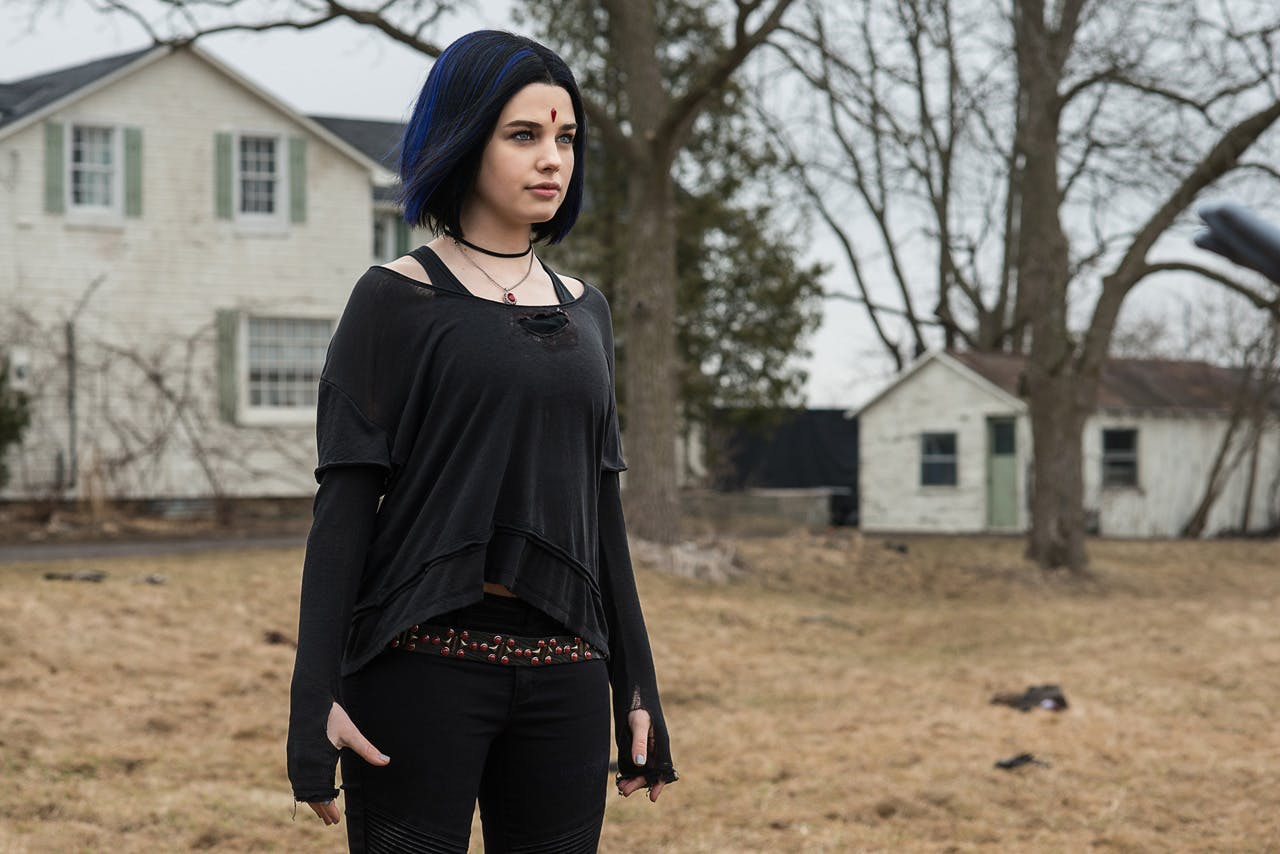 Is it just me? Or is there more to Raven than meets the eye this season? Maybe in fighting Trigon, she unknowingly unleashed her inner demon. Maybe Dick points the sword at her because he senses it is not exactly Rachel he is talking to. After all, the Judas Contract means you can't trust anyone, and this would be a spin on it.
Titans returns to DC Universe streaming service on September 6.
Follow the action from PureFandom's very own Titans tower, and don't forget to check out our Facebook and Twitter as well.