TV
Slow burn TV couples that were worth the wait
Slow burn TV ships: you either love them or hate them. For me, I like them because I like to see character development that happens while realizing they're madly in love. Slow burns are more meaningful, and it helps to illustrate the depth of the couple's relationship. It's more authentic.
Here are the top slow burn relationships from TV that were worth the wait and you screaming at your TV screen for them to "JUST KISS ALREADY!"
(Shout out to Meg for helping me with the two bottom ships!)
Emma Swan and Killian Jones (Once Upon a Time)
Talk about the slowest of all slow burns. It wasn't exactly love at first sight for the Savior and the fearsome Captain Hook. Their relationship went through a lot of trials before they were able to admit that they were actually quite perfect for one another. Emma even knew in season 2 that they understood each other. Heck yeah, you did!
I think we can all agree that when Emma kissed Killian in Neverland, that was the game changer to their relationship. Also, who doesn't love the enemies-to-lovers trope? It took these love birds two seasons for them to make it Storybrooke official, but it was well worth the wait. After all, we got to witness their wedding AND them having their own little bundle of joy…er…hope.
Jake Peralta and Amy Santiago (Brooklyn Nine-Nine)
These two balance each other out. Both are quirky in their own ways, and from season 1, you knew that they just HAD TO get together. You couldn't help but root for their failed relationships because you selfishly wanted them to get together. Does that make me a bad person?
But honestly, who actually liked Teddy? Eventually, our wishes came true, and we got the ship that we deserved. It honestly wasn't too long of a wait, but I'm impatient. Also, they're hilarious separately, but together, they are unstoppable.
Eleanor Shellstrop and Chidi Anagonye (The Good Place)
Ethics and morals: it brings us together. Eleanor and Chidi's romance has been a rollercoaster, to say the least. While they aren't slow burn, they're also not not slow burn…Do you follow? After so many reboots, we've seen them get together and then forget about one another. In a way, they're still not technically together.
As we saddle up for the fourth and final season, I hope to see Eleanor and Chidi find one another again. I mean, they have to end up together. There's not another ending I'll accept at this point. They were such a cute couple when they were together…and remembered each other. Sigh.
Leslie Knope and Ben Wyatt (Parks and Recreation)
The classic "don't date your coworker." THE SCANDAL! However much Leslie and Ben tried to resist, they were a match made in Heaven. They always balanced each other out — even as just friends. The temptation of "just friends" became too much after a while, and they began to exclusively date.
Five long seasons later, the two tied the knot in an unconventional way that was totally perfect for them. Leslie and Ben are the definition of relationship goals that we should all strive for.
Monica Geller and Chandler Bing (Friends)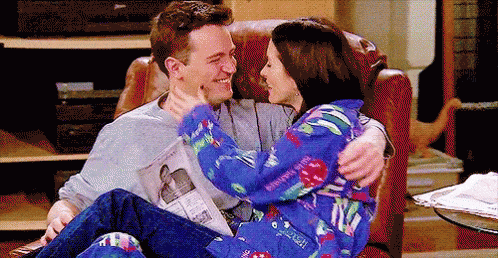 This relationship may not be seen as a slow burn, but trust me, I know what I'm doing here. Obviously, they were destined to wind up together. There were so many instances throughout the series that hinted at it, even though Monica was resistant. (The beach episode, in case you needed a reminder.)
While they technically didn't mean to get together, they still decided that they were meant for one another. Their story was years in the making and ended in a good place. Even though there were some obstacles that came up, but what relationship doesn't have obstacles?
Oliver Queen and Felicity Smoak (Arrow)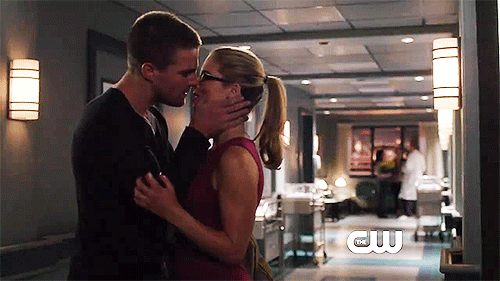 From the moment they met, Oliver and Felicity had an undeniable spark. She was the tech genius, he was the rich boy who was moonlighting as a masked hero. They would eventually team up to rid the city of bad guys (and gals) and make us ache for them to make things official in the meantime.
After a major fake-out, Oliver and Felicity finally got together and it was magical! They had their ups and downs, but Olicity finally made things official and got married! Olicity DEFINITELY didn't fail this fandom and we will never be able to look at a red pen without thinking of them.
Lydia Martin and Stiles (Teen Wolf)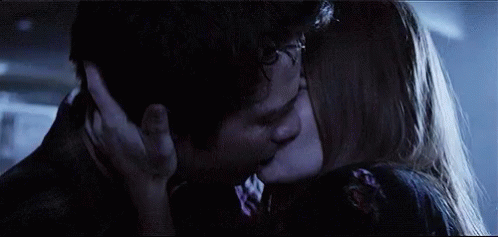 Stiles was always in love with Lydia Martin and Lydia Martin was vaguely aware of his existence. That all changed when Allison moved to Beacon Hills, befriended Lydia and sparked a romance with Scott. This put Stiles and Lydia in the same social circle for the first time. Lydia and Stiles quickly became an unlikely dynamic duo as they faced the supernatural dangers in their town.
Like I said – Stiles always loved Lydia, but it wasn't until Season 6 (yes, we had to wait SIX SEASONS) that we saw Lydia's true feelings come out. When Stiles was taken by the Ghost Riders, Lydia was the last to forget and the first to remember Stiles. She never gave up her fight to get him back and used her memories of him to break him out of the Ghost Riders train station. Their reunion and kiss was AMAZING!
What TV ship did you wait a million years for? Sound off below or tweet me!
Feature image via NBC Press