These days, it's been impossible to escape the hype around Amazon's six-part limited series "Good Omens." So let's see what the fuzz is all about! Based on Neil Gaiman and Terry Pratchett's 1990 cult novel "Good Omens: The Nice and Accurate Prophecies of Agnes Nutter, Witch," the screen adaption of this end-of-days fantasy novel celebrates the unusual (b)romance of an angel and a demon trying to prevent the apocalypse. Sounds crazy? It is – but in a way, it is also what we need right now.
Even though the source material is old, the fear of Armageddon – the end of days, judgment day – is still very much real. Nowadays Armageddon seems to be closer than ever before and it should really make us think when a book quote like "your polar ice caps are below regulation size for a planet of this category" makes it directly onto the screen some thirty years later.
Here are our top 3 reasons to give this show a try!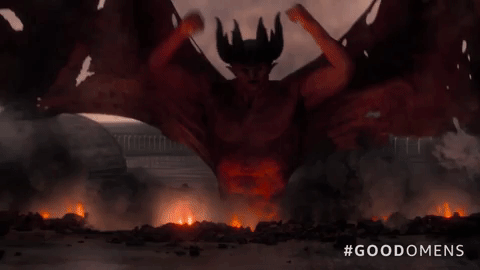 #1 It has angels and demons
That's it. That's the argument. Stories about angels and demons have always held a certain fascination, as the popularity of series such as Supernatural, Lucifer or Shadowhunters show. To speak with Shakespeare's Hamlet, "there are more things in heaven and earth" than we can fathom and we'd like to believe that there is someone there watching out for us.
The thing is, Good Omens makes it abundantly clear that the divine forces view earth as some kind of battlefield and do not particularly care for humankind. It's a good thing then that two unlikely allies, namely angel Aziraphale and demon Crowley, decide to work together to prevent the end of days.
An angel and a demon teaming up to stop the final battle between the opposing forces of Heaven and Hell? We live for it!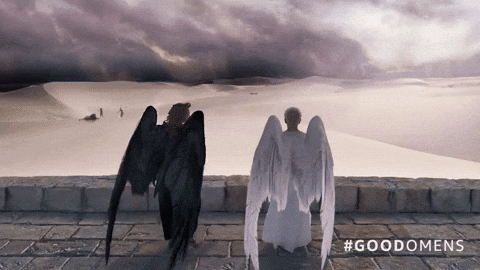 # 2 The (b)romance is real!
At the heart of the series, there's the (b)romance between fussy, soft-hearted angel Aziraphale and the hedonistic, but ultimately good demon Crowley. Both have got used to the comforts earth can offer, be it good food or books (Aziraphale) or the more worldly pleasures (Crowley). As both are able to see our planet and its inhabitants in various shades of gray, they strongly disagree with the black and white way in which their respective superiors view earth. For God and Lucifer, humans seem to be merely pawns, disposable and replaceable – a terrifying concept.
It doesn't matter that Aziraphale and Crowley often disagree and argue over how to achieve their common goal. Ultimately, they see eye to eye on the most important issues. And: They share a love of crepes, so they must be kindred spirits!
Last but not least: It's so much fun to see the flashbacks to different eras in time, watch how they meet and how their relationship grows. It's plain to see that they love each other – and it is this love that ultimately saves us all.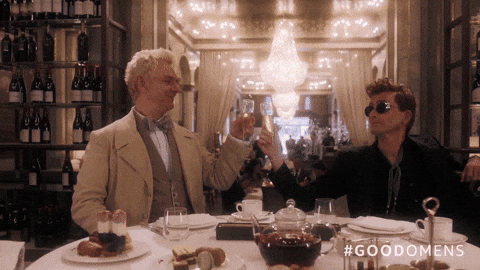 #3  The leads are awesome!
Finally, casting couldn't have made a better choice for their leads: David Tennant as Crowley and Michael Sheen as Aziraphale are completely spot on! Their chemistry is perfect and the show wouldn't be half as good if it weren't for them.
That's also the only issue I've found with "Good Omens": Scenes without Tennant and Sheen tend to be a bit boring – not because the other actors aren't doing a good job, but because their characters fall flat. Of course, there's only so much you can do in six episodes; still, it would have been great to see more well-developed characters.
In the end,  it's the unusual and charming relationship between Aziraphale and Crowley as well as the cartoony feel of the mini-series that makes "Good Omens" such a fun choice to binge – preferably on a rainy and gray summer day.
Featured Image Source: Amazon