Even though Once Upon a Time had its series finale last spring, that doesn't mean we can't still fangirl or fanboy over it. It's a show that deserves to be loved and talked about for years to come. After seeing all the excitement brought on from the OUAT convention this past weekend, I couldn't help feeling nostalgic about the show.
It's not every day a show captivates you and basically owns your soul. For me, OUAT was the show that made me smile, cry and scream, and I liked that about the show. So, in honor of it being the best show (at least in my eyes), here are a few scenes I'm still not over!
I swear all of these are not all Captain Swan, but it is me, so a lot of it is. Also, I really appreciated everyone on Twitter drowning my mentions in Captain Swan gifs. You all get me.
The most relationship goal thing to ever happen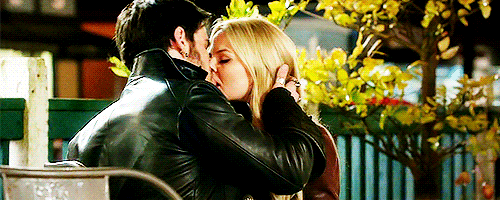 "You traded your ship for me?"
"Aye."
When I first watched this scene a million years ago, my heart almost swelled out of my chest. For Hook, his ship was his home, but he was willing to let that go because he loved Emma so deeply. If that's not relationship goals, I don't know what is.
I remember feeling all the feels in the scene. Ever since Emma and Hook first met, I had been rooting for them, and as we all saw, the journey for their love was not easy. So, when Hook confessed that he traded his ship for Emma, I knew that they were end game and the greatest ship to ever sail the fandom sea. Plus, this was their first real, meaningful kiss.
Reunited, and it really did feel so good
Do you all remember the unbelievable pain we endured during "Firebird?" Well, me too. I was devastated that after all Emma and Hook fought for, their love story would come to an end. However, Hook couldn't just stay dead; and Emma couldn't just live without her true love.
As OUAT was about happy endings, we saw in 5×21 that Emma would maintain her happy ending, and that happy ending ended up including Hook. The happiness that erupted from me when Hook appeared in the cemetery and Emma ran into his arms was UNREAL. Like, look at her kissing every inch of his face because she can't believe he's there. They are too cute, stop.
The reunion was what they deserved.
Another reunion, but a family reunion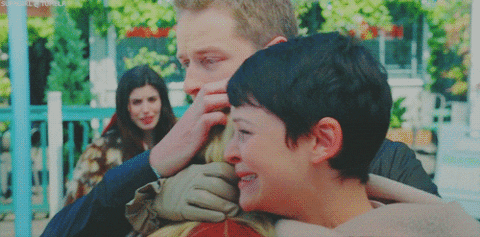 One of the most memorable scenes that I will never be over is when the first curse was broken. We watched a whole series of the angst of Snow and Charming being apart, and Emma believing that she was always alone. Suffice to say, there was a lot of sadness going on.
As soon as Emma realized that Snow and Charming were her parents, we were treated to one of the most heartfelt scenes on the show. I still get a little teary thinking about that family reunion. It was so pure, you guys. And I was so happy for Emma who finally found the family she never thought she had.
Happy beginning, indeed
It was a Sunday, I was supposed to be writing a paper for college, but instead, I was crying in my dorm room over the best episode of OUAT there ever was. After years of deaths, angst, monsters and etc., Emma and Hook finally were able to make their happy beginning a reality. I am so glad I didn't have a roommate because I was YELLING.
There was no better way for Captain Swan to tie the knot than with a musical episode. Their wedding was literally a musical. How amazing is that? Your OTP COULD NEVER. Anyway, while it was a bittersweet episode, I will never stop fangirling over the wedding and the cuteness that is Captain Swan. We were treated so well.
A bittersweet ending
Pretty obvious that I will never be over the very last scene of our favorite show. To see all the new and old characters together made my heart soar. My heart soared a lot during this series, if we're being honest. My favorite part, obviously, was seeing Emma and Hook with their baby, Hope. I literally never cried as much as I did during this scene. I also seem to cry a lot during this show…
Like I said, it was a bittersweet ending. We got to have a good sendoff to our favorite characters and stories. Seeing Charming and Snow again was nice as well, along with Regina getting her crown as the Good Queen. Overall, it was a really sweet ending, but it didn't make me any less heartbroken. I'm sure you all can relate.
As it always is, there are so many other moments I'm not over. For example, the Captain Swan pancake scene, the Middlemist scene, Regina crashing Snow and Charming's wedding, Rumple sacrificing himself and SO MUCH MORE. I am so thankful for this show and all the memories that it brought me and the whole fandom. Okay, I'm off my soapbox now.
What moment are you still not over? Sound off below or tweet me and just freak out with me!
Feature image via ABC Press/Walt Disney TV