Legends of Tomorrow recap: Season 4, Episode 15, "Terms of Service" premiered May 13, 2019. 
The penultimate episode aired this week. It did not disappoint. Our Legends are one step away from the final showdown. Let's check in with each character.
Sara Lance and Ava Sharpe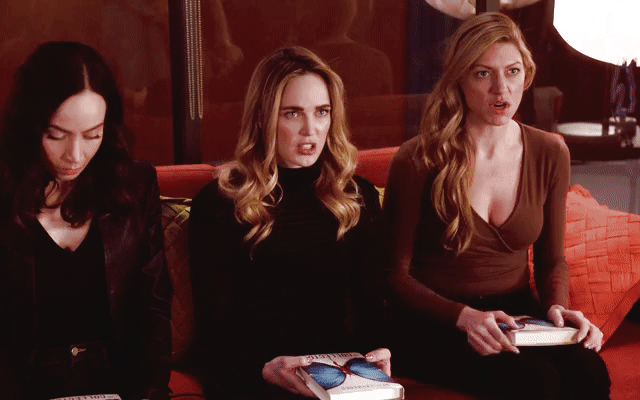 Gary took over the Time Bureau. The Fairy Godmother is still bound to him and he can make as many wishes as he wants. Tabitha wants revenge on the Legends and tries to push Gary to hurt them. Gary in his own way, thwarts her. Mr. Green wishes them into book club.
Sara, Ava, and Nora are forced to read the book in the Waverider and discuss it with him.
They all want to strangle him but keep up the pretense. They still need to find Mona and rescue her.
While they are stuck dealing with Evil Gary; Mick, Zari, Charlie, and Nate must continue with their plans.
I love that Ava, Sara, and Nora still refer to them as the B-Team. Poor Zari, I feel like she gets lumped in with them and it isn't fair. Gary continues to torture our A-Team by making Sara and Ava dance. The Fairy Godmother sends Nora to Mona in the Time Bureau prison.
Nora Dahrk and Mona
Mona's been tortured by NeRay for two episodes. I don't know why Neron hates her so much? Ms. Woo is dying. Nora asks the Fairy Godmother to heal her. Big mistake.
The Fairy Godmother can't grant Nora's wish because she is bound to Gary.
The only way to break the bond is if someone else becomes the Godmother.
Nora takes her place.
The Fairy Godmother laughs and switches places with her. Tabitha informs Nora that she won't be able to heal her. Nora is now bound to Gary. In short, Nora is now a slave. Tabitha is free to be the evil witch that she is.
Charlie and Zari Tomaz
Mick, Zari, Nate, and Charlie go to Ray Palmer's Tech Summit. It is a recon mission and for once it actually stays that way. Nate and Mick get summoned to the Waverider by Gary. Charlie and Zari are now on their own. Here is what they find out.
NeRay wants to take over hell.
He must gain a huge amount of souls to make this happen.
Neron creates an app, if people download it, they sign their soul away.
How does he do this? He creates fear. Ray reveals to the world that magical creatures are real. The Evil Time Bureau tortures Mona on stage revealing her true form. The people are so afraid that they download the app. The app informs the Time Bureau that someone is being attacked by a creature.
John Constantine
Our boy Johnny is in hell, which looks an awful lot like New York City. He is granted the opportunity to save the girl he lost (in his tv show) or Ray's soul. John picks the girl.
She turns out to be evil. Of course she is.  Home girls tortures him. Good Ray is still stuck floating around the Underworld somewhere with no one to save him.
Next week everything comes to a close. Hopefully Ray can get out of Hell. The Legends have a lot to do in the season finale. I for one, look forward to seeing how it all plays out. What are your predictions for the finale? Who are you most concerned for?
(Featured Image courtesy of The CW.)