A Discovery of Witches 1×05, season 1 episode 5, aired May 5, 2019
While the last episode of A Discovery of Witches was action-packed, A Discovery of Witches 1×05 slows down a bit. Matthew and Diana come to terms with their love for each other, a shocking discovery – and more! slows down a bit. That's not to say that nothing is happening – on the contrary! Matthew and Diana come to terms with their feelings for each other, Gillian faces the consequences of her betrayal, even more Congregation bigotry is revealed, Diana learns more about Matthew's past and Matthew makes a shocking discovery.
Let's break it down, shall we?
Matthew: Back in Oxford
Following last week's news, Matthew is back in Oxford to investigate the break in into his lab. Miriam and Marcus tell him that it was witches in an attempt find out more about Diana.  The good news is that they were unable to access their computers.
Gillian: Paying the price for betrayal
Now it's time for Gillian to pay the price for her betrayal of Diana. Matthew has caught her scent and goes to confront the red haired witch. Let's just say the scene isn't pretty and it isn't helping that Gillian tells Matthew that she thinks it is sick that Diana is with a vampire. Matthew attacks her and Gillian really had it coming. As he drinks her blood, he is able to review her memories. He then leaves her barely alive in the street.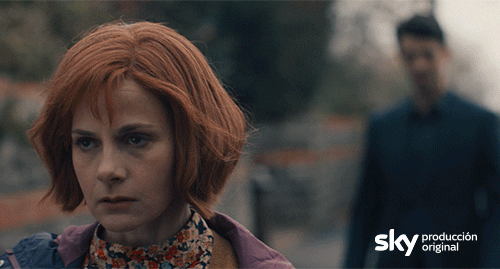 The Congregation: More schemes
She somehow makes it to safety and Knox and Satu aren't pleased to learn about Matthew's attack and the fact that Matthew is studying the DNA of witches. Knox again repeats his demand that Diana has to be retrieved from the Clermont family and handed to the witches. However, Baldwin defends Matthew by saying that Gillian trespassed on vampire territory. He then promises to get Diana herself.  Will he fare better than Domenico last week? Highly doubtful.
In the meantime, Satu shows herself concerned with Diana's powers and tells Know that they need to learn how she conceils them, but Knox claims that they cannot put Diana trough dark magic and trauma. It is actually quite funny to see him act so concerned now – and Satu would be a fool to buy it.
When Satu proposes to work together with one of the vampires, fearing that Baldwin may have ulterior motives, Knox warns her to stay away from them.  Nevertheless, Satu ends up on Gerbert's doorstep. Is striking an alliance behind Knox' back really a good idea? Again: There is no love between the species.
Alone at Sept-Tours: Diana
At Sept-Tours, Ysabeau tries to make Diana see that falling for Matthew is a spectacularly bad idea. Her first attempt to do so is to frighten Diana away. She takes her with her as she hunts, intent on showing her how brutal and relentless such a hunt is. Quite unsurprisingly, the plan fails and Diana shows herself decidedly unimpressed.
Next, Ysabeau confronts Diana with Matthew's past. She takes her down to the village's church and tells her about Matthew's "true loves", his wife and son who fell ill and died. Apparently Matthew, unable to deal with his overwhelming grief, jumped from the church's tower. Following his unsuccessful suicide attempt, Ysabeau sired him. While Diana is eager to learn more about Matthew, she doesn't seem fazed and so Ysabeau paints a gruesome picture of a vampire fledgling fueled by rage and an endless need to feed. Again: Not working!
Dealing with being apart
Even though Diana and Matthew spent a fair amount of time apart in this episodes, it is very evident that they can't live without each other.
In a phone call, Diana brings her aunts up to speed with the latest developments (the Congregation, Domenico) and also admits that she loves Matthew. Matthew also confides in someone about his feelings for Diana. He talks to Hamish and also expresses his fear that Diana will learn about his past. Hamish says that if he loves her, he should not let anything get in the way of love. Both men agree that the Congregation shouldn't be allowed to decide over matters of the heart – and so do we!
Speaking of inter-species relationship: This episode also offers a quick glimpse at Nathaniel and Sophie. Sophie had a weird dream and wants to tell Agatha who she is. After a while, Nathaniel reluctantly agrees. Curious to see how this will turn out!
Later, Matthew and Diana call each other and Diana talks about Ysabeau's attempts to scare her away. While it is painfully obvious that they need to talk about their feelings, the words remain unsaid and they exchange awkward good night wishes.
A stunning discovery
Later that night, Matthew further investigates Diana's blood sample and comes to the shocking conclusion that compared to other species' DNA, Diana's DNA is completely fine.  There's absolutely no evidence of a decline. Of course, Matthew immediately has to share this discovery with Diana. He heads back to Sept-Tours where he shows her that she has every genetic marker ever found in a witch. This includes the elemental markers of air, water and earth.
Confessions of love: Reunited once again
As soon as Matthew arrives home, he confesses his love for Diana. While Ysabeau is none too pleased, she hugs Diana and recognizes her as a daughter, telling her that their fight is now also her fight. However, she is certain that Diana will be able to defend herself, as all Clermont women did/do.
Later, Diana and Matthew finally make love for the first time. The sex scene is everything we could have hoped for and it is so enjoyable to watch the couple joke with each other and let themselves be vulnerable.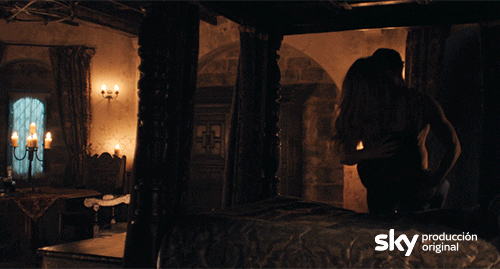 The episode ends with Diana going for a morning run following her night of passion. Unfortunately, she is seized, lifted into the air and whisked away. Mean cliff-hanger!
Now that our couple has finally confessed and shown their love for each other, there's no turning back. This episode undoubtedly served to prepare us for the upcoming battle that is sure to come – and as always, we are eager to find out what will happen next.
Check out our A Discovery of Witches page for more articles you might enjoy!
Did you enjoy this episode?  Hit us up on Twitter and let us know!
Watch A Discovery of Witches Sundays on AMC!
Featured Image Source: Sky one (Screenshot)