Missing Captain Swan from Once Upon a Time? Because you have no idea how much I am missing them right now. For the sake of nostalgia, I have handpicked the best Captain Swan moments, whether the moments made me cry, swoon or laugh.
Emma loses her true love to save Storybrooke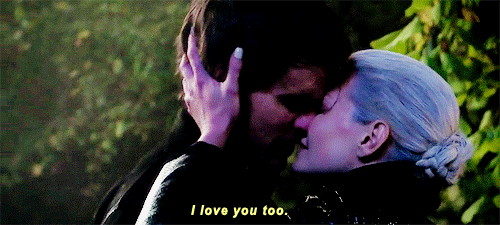 Let's start this post off with some tears! Can I just say I'm glad I'm not the only weirdo who loves this scene? Obviously, Hook having Emma kill him to save the fate of Storybrooke was all kinds of sad, but it was the meaning behind it. Hook fought through the darkness to save the woman he loved, even though it would have major consequences on himself.
We saw in this scene the depths of Emma and Hook's love — it was heartbreaking but so dang meaningful.
"You traded your ship for me?"
This scene is iconic, and I cannot not talk about it. When Hook revealed to Emma that he sold his ship to find her, I knew that this ship was the ship of all ships. The fact that he wasn't even going to divulge that he did trade his ship spoke volumes to his love (or deep like at this point) for Emma.
I think I squeal every time during this scene. Emma's walls started to crumble for Hook, and it showed the growth of her character throughout the seasons. She was so afraid of love, but she was willing to fall into Hook's arms (literally).
Flowers and darkness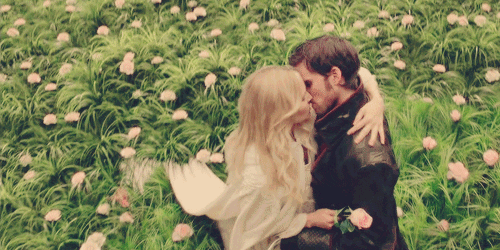 The Middlemist scene is my absolute favorite from the series. I seriously wrote a 6-page essay about it for college last year. It's just so aesthetically pleasing, you guys. But it was more than the pretty scenery of the moment. The words exchanged were what really made me fall in love with the scene.
In an effort to take Emma's mind off the darkness, Hook brought her into the field, just the two of them, to calm her mind. The amount of love and emotion between them in this scene was undeniable. The fact that only Hook could take her mind off this all-consuming darkness really showed viewers that they were made for one another. Also, he told her that he would never stop fighting for them. #GOALS
The return from the Underworld
I remember watching "Last Rites" in defeat, knowing that we probably wouldn't be getting a happy ending for Captain Swan. However, I was SO wrong. As Emma mourns her love and her friend, a blast of light bursts from behind her. Standing behind her is Hook, and I swear, the tears were so real at this moment. How did I even cope with this scene?
Emma's reaction was everything as she ran into Hook's arms, clutching him tightly so he would never let her go. When she asked how he was back, she barely let him get a word out before she was kissing him, showering him with her love. It was the SWEETEST thing I've ever seen on TV and in general if we're being honest.
It's a happy beginning for Captain Swan
We waited for seasons to see Emma and Hook find love. The wedding episode, even though it had a bittersweet ending, we got to see Captain Swan tie the knot. It was everything we ever needed. To top it off, their wedding was literally a musical scene. Did someone say goals?
Just as Emma said, it wasn't their happy ending, it was their happy beginning. This promised a lifetime full of love and happiness for two souls who thought they would never have that. And that's what made this scene so important — they went through Hell in life, and somehow, they found one another to lean on and love. Sigh, so cute.
I feel like this post needs to be a three-parter because I want to talk about every Captain Swan scene out there. I won't though; that would be A LOT. Go forth and rewatch all these sweet and sad Captain Swan scenes to relive the greatness that was this ship.
Comment or tweet us your favorite Captain Swan scene!
Feature image via Walt Disney Television/ABC Press