Recaps
'Pretty Little Liars: The Perfectionists' 1×05 Recap: "The Patchwork Girl"
The Perfectionists 1×05 recap: Season 1, Episode 5, "The Patchwork Girl" Aired April 18th, 2019.
Alison and Taylor finally meet in the latest episode of The Perfectionists and although Alison believes it's for the best, it turns out that Taylor is only now in more danger.
Here is what happened on 1×5!
Ray Hogadorn
Mona comes face to face with Ray Hogadorn, in an abandoned home on the University's property. The Dean doesn't know that Ray is living there and Mona threatens to expose him.
He mentions that he knew Taylor and says that Mason was a big mess to clean up, however the world is better off without him.
Ray just so happens to be the person who wrote "They're Watching" on the wall at Taylor's, now Alison's home. He mentions a girl called Angela – who he was in love with – and how she jumped off the same bridge Taylor 'supposedly' jumped from as well. He agrees with Mona that Taylor could still be alive, although he believes it is still best for her stay far away.
Taylor's Return
Alison is still trapped in Taylor's trailer, Taylor driving it away to a new location.
After the trailer stops, Alison goes to introduce herself, however, Taylor yells and threatens her with a tire iron. Taylor tells Alison that she's put her in a lot of danger, but all Alison wants is for Taylor's help figuring out who killed her brother.
Taylor explains to Alison that someone previously tried to kill her, that is why she faked her own death. She also explains that the Beacon Heights program is able to analyze similar personality traits.
They both believe that Taylor's mom has manipulated Alison in to finding Taylor, as she doesn't believe Taylor is dead and thinks that Alison is the only one who can bring her home because although they look alike, Taylor's mom is also convinced that they think alike.
Taylor doesn't believe that her mom was the person who tried to kill her, all she knows is someone did and because of that, she needs to stay hidden.
Alison convinces Taylor to go back to Beacon Heights and stay hidden in Alison's apartment. Alison asks Taylor if she wants to visit her mom, however she says no and stays low in the apartment, where she's safe.
Alison looks at her phone and see's a text from Mona, telling her not to bring Taylor back, as it isn't safe. Little too late for that one…
When Alison goes to tell Taylor that she needs to run again, Mona and her already find that Taylor has gone missing.
Mona's mysterious chess partner
Dana Booker corners Mona about Alison, stating that from their time in Rosewood, Alison had a group of people who relied on her, and that Nolan coincidentally had an already made-up posse for her after he had died.
She brings up Mona's history, asking why it wasn't on file. Mona fires back, revealing that she knows Booker was fired for growing too much of an obsession to the case and took illegal shortcuts to find things out.
Dana stands up to leave and Mona asks for her chess piece back.
Could Dana Booker be Mona's mysterious chess partner? At this point, it wouldn't be a total surprise!
A missing father returned?
Ava finds a note whilst working on her fashion designs. The note has the name her father used to call her on it and a location. We see a bit in to Ava's past – her dad telling her he's not perfect, her responding with "no one's perfect."
Later on, Ava goes through the woods to the location she is hoping to be reunited with her father at, instead being greeted to the face of Dana Booker.
Dana demands to look in Ava's bag, or Ava can tell Dana which of her friends, if not her, killed Nolan.
Ava throws the bag at Dana, with nothing to hide, and Dana only finds a bag full of her belongings. Ava states that she isn't easy to fool and walks away, telling Dana that she can stand there all she wants, as long as she get's eaten by a bear.
Drugging Mason
Ava, Caitlin and Dylan all decide to lure Mason in to the cabin in the woods, drug him and look through his phone.
Caitlin is in charge of getting Mason to the cabin, as they know each other the most. She puts the drugs in an alcoholic drink ready for his arrival, however, Mason tells her that he has made a promise to his team to not drink anymore and makes a sly comment about Caitlin not having to worry about her boyfriend getting in the way of them.
Discomforted by this comment, Caitlin expresses that she's grown cold, therefore, Mason goes to collect firewood and in the process, is hit over the head by Caitlin.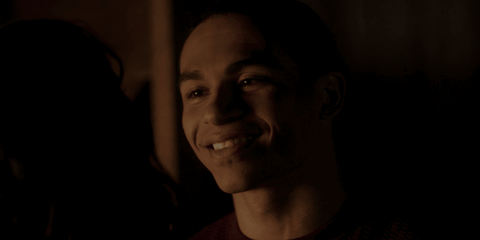 Caitlin makes a run for it through the woods, hoping to get as far away from Mason as possible, before he regains consciousness.
Caitlin left message's for both Ava and Dylan to meet her on the old road, and when her and Dylan see a car that looks like Ava's driving up, they both try to flag her down, however the car doesn't stop and Caitlin is hit.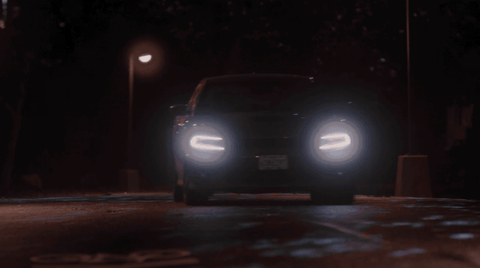 When Ava does arrive, Caitlin is lying (strangely perfectly) on the ground, breathing. Ava screams for help, whilst Dylan calls for a friend and who knows what's going to happen next?
What did you think to this episode of The Perfectionists? Write up a comment and let us know your thoughts! 
Watch The Perfectionists Thursdays on Freeform.