We are celebrating Jennifer Morrison's birthday with our favorite Emma Swan lines/moments. It's no secret that Morrison brought life to Emma, and we saw that in each scene she was in during the series. Here at Pure Fandom, we adore Emma and think she's pretty dang fierce.
Below are (some) Emma Swan lines/moments that make her one of the best TV heroines. This post got me feeling so nostalgic, I might have to continue my OUAT rewatch this weekend. Sounds like a great plan to me, especially since it's supposed to snow…
What a QUEEN! This quote has become one of my life mottos because it holds so much truth and meaning. Emma knew that she had to fight for herself — that only she was in control of how others saw her. Honestly, it's a line that will always hold some meaning for me. It captures Emma perfectly, too.
Chills. Jennifer really gave me all the feels in this scene — it was so powerful. Emma grew up an orphan, convinced nobody loved her or ever will. This moment solidified, for Emma, that she was worth something to someone; that she was more than she ever thought she was. And that was amazing. She showed us that even though we have ups and downs, we can conquer them to be SOMEONE.
Hell yeah, girl. I have talked about this quote numerous times, but it always makes me so proud of her character in this moment. Emma doesn't need a man to save her. In this scene, she gave a great example of a TV heroine feminist, which I am here for. Emma wasn't going to wait around twirling her hair until a man came for her. Nah, she can handle it herself, and she did multiple times. She didn't need a prince (or pirate) to save her.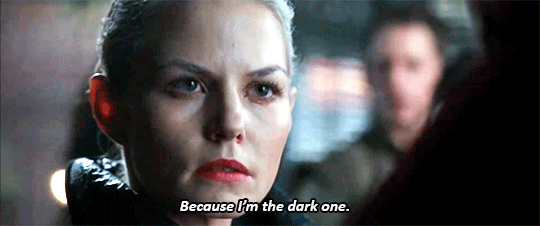 I loved Jennifer as Dark Swan. She was very convincing as the Dark One. When she turned around to respond to Hook when he asked what was up with her, my mouth dropped open.  Obviously, I knew she was already the Dark One, but when she said this line, I was shook. NOT EMMA.
Remember the woman who was closed off to love? Yeah, so do I. Here, at this moment, we see the Emma that had evolved over the six seasons. We see her fighting for those she loves and who love her back. Again, this scene was powerful, and Jennifer played Emma so beautifully in this scene. THE DEVELOPMENT.
Oh, the tears were SO real when Emma said this. Not only is it the Charming family motto, but it was Emma's willingness to go to the ends of the Earth (or Hell, more accurately) for the man she loved. We saw it various times, but this moment gave us the finality that Emma's walls were down, and she has opened herself to being loved. Because she deserved it. (Thanks to one of my followers for reminding me of this scene!)
The last one, I promise. This moment with Emma reigns supreme. Talk about a damn icon. I am forever thankful that Jennifer came back for one final scene of Emma because we got to see Emma has been living her happy beginning with Hook and a baby (eep)! This moment was a nice touch to the end of the series — it was closure and hilarious at the same time. I think I'm going to barge into some weddings this year like Emma crashing Regina's coronation. Like a QUEEN.
Jennifer Morrison will always be our sword and magic-wielding fave, Emma Swan. Join us in wishing her a happy birthday with your favorite Emma lines/moments. Sign off below or tweet me your favorite Emma lines/moments!
Feature image via ABC Press