Aside from OUAT, Friends is definitely one of my favorite shows ever. I stumbled upon the show sometime in eighth grade, and ever since then, I was in love with the show. I can literally watch an episode for the 50th time and laugh out loud. This week, we're focusing on our fave Rachel Green. (A couple of years ago, I actually dressed up as Rachel for Halloween) Here are some of my favorite Rachel episodes:
"The One Where Nobody's Ready"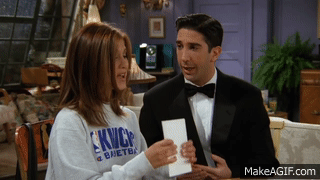 Oh my gosh, this episode is probably my favorite in the entire series. Last year for a class, I actually wrote an essay on this episode. That's how much I loved it, and Rachel has some of the best lines in the episode. Clearly, she's over Ross's annoying prodding for her to just hurry up, so she decides to get back at him. She pulls a genius move by walking out of her bedroom in sweats and a hoodie instead of a dress for his fancy smancy dinner. What an icon. When he appears confused by her appearance, she decides to "catch up on her correspondence" instead. As if anyone ever actually catches up on their correspondence. Or is that just me…? Anywho.
"The One With Chandler's Dad"
So remember the ever-popular Porsche the friends all were dying to drive? Well, Rachel decides to take it for a spin. Also, I should mention that she states she hasn't renewed her license in years. LOL Rachel really doesn't give a sh** about anything, and I love that of her. There's also Ross being terrified of her driving, and even when he tells her not to start the car, she looks at him while turning the key. Same, Rachel, same. You do whatever you want ladies. Although, you should probably keep on task with renewing your driver's license! Also, I think she taught us all how to get out of a speeding ticket in this episode.
"Pilot"
Obviously, this one is one of the best Rachel episodes. The girl who was dependent on the men in her life, up and left to start a journey of being independent. That was pretty fierce of her to do! She didn't even know how to adult, but Rachel wanted to start anew. All she wanted to be was a hat instead of a shoe. The perfect analogy ever.  And, of course, she totally got the hang of it after a while. We can also never forget the iconic moment of Rachel running into the coffee shop in her wedding dress.
"The One With the Prom Video"
While I am not the biggest fan of Rachel and Ross together, I can't deny that this episode was gold in terms of Rachel. It's always the best when we see flashbacks in this show because everything was just so 80s! Love it. This one definitely serves us with hilarious moments of Rachel and Monica getting ready for senior prom. As the friends watch this play out, Rachel realizes that Ross always truly cared about her and that's when she came to terms with it. And, bam, they got together.
Rachel was the hat, if you will, of the show. Anyway, there were a lot of Rachel moments that had me laughing out loud, nodding my head in agreement and rooting for her throughout the seasons. What was your favorite Rachel episode? Sound off below or tweet us! 
Feature image via We Heart It