This post discusses the events of Legacies 1×14, "Let's Just Finish the Dance", aired March 14, 2019
Legacies 1×14 "Let's Just Finish the Dance" dropped several bombshells. We were prepared for all-things nostalgia, (Caroline's dress from Klaus! The no-touch Miss-Mystic Falls dance!), but we were not prepared for:
Penelope to leave the school to move to Belgium
Penelope to have read all of the school's diaries (ugh, the diary nostalgia alone!)
A fierce af gorgon to appear (can she continue to cameo, please?)
Penelope to LITERALLY GIVE JOSIE ALL THE SECRETS TO THE MERGE OH SHIT
That's right, just when we think that Penelope leaving the school to move to Europe was a bombshell in itself, we discover that all along, Penelope's tough love was her preparing Josie for The Merge.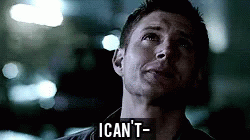 Let's break it all down.
Is Penelope leaving the right thing to do?
While I love Posie more than anything, the question of whether it's right that Penelope leave Josie—knowing about The Merge—is the right thing to do. Penelope's given her all to try and get Josie to stand up for herself and put herself first. Can she really stand on the sidelines and watch her die? If Penelope knows as much about The Merge as Alaric, then she knows there's nothing she can do to help Josie when The Merge actually comes. Would you sit back and watch the love of your life get absorbed by their twin?
Who says Josie is the weaker twin?
Simply because Josie always lets her sister Lizzie get her way doesn't mean that she's the less-powerful of the two. I have a feeling we may have a Dark-Willow Josie on the horizon, and I'm hear for it.
For those who saw that Buffy reference fly over their heads in a magical wave of dark-magic awesomeness, here's the skinny: All of the pressure of Josie pleasing her sister, her friends… means at some point, she's going to crack. Penelope leaving may be the hammer on the egg that finally spills her yolk of supernatural emotions all over the school. (Yes, the metaphor was obscure as f*ck, but I just got done making eggs for my 19-month old, so we're rolling with it.)
The seed of emotional buildup has been planted; remember Hope in this episode? She's arguably the most mentally-tough character on the show (let's not forget, her mom died at the hands of her ex-boyfriend's mom, plus her dad and uncle sacrificed themselves to save her, and oh yeah—she watched her boyfriend die then resurrect from a pile of flames.)
And even she needed a moment in the woods to scream her feelings out into the world. Another thing to note—Lizzie helped Hope through all of this in 1×14. She guided her into processing her pain so she could rise from the ashes. (We all need a little metaphoric Phoenix love.)
What will Josie do when her sister's not there to do that for her? An even better question, how can Lizzie do that for her when she's the one Josie ultimately has to kill—or be killed by?
So let's ask this question again: Is Penelope leaving the right thing to do?
Penelope Park is not a witch that goes down without a fight. Whether in Belgium or Mystic Falls, this badass will continue to look for ways to save her love. Maybe she'll team up with Caroline overseas in the search for a way out of The Merge? I'm in for anything that will give this character more screen time. Cheers to fierce af witches.
Watch the promo for 1×15 below:
What did you think of the episode? Tweet me your thoughts @lizprugh and @Pure_Fandom, and find more Legacies discussions below to theorize with us on.
Legacies airs Thursdays at 9pmEST on The CW
Featured image: The CW