Random Sh!t
TV
Got spring fever? We've got the shows you need to be binging
Spring fever is a thing, or so I have heard. With colds, the flu and the like going around, all you want to do is burrow in your covers while watching some mindless TV. We've all been there, and sometimes all you need is to turn on that one show when you're dozing off or whining about how sick you are. (I'm a known drama queen when I get even the tiniest sick.) Here are some go-to shows to turn on when you're feeling under!
Friends
This is my go-to show whenever I'm feeling sick or tired. I don't know how I would have survived college when I was sick and not at home without this show. It was pretty much on all hours of the day on multiple TV stations anyway. This is one of those shows where you can fall asleep during one episode and just pick up when you startle awake. It'll keep you entertained, but it also won't prevent you from getting those must needed ZZZs. Though, it might cause you to yell "ROSSSS!" from time to time.
The Office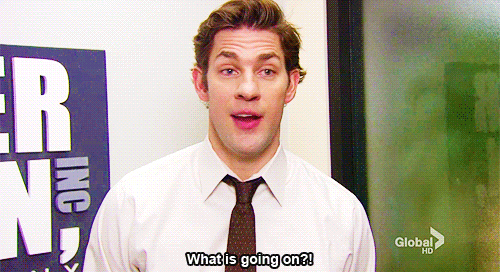 The Office is such a mindless show. Now, this isn't me putting it down because I love this show. It's become one of my favorite shows to turn on when I need to laugh. However, it's also not a show that requires your undivided attention. Unless you're awaiting the moment for Jim and Pam to finally get together, then, by all means, you can rest later. I mean, there are 24 hours in a day, so maybe turn this one on when you're eating your soup or have just awoken from that 4-hour nap.
Parks and Recreation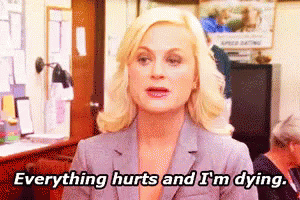 Much like The Office, you don't need to have your eyes glued to your screen for Parks. Leslie and the gang will sure get you feeling like you could get out of bed (I said "could." This does not mean you should). This is a perfect background noise kind of show. So while you're busy coughing or blowing your nose, this will provide you some sort of entertainment. You might wake up to Andy singing "Bye bye Little Sebastain" or Duke Silver playing some of his jazz, but that's fine.
The Marvelous Mrs. Maisel
Okay, first off, this show is hilarious. Second, it's also not a show where you need to kick everyone out of the room so you can pay rapt attention to it. It has some nice music from the 50s, so you won't wake up from your nap to some creepy music from other TV shows. Has that ever happened to you? When you fall asleep and wake up to some creepy show on your TV? It's not fun, so if you have The Marvelous Mrs. Maisel on in the background, you're A-OK! You probably won't fall off the couch or bed from some horror show on your screen.
A Hallmark movie ever to exist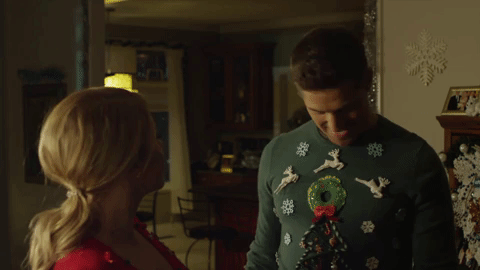 Trust me, whenever I feel like I can't ever move from my bed or couch, I just switch to a Hallmark movie. I've seen 90% of them anyway, so I'm not likely to miss anything. Just like the show above, Hallmark movies always have nice background noise, music or dialogue. It'll make you feel like you're a businesswoman unlucky in love, running into an attractive businessman when in reality, you're in your PJs with tissues surrounding you. In fact, it might cheer you up a bit! Go ahead and turn on that Hallmark Christmas movie — we won't judge you.
That one show you've watched 25 times & know all the words to
When in doubt, switch on that show that you can recite word from word and annoy your friends with. For me, that show is Once Upon a Time. I'll turn on my favorite episode and just let the sickness pull me under without having missed anything. After all, you will have seen the show at least 10 times, so it's not important that you stay awake for it. There's the chance you might wake up during a specific scene and recite the words then promptly fall back asleep.
Don't let spring fever bring you down when there's so many TV shows that will help you through. Here's to hoping I won't have to resort to my own advice (haven't been sick since July). You don't have to be sick to watch these, however. If you're doing homework, work or whatever, these are also perfect shows for that as well.
What show do you like watching when you're down in the dumps? Sound off below or tweet us!