TV
'The Resident' 2×10: Top 3 Moments from "After the Fall"
Lane's death was only semi-glamorous
The Resident 2×10, "After the Fall", Aired January 14, 2019.
The Resident is back from holiday hiatus and it did not come quietly. Nope, The Resident 2×10 came in hot as we meet another one of Lane's unfortunate patients and a new doctor who might just have as much charm as Conrad. He better not interfere with CoNic, I will not stand for that. We just got them back together and happy, please let them stay together. Alright, let's talk about the best moments from The Resident 2×10 "After the Fall!"
Dr. Alec Shaw joins the clinic
Welcome to the family, Alec! After a horrendous lineup of interviews, Nic and Mina were out of options for a general practitioner to run the clinic. The dangerously low pay, probably didn't help. Luckily, one of Devon's first year students knew about a guy and BAM! We meet Dr. Alec Shaw. He is a true man of the people and he couldn't care less about hospitals. If he wasn't so dangerously cutesy with Nic, we'd push for a friendship between him and Conrad.
Shaw repeatedly said no to Nic and the clinic because it was, by association and funding, a part of Chastain. Big Pharma, the healthcare industry, they're all out to get the average person and Shaw wants no part of it. We can't blame him. But, also, working out of a bus seems a little extreme. Especially when you can provide the same care at a much cleaner and bigger facility with more resources.
Finally, after a little egging and slight manipulation by Nic, Shaw chooses to join our rag tag team and shows he's a perfect fit by immediately getting to work. It only took all of The Resident 2×10 for him to figure it out. He's a smart guy and he kind of shows us what a young Conrad must have been like. He operated on a man in the unfinished clinic just as Conrad would work on patients in hallways or rooms. They've got a lot in common. He'll be a great fit, but he has to figure out his place. And again, Nic, is off limits.
Devon moves in with Mina
It feels like ages ago, but in the world of The Resident 2×10, Devon's flopped wedding was mere hours before. Mina from the get-go was not a fan. She admitted to being disappointed in Devon and even unknowingly checked Austin when she said Devon should've avoided Julian like the plague. Unfortunately, none of them knows about what happened with Julian and we still are not 100% on it either. Is she really dead? Did she pretend to drown in the lake, but is actually on the LAMB? All we know is that Gordon Page has her phone and he is a complete monster who is willing to do anything to keep his pockets lined.
At the end of The Resident 2×10, we see Devon and Mina walk into her apartment and we were bombarded with a set of rules. Albeit, they were necessary rules, but most people wait a few seconds before unleashing the Red State on guests. Then again, it's a very Mina way to say welcome home. The two have always been close and it's going to be amazing watching them have moments together. We've seen so much of their lives at Chastain with just glimpses of their outside lives. Hopefully, this is the beginning to us being shown more about their lives beyond Chastain's doors.
Lane Hunter is dead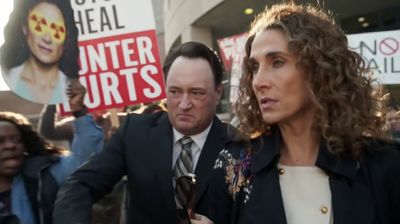 In a rather extreme twist, Lane Hunter who was so confident and self-assured, was shot in her hotel room wearing nothing but a hotel robe and neon green lace. Definitely not how anyone wants to go. Black lace or red is at least classy/sexy, but lime green? Ew. Talk about a horrendous death for a horrendous person. Guess I can't really complain. Though if she had died in a much more compromising way, say picking her nose on the toilet, I would definitely have been happier.
Lane Hunter started off The Resident 2×10 with blackmail and crazy ex-girlfriend syndrome. However, she did show us that Randolph Bell isn't a complete monster. When threatened with his arrest from 2×01, he realized what helping Lane could cost– many lives and a lot of suffering. He also mentioned Lily Kendall. It seems that bright young girl left her mark on even the grouchiest of grouches. RIP, Lily, you were so loved.
Predictions for The Resident 2×11
Marshall survived and we're hoping to see more father-son bonding in the next episodes. It won't be a walk in the park as these two have been apart and at war longer than on the same side. But, with Marshall's condition, a redemption can surely be expected. We might even learn more about Conrad's mother.
We also have yet to find out what truly happened to Julian. I hope she survived and Devon stopping the wedding wasn't for nothing. They were cute together, and also, they clicked. They have different jobs, but they're in the same industry and they both care for people and doing what's right. Can you imagine how incredible those two could be together? They'd be unstoppable. They could put QuoVadis in the ground and that's probably why Gordon has it out for Devon. Let's hope Devon puts the pieces together soon.
Dr. Alec and Nic are going to have a lot of close contact, but it won't go too far. Nic is committed to Conrad and they have so much history and are meant for each other. I wonder if Alec will end up with someone else we really like… Mina's taken and so is Nurse Jessica (where was Irving btw?) Guess we just have to wait it out.
Let us know your thoughts on The Resident 2×10 in comments below or on Twitter, @Pure_Fandom and @SuryaCherian!
The Resident airs Mondays at 8/7c on FOX.
(image: The Resident | FOX)