In honor of our favorite Captain's, Colin O'Donoghue,birthday, we are gifing you (too many puns?) with our favorite Hook gifs from Once Upon a Time! You can never have too many gifs of Killian Jones. So, join us in celebrating!
That eyebrow raise.
This is just forever iconic, and one of our favorite Captain Hook gifs! I mean, season 2 Hook was the best, honestly.
Hands down one of the funniest and best Hook gifs of all time. Nothing will top this moment or his facial reaction. I mean, I would have had the same reaction as he had during this scene because YIKES.
What can I say? I have a weak spot for Dark Hook, especially Dark Hook in Storybrook. This is just perfection in a gif.
This doesn't even need a caption — it speaks for itself.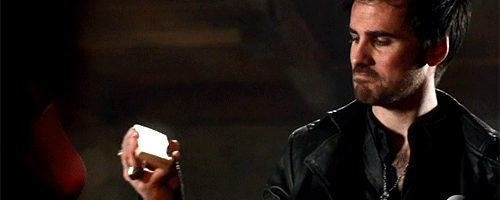 Again, I don't even need to say anything. Just enjoy.
Happy birthday, Colin O'Donoghue! This makes me want to cozy up on the couch and rewatch some Hook-centric episodes of OUAT. Sounds like a great idea to me, especially considering this negative temperature and endless snowfall. Tweet us your fave Hook gifs!
Feature image via Heightline