I'll be the first to say that Once Upon a Time had some fantastic Hook-centric episodes throughout the six seasons he was on the show. It's also no surprise that these episodes were also some of my favorites as well. Here are some episodes for the Hook lover in your life to snuggle up by the fire with some hot cocoa and cinnamon. Or by yourself with popcorn — whatever's your posion!
3×05 "Good Form"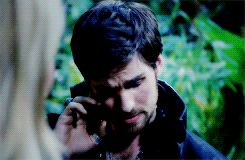 I am in love with this episode. It might be because it was Hook centred, or it might be because Captain Swan had their first kiss. Whatever the reason may be, this episode had me hooked, so to speak. How cringy am I using that line?
Anyway, this episode really showed fans who he was before he was Hook — when he was just Killian Jones of the Royal Navy. His backstory of him losing his brother really humanized him. While I am not excusing his misdeeds, the backstory helped understand Hook's reaction and turn to the dark side.
So, yes, this episode is one of my favorites of the series for many reasons. Also, can we talk about Hook's speech to Emma about winning her heart? Swoon.
5×11 "Swan Song" I'M SO SORRY. However, this episode was pivotal to Hook's character development, which I am all for. This is the episode when Killian Jones, the former bad boy of the Enchanted Forest, saves the whole town of Storybrooke for the woman he loves.
He was able to fight off the darkness because he was a changed man. Killian was no longer looking for revenge but redemption. I think that this episode captures his 360 turn around perfectly. While it was emotional as heck, we saw Killian as a hero.
6×12 "Murder Most Foul" This episode was all kinds of intense. Once again, we saw a peek at his villain side, which made me want to cry myself to sleep…I also loved when Hook and David had teams because they were my favorite friendship ship on the show.
This episode was actually very Hook heavy, which I was totally here for. And let's not forget that cute little moment when he told Emma that he desperately needed to kiss her. Boyfriend goals, you guys! How could I forget the moment where he talked to Archie about marrying Emma and asked David for her hand. AHhhhhhH!
2×04 "The Crocodile"
Ah, the beginning of it all. This was the episode where Captain Hook first graced our screens. I'll never forget the moment that camera captured him, and I spit out my coffee. That was not the Captain Hook I remember for my childhood. Well done, OUAT with that upgrade!
Suffice to say, of course this would be an episode to rewatch. It also had the start of the feud between Hook and Rumple. A feud that, quite frankly, didn't really ever end. That was an interesting tidbit to find out Hook had stolen Rumple's wife. And who doesn't love the villain Hook?! I loved villain Hook.
Turn on the Netflix and flip to these episodes for some Hook to grace your screen. You know that you want to. What is your favorite Hook episode that you rewatch over and over again? Sound off below or fangirl/boy with us on Twitter.
Feature image by journeytofictionverse.blogspot.com