Anime
Anime lessons – what we can learn from anime
You may be asking yourself, "What kind of anime lessons are out there for us to learn?" Throughout my articles here, I've attempted to provide examples to illustrate varying themes in anime. The stories are all so different but there are often common threads woven through. I'm hoping that this article will be one to tie those many threads together.
As I start this lesson wrap-up, it reminds me of a favorite quote: "It's like, at the end, there's this surprise quiz: Am I proud of me? I gave my life to become the person I am right now – was it worth what I paid?" Richard Bach. I've been at this anime writing thing for Pure Fandom for a little over a year. While this is my last article, I wanted to leave you readers with something worth the paid price.
These anime lessons are things that I'm taking away and adding to my life. They are important enough to share. My whole goal in sharing what I enjoy about this obsession is to motivate more people to join in on it. If it helps just one person join this fandom, then it is a success in my eyes.
Spoiler: I'm going to do my best to suppress meaningful spoilers in this wrap up. Naturally, I hope that you'll take the spoilers as my encouragement to give these anime a try!
Anime Lessons – Embrace what you love: Otaku Style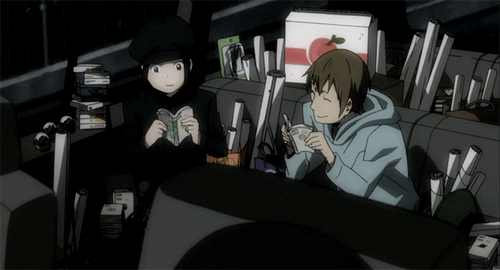 Suggested anime: Durarara!! – Wotakoi: Love is hard for otaku – No Game No Life
I won't lie to you, in the beginning, I wasn't as open in admitting how deep into the rabbit hole I'd fallen regarding the anime fandom. Yet, there are otaku all over anime and they are unapologetically enthusiastic about what it is that they love. I look at a pair of best friends like Erika & Walker and can't help but admire the fervor they display.
Anime Lessons – Don't give up the fight
Suggested anime: Welcome to the NHK – Yuri on Ice! – Your Lie in April
I spent an entire article on mental health awareness and its place in anime. It is important enough to bring it up again. More exposure of those who suffer with mental health issues can help us all see that we aren't alone. We can ask for help in our struggle. We may not succeed but we can continue to fight.
Anime Lessons – Everyone has a special skill
Suggested anime: Assassination Classroom – Haikyuu! – Food Wars
Your own special skill doesn't need to be something that goes beyond human capabilities. However, you should recognize that it is there. These suggested anime focus on middle/high schoolers but if you haven't figured out your skill by then, don't fret! Life is a journey to find that special something. We are challenged by our teachers, mentors, peers, and rivals along the way to find out what makes us the individuals that we are.
Anime Lessons – Protect what is precious to you
Suggested anime: Naruto – Akame ga Kill – My Hero Academia
This must be the lesson of lessons. I've had an evolving definition of love that I keep updating whenever I learn a new aspect. No one is as strong as they can be unless they are protecting something/someone that they love. Putting your life or beliefs on the line for what is precious is another form of love that gives us strength. We are unable to lose when we stand up like that. The power of pride…a power of belief…the power of love just won't let us.
There are innumerable anime lessons out there, but these stick out to me in the 112 titles that I've watched. Hopefully there is a selection or two in here that you can enjoy. Come back to me with a lesson you've taken from anime. Please feel free to leave a comment here or follow me on social media (Facebook – Twitter – Instagram)!
Featured image: Funimation