Dick Grayson's contact list had a bunch of names including this character which has been teased since the beginning of Titans. This week's episode features Donna Troy, better known as Wonder Girl. In the comics, she has major ties to Wonder Woman and she has a storied history with the Teen Titans, too.
The Basics:
The character made her debut in 1965 in an issue of The Brave and the Bold where she's introduced as a member of a "junior Justice League" (i.e. the Teen Titans) alongside the likes of Robin, Kid Flash and Aqualad. Wonder Girl's set of powers shares a lot of similarities to her big sister.
Where she stands out is her psychic link to Diana as well as being able to flawlessly imitate any voice she hears or knows and she has her own lasso where she can persuade anyone to do her bidding.
Various sightings: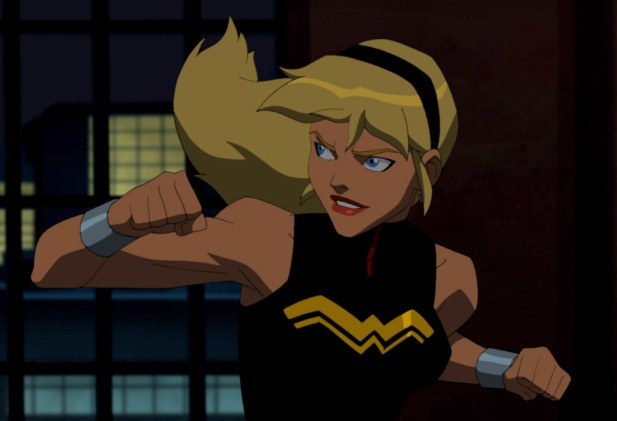 Wonder Girl is no stranger in this medium. She has appeared in other projects, most notably, in Young Justice (Sidebar: Which is coming back very soon! January 4th!).
However, the Wonder Girl character is the Cassie Sandsmark iteration (created by John Byrne). Donna Troy (in the Troia persona) was planned to make a cameo in Season 2 but it never materialized.
Titans brings Donna to the show as Dick is doing some soul-searching after that asylum adventure has left him more confused than ever. He's been replaced as Robin, he's still torn about his violent tendencies and he's having an identity crisis.
Donna (played by Conor Leslie) is in a good place where she's found a career as a private investigator, one far less cynical than Jessica Jones. Their reunion could be a turning point for Dick's arc as we head towards the end of the season (Nightwing, anyone?)
Titans is now streaming on the DC Universe app every Friday. Missed an episode or want more news on Titans? Our Titans tag has you covered without any superpowers involved.
(Images are provided for by DC)
featured image: DC