TV
'The Resident' 2×08: Best and worst moments from "Heart in a Box"
The Resident 2×08, "Heart in a Box", aired Monday, November 19, 2018.
The Resident 2×08 was definitely not a Thanksgiving themed episode. Instead, our favorite characters went through the ringer and some came clean about their heart breaking pasts. What "Heart in a Box" lacked in excitement, it made up with lots of story building for the fall finale.
"Heart in a Box" had Henry and his family back after some pretty rough and unceasing seizures. Devon survived one of the roughest shifts in the ER. Plus, Mina and AJ shared more than just an ambulance ride. Let's talk about the best and worst moments from The Resident 2×08!
The worst moment: Priya asking Devon to leave Chastain
Many of you may be wondering why this is the worst moment. I have answers. Devon has had his fair share of rough days at Chastain before. However, this time he had the added burdens of Priya asking him to leave and the guilt of his earlier transgressions.
Priya has an amazing opportunity in San Fran and wants Devon to leave, she even mentioned that she had done the same for him. That was a low blow. It's kind of unfair as well. Priya's career field and Devon's are vastly different.
As a journalist, Priya can still work from ATL. For Devon, he has to finish his residency before he can even consider moving. The path to becoming a doctor is not easy and moving could cost him his entire career.
If Devon leaves, he would have to wait at least a year before getting back into the game. Sure, he could work on his medical devices, but at what cost? Hospitals don't want out of practice residents– they are a liability.
So, really Priya was asking Devon to abandon his entire life plan for her career and honestly, that's not kosher. The one silver lining is that Devon, even after getting punched and racially harassed, realized this (being a doctor) is his calling.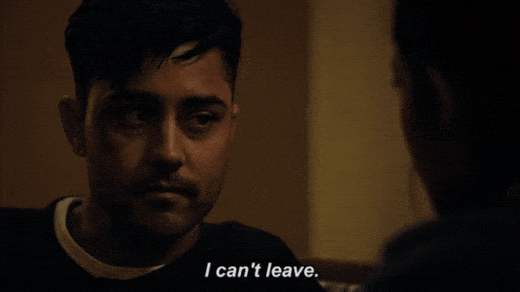 The best moment: Lane Hunter is out for blood
Hell hath no fury like a woman scorned. Dr. Lane Hunter can now add blackmail to her list of illegal activities. Lane's meeting with Bell made it to the top of our list because it was unexpected and brilliant.
Lane realized she could play Randolph for all he's got because if there's anything he cares about, it's his image. Does she really have a sex tape of them getting it on? I have no idea, but Bell's quick acceptance means it probably exists and it was probably consensual.
Lane's demands are steep. She wants half a mil for bail and a fancy lawyer so she can kiss prison goodbye for good. Bell is definitely dancing on a very fine line. Lane cannot be trusted and Bell's already got a blemish on his record.
Will Bell get her out? Let's hope not, because a free Lane Hunter makes for a very unsafe world.
Honorable best moment mentions
Mina and AJ's ambulance ride was one of the best scenes of "Heart in a Box." We all knew Mina was strong, but to survive losing her sisters in a fire that may have been her fault? She really is the strongest person on television.
Nic, on other hand, witnessed those heart eyes AJ keeps sending Mina. She called him out on it, but surprisingly, he was super chill about it. You guys, they might actually become good friends. Who knew?
Poor Julian discovered her boss was a dirty liar and a filthy fraud. He didn't even care that his device was being put into a child. Julian's going to be a whistleblower and it's going to get messy. How messy depends on how far Gordon will go to save his own ass.
The Resident 2×08 had its slow moments, but was a great episode overall. It laid down the beginning pieces for whatever's going down in the fall finale. It also brings up a lot of questions. Will Lane be released? What's Julian going to do? Plus, Devon's wedding is next week. Will he go through with it? Let us know what you think in the comments below or on Twitter, @Pure_Fandom and @SuryaCherian!
The Resident airs Mondays on FOX.
(image: Guy D'Alema | FOX)