Quality video game adaptations are few and far between. For every Super Mario Bros and Max Payne, there's a Mortal Kombat or a Silent Hill. Castlevania became a revelation with its debut season last summer with a great creative team behind it in Adi Shankar and Warren Ellis (Moon Knight, Transmetropolitan, The Authority). The show doubles down on what made the show work in Season one to deliver a killer season two.
Dracula's on the warpath.
Season 2 picks up shortly after Season 1 where Trevor Belmont (Richard Armitage) & Sypha Belinades (Alejandra Reynoso) discover Alucard, the son of Dracula (James Callis).
The three set out to stop him and Dracula (Graham MacTavish, Outlander, Preacher) is already gathering forces of his own to destroy Wallachia. The show bolstered its villains this time around and Peter Stormare's Godbrand steals the show.
Cracking the whip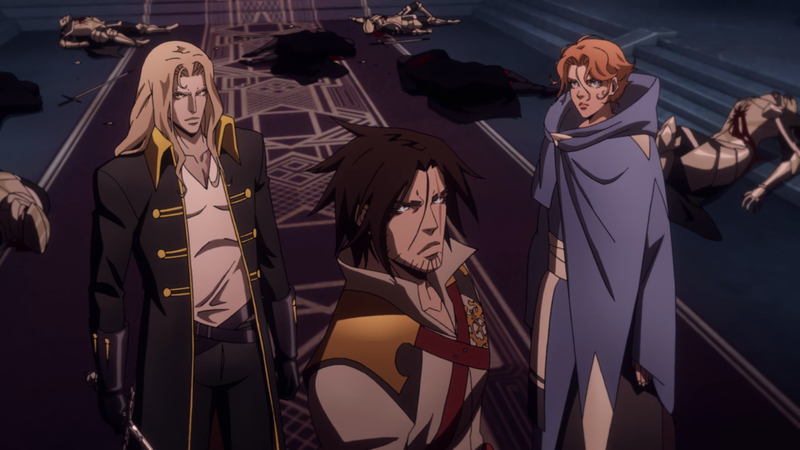 What's different about S2 is the pacing. Season 1 came out swinging of the gate with its bloody, kinetic pace at a very short four episodes. This season doubles the length and it takes its time and the show is a more deliberate, character-driven, atmospheric outing.
The action comes in smaller doses but Castlevania makes it count and it's awesome especially when Godbrand's onscreen and there's one fantastic fight scene during episode 7 that'll delight hardcore fans. It's a slow-burn but with each episode topping at 23 minutes apiece, it doesn't drag.
There's a purpose in every scene and the animation is top notch and there's some room for comedy between Trevor and Alucard, which is a good respite from the melancholic atmosphere.
Sympathy for a monster
Dracula's arc in Castlevania is a lot more fleshed out. The show goes to great lengths to add nuances to his contempt against humankind. He's grieving his wife Lisa, who was burned at the stake back in S1.
The longer season focuses on his grief so much so that the core trio of Trevor/Alucard/Sypha takes a backseat to him and it pays off. Aside from all the buckets of blood being spilt is some political intrigue in Dracula's inner circle.
Bloody tears of joy
Castlevania stabs the sophomore curse in the heart with its second season. It's just as compelling and the slow-burn approach does pay off and the last couple episodes are just insane. Any future game adaptations needs to take its lessons from this show. I'm very excited to see where things go next.
all images provided for by Netflix 
featured image: Netflix