Daredevil recap and review, Season 3, Episode 8 "Upstairs/Downstairs", aired on Oct 19, 2018.
Warning: Full Spoilers will follow
Matt and Nadeem have formed an uneasy alliance and they set out to find Dex in this jack-of-all-trades instalment.
Walls closing in…
Every character gets a lot to do. Starting with Foggy, he decides to take the next step in his bid for the city DA by having a debate with Tower about Fisk in order to put him back in prison. He asks Karen to write about it…until she decides to Fisk head-on!
Goddamn it, Karen! Don't turn into Matt on me!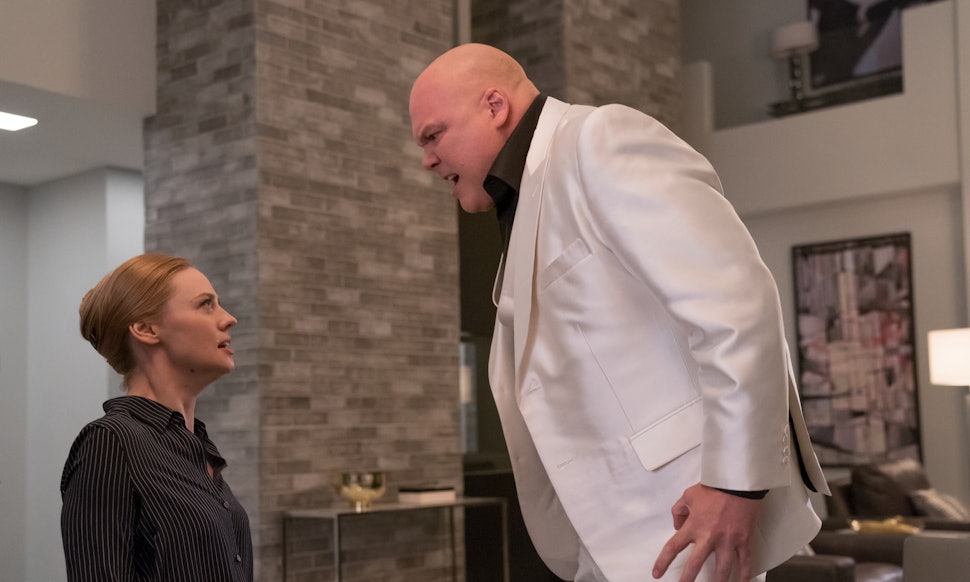 The best part of this episode was Fisk and Karen's face-off and it's been a long time coming. What else hasn't been said about Vincent D'Onofrio? He brings out the best out of the whole cast and Deborah Ann Woll came to play in this outing. The shoe has been itching to drop since she killed Wesley and I was on edge the whole time. The inciting incident of Born Again had a drugged-out Karen reveal to Fisk that Matt is Daredevil. The show was able to pay homage by having Karen let that info slip and it confirms Fisk's suspicions. It was a phenomenal scene.
A desperate Dex wants to reconnect with Julie and she reluctantly agrees to see him. Until Fisk decides that she's holding him back and decides to have her killed and he had Felix to steal her phone to blow him off. Fisk is using everyone as a chess piece, but Karen comes damn close to knocking him off his perch.
Secrets and lies
Matt and Nadeem have a stakeout by tracking Dex in his apartment and a deadly game of cat-and-mouse ensues going upstairs and downstairs. Last but not least, there was one more bombshell left to drop. There had to be a purpose for Sister Maggie beyond looking out for Matt going into season 3 and this comic fan got the payoff he wanted…Sister Maggie is Maggie Murdock!!!
"Upstairs/Downstairs" had it all as secrets were revealed, actions were taken by three bullheaded people and the endgame has been brought into focus as we head towards the back end of the story. What a season so far!
All images provided by Marvel/Netflix
featured image: Marvel/Netflix