Daredevil has been, and continues to be, the gold standard for fight scenes on television. The lion's share of the praise goes to the incomparable Chris Brewster, a stuntman whose credits include Captain America: The Winter Soldier, Avengers: Age of Ultron, Agents of S.H.I.E.L.D., The Defenders, to name a few.
With Season 3 finally out in the wild, I got a chance to talk to Chris about how he joined the show, his favorite characters growing up, his favorite Daredevil stories, and he even tells a story of how the epic 11-minute one-shot prison riot came together!
Warning: Some major spoilers for Daredevil Season 3 will follow. Read at your own risk!
Magan Yusuf of Pure Fandom: Before the show started, what was it that drew you into Hell's Kitchen?
Chris Brewster: Well, I was actually born in New York, I only lived there until I was about 5, but I've always loved it. When I got called to double Daredevil for 6 months in NY, I jumped at it!
Were you already a Marvel fan from the beginning? What was your first experience?
I've loved Marvel comics since I was a kid, I grew up reading Ghost Rider and Gambit and a bunch of the classics. I didn't read too much Daredevil until I started working on the show…but once I started, I was hooked!
Interesting! Any runs in particular?
All of them! Born Again, Guardian Devil, Shadowland. I can't pick a favorite. All the Daredevil storylines are so good!
Those are some good ones you named. Personally, I also loved Brian Michael Bendis and Mark Waid's runs myself. Speaking of Born Again & Guardian Devil, both of those arcs have a major influence on the new season (one nod to the former is the imposter Daredevil). How difficult was it to do the church fight?
We like to make all of our fights challenging. If they aren't challenging, they aren't exciting. The toughest part of the fight scenes in Daredevil is the time frame. In movies, they have months to prep action sequences like the church fight. We try to deliver action that rivals these movies, but with only a few days to prep. A lot of times, we only get a few minutes or hours to teach the actors the fight. However, we are blessed with some incredibly talented actors who are able to pick up choreography extremely fast, and are able to perform on the spot. I am blown away by how quickly Charlie and Wilson were able to bring the church fight to life!
Season 3 has really upped the ante with its fight scenes. The last shot of episode 3×10 gave me serious Guardian Devil vibes—I was smiling from ear to ear! The prison riot oner was truly something to behold. What's even more impressive was that Charlie Cox did most of it himself! What was that day like?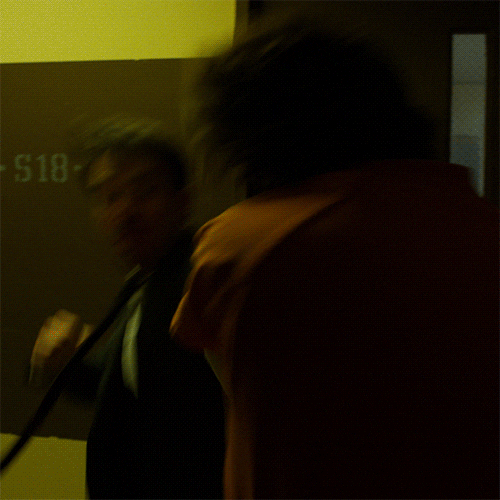 Well, any one-shot action sequence is a huge gamble. If done right, it can be legendary; but even the slightest mishap will ruin it. An 11-minute one-shot scene with a massive fight, a prison riot with 30 stuntmen, about 20 different rooms, and a big dialogue scene in the middle is almost impossible. With extremely limited rehearsal time, we were excited but nervous. We set the bar pretty high in season 1 with the hallway fight, so we knew we needed to go big. We only had a few hours to teach Charlie all the choreography, so there was a ton of pressure on him, but as always, Charlie rose to the challenge and absolutely rocked the scene. The first two takes were almost perfect, and we were extremely happy, thinking that might be as good as it can get. But we all decided we wanted to go one last time to see if we could make some magic, and we did. When we finished the third take, the entire cast and crew embraced, knowing that we just accomplished something incredible.
Hard work does pay off in the end! I also noticed that this season has a new stunt coordinator in Gary Stearns. I loved Philip Silvera's work on the previous two seasons. What did Gary bring to the table to make the fight scenes feel fresher than before?
Daredevil was Phil's first real coordinating experience. He brought a lot of enthusiasm to the show, but Gary brings experience and knowledge. Because Gary has been in the business longer, he knows how to keep everyone safe. We were able to go way bigger, with far less bumps and bruises along the way.
That's cool! The show has developed the same success rate for showrunners as there have been for up-and-coming writers in the comics. What was it about Erik Oleson that sets him apart from Steven DeKnight, Marco Ramirez, and Doug Petrie?
Well, each showrunner has come in with a very different vision. Steven DeKnight is an absolute legend and is responsible for so much of this show. He literally brought DD's origin to life, focusing on Matt Murdock's transition into vigilante and then hero. Marco told the love story of Matt and Elektra with a very cool vibe. Erik had some huge shoes to fill, and I think he did an amazing job. He not only brought a new story, but also a new style of shooting. He decided to tell Matt's story from Matt's point of view. He was extremely hands-on, aiding everyone in every element of the storytelling. He brought an incredible new energy to the show,by bringing it back to its original gritty roots.
Fantastic! Considering that Daredevil exists in the MCU. Hypothetically, if you could cross him over with anyone. Who would it be?
I would love to see Daredevil team up with Spidey.
Daredevil season 3 is now streaming on Netflix.
Follow Chris on Twitter and Instagram: @ninjabrewski
(All images are property of Marvel/Netflix)