Daredevil recap: Season 3, Episode 4, "Blindsided", aired Oct.19th, 2018
Warning: full spoilers will follow

Matt goes right into the belly of the beast by infiltrating prison to figure out the Albanian mob's bad blood with Wilson by posing as Foggy (with a little sleight of hand by stealing his wallet!).
Missing the mark
Dex is being put under the microscope over the Albanian assault on Fisk and how his claims of self-defence don't add up. A grateful Fisk covered for him and he was able to avoid getting fired by his bosses. Something tells me that Fisk has found a twisted kindred spirit in a man who can't miss. There's a funny moment where Dex, while watching Fisk eating lunch, quizzically asks, "Who eats a burger with a spork?"
Meanwhile, Foggy, not heeding Matt's advice, tells an on-edge Karen that Matt's alive. Despite being visibly hurt, Karen continues to keep pursuing the truth behind Fisk's release. Thanks to some encouragement from Marci (played by an effervescent Amy Rutberg), Foggy decides to run for District Attorney against Blake Tower in order to put Fisk behind bars via the legal route.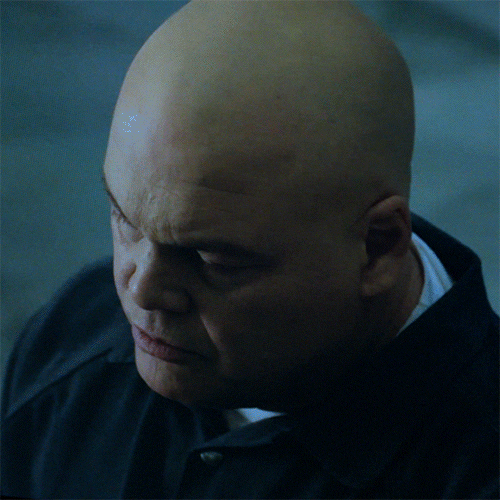 The Devil in Cell Block D, D is for destruction
Now…the mother of all one-takes!
Daredevil's breakout moment was the iconic hallway fight back in Season 1. Season 2 outdid it with the Stairway to Hell*. The other Marvel shows like The Defenders (where it had four heroes in a hallway) tried to replicate it, but it didn't measure up to how amazing this sequence was.
*Watch Agents of SHIELD
It lasted 11 minutes. ELEVEN. F***IN'. MINUTES. DEAR GOD! It starts in a hallway, then it goes back into the nursing office and it spills back out into the rest of the prison without a single cut. This fight scene is pure, unadulterated chaos as inmates and guards were beating the holy hell out of each other. There's a beat in the scene where Matt and Vic, an Albanian mob boss gives him vital information about Fisk's release.
What's even more impressive is that Charlie Cox carried this epic scene on his back. Not only did he convey Matt's grit and willpower, it moved the story along while blowing my head right off.
Matt heads back out with some help from the Albanians as he's dodging inmates shanking guards all the way out to a cab. I can't put it into words how entranced I was, I kept muttering, "don't let it end, don't let it end" like a madman. Suddenly, Matt winds up being driven into the river (another moment ripped from the Born Again arc).
It's a testament to the show's stunt team and writing staff that Daredevil marries amazing action with captivating storytelling.
An amazing episode with an unbelievable one-take fight that's a new water mark for rest of the genre.
Special thanks goes to Alex Garcia Lopez, Charlie Cox, and Chris Brewster for their unrivaled stunt choreography, and if the awards system is just, give the stunt team ALL THE EMMYS!!
(All images are property of Marvel/Netflix)