Daredevil season 3 premiere recap: Season 3, Episode 1, "Resurrection", written by Erik Oleson & directed by Marc Jobst. Aired on October 19th, 2018.
I'd rather die as the Devil, than live as Matt Murdock – Matt 
I've been aching for more Daredevil ever since The Defenders ended. I got my wish with this strong season opener that wastes no time in addressing how Matt survived the Midland Circle collapse.
New normal
In Daredevil 3×01, Matt awakens back in his church and he's not particularly happy that he survived. His heightened senses have been weakened post-Midland Circle, Elektra's nowhere to be found, Foggy & Karen don't know he's alive and he's suffering an identity and existential crisis. Thankfully, he doesn't have to wallow in his self-pity for very long as Joanne Whalley's Sister Maggie, a sharp-tongued nun from his childhood, aids in his recovery.
Sister Maggie quickly made a terrific first impression. The chemistry between Cox and Whalley is awesome in that she's not shy about letting Matt feel sorry for himself or lose his faith in God, which was already dwindled from the jump. Charlie Cox is as stellar as ever in the premiere, the trauma he's suffered from last season and Defenders resulted in his loss of faith and he portrays a man on a downward spiral. He feels that his failing abilities are a punishment from above.
Confessions
There's a flashback that fleshes out that scene in the season two finale where Matt reveals to Karen about his secret identity and it was handled wonderfully than how Defenders quickly glossed over the impact of such a bombshell and Deborah Ann Woll expertly handles how conflicted she feels about Matt's double life. In the present, Karen and Foggy are doing their best to move on and to honor Matt. Karen's paying the rent on Matt's apartment, Foggy has stepped out of Matt's shadow to becoming a good lawyer.
They're mostly in the background in the premiere as it largely focuses on Matt's recovery.
You gotta walk before you can run
Thanks to a creative use of a neti pot. Matt regains his abilities and he starts to rebuild himself. Father Lantom hooks him up with a boxer to train with and it's obvious that he's not 100% just yet. Regardless, he recklessly returns to the streets and he gets his ass handed to him by some thugs disguised as cleaners. Matt's got a death wish and it scared me a little to see him with arms outstretched willing to end his Job-like existence
Bow down to the King(pin)
Elsewhere, Wilson Fisk is still behind bars riding out his sentence. Vincent D'Onofrio returns with authority after an extended cameo from last season and quite frankly I'm glad he's back full-time. He elevates the show every time he's on screen. In addition, his arc also introduces FBI Agent Rahul "Ray" Nadeem who he offers a deal to reduce his sentence by becoming a confidential informant.
Closing statement
Daredevil kicked off its third season with a strong opener that wisely scales the scope back to season 1's grounded style. Not a ninja in sight as it resets the chessboard for what's to come.
A little side-note: This shot of Matt crouched opposite a crucifix is a lovely homage to Kevin Smith's Guardian Devil story arc…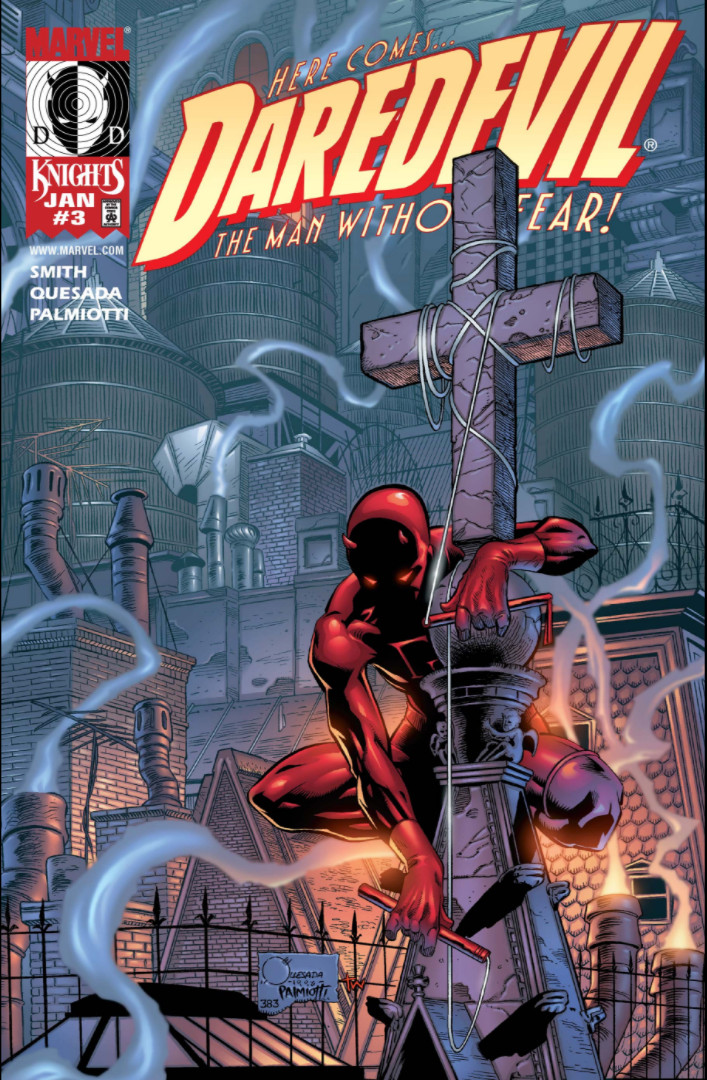 (All images: Marvel and Netflix)