The Riverdale Season 3 trailer is here and that means it's time to head back to the spooky, sexy, crazy town of Riverdale! We are READY! If you recall, last season ended with our dear, sweet Archikins getting carted off to jail after his fall out with Hiram Lodge. We also saw the "end" of the Black Hood mystery, and we are hoping that the Black Hood mystery stays dead and buried in Season 2. (Seriously, just let it die!)
Without the Black Hood haunting our favorite teens, what can we expect next season? Well, if the Season 3 trailer is any indication, we are going to get a healthy dose of drama, teen angst, sexy times and something super spooky!
Here are the 5 best moments of the Riverdale Season 3 trailer!
#1  Teens being teens. Watching the core four jumping in the river, riding in the jalopy, cheering, going to class and hanging out is a refreshing twist from their tension filled times in Season 2. More of that please!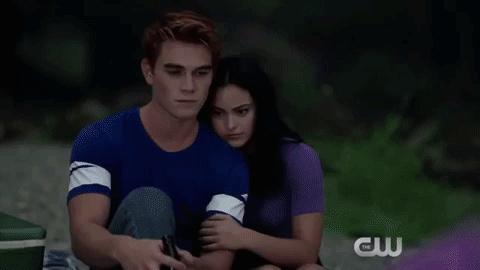 #2 FALICE! In a blink and you'll miss it moment, the Season 3 trailer showed a glimpse of Alice Cooper and F.P. Jones IN BED! It's about damn time!
#3 Kevin kisses. We have been saying this for a long time, but Kevin is criminally underutilized in this show. Hopefully this quick shot of him being out and open at school isn't all we will see of Kevin and his love life in Season 3!
#4 Darkness. There are some quick shots of twins and what looked like some sort of ritual thing. Plus, with the spin-off, The Chilling Adventures of Sabrina offering a look at the supernatural side of this universe, we are ready for Riverdale to embrace it's spooky side! Bring. It. On.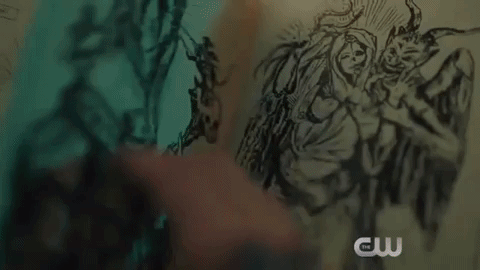 #5 Archie. Did you see what's on his arm?! Archie has a snake tattoo on his shoulder! What does this mean?! Did Archie join the serpents?! Maybe this was a way to stay safe in jail or maybe he is just a huge Taylor Swift fan, either way – we have questions! Whatever keeps you out of the mob, buddy.
Watch the trailer:
https://youtu.be/rMju1TwdFeA
Riverdale will return to The CW on October 10th!