TV
'Trial & Error' season 1: Spoiler-free review of NBC's new mockmentary
Trial & Error Season 1, Aired March 14, 2017 to April 18, 2017.
NBC's Trial and Error is a play on the mockumentary style of Parks and Recreation and The Office with its own secret charm. It's truly fascinating how odd the series is. The show has major twists and is hilarious. It's perfect to watch when you're trying to wind down after a long day. You don't have to worry about keeping up with the story as the show's charm lies in its characters and the town, not the actual case. Josh Segal (Nicholas D'Agosto) is a relatively new attorney from New York City who comes into East Peck, South Carolina envisioning a grade-A legal team and an easy win. What a sucker.
Upon his arrival, Josh learns his mistake as his office is in a very unlikely area with a grand team of 2. Dwayne Reed (Steven Boyer), Josh's lead investigator, was kicked off the police force and is not the smartest individual. Anne Flatch (Sherri Shepherd) is Josh's assistant/researcher and a walking scientific conundrum with various health issues. If you're thinking something like a sinus infection or a weird toe, you're not thinking outside of the box enough. Josh's client, Larry Henderson (John Lithgow) is a bizarre poetry professor who inadvertently manages to incriminate himself every 5 seconds. Larry is the prime suspect in his wife's murder case. Prosecutor Carol Anne Keane (Jayma Mays) is also out for blood. She is banking on this case to help her win the DA election.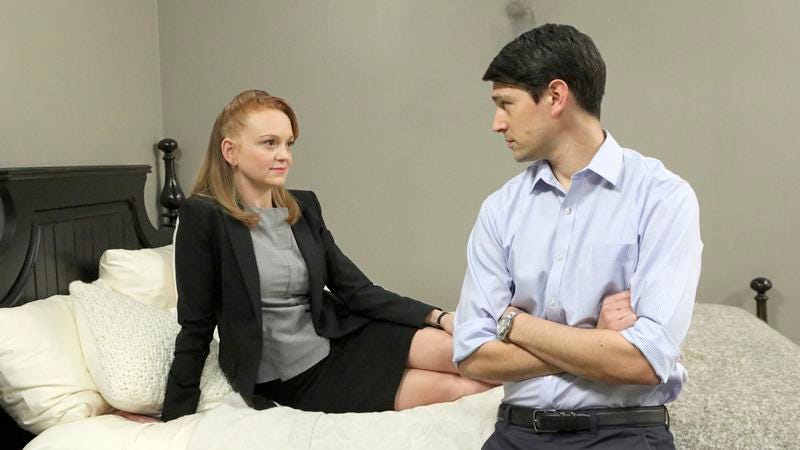 Naturally, the situation is complicated. Also, it doesn't help that Josh is way out of his league with all of the little nuances of East Peck. The town still enforces all of their outdated laws and rules. As a result, it is no easy feat to be a "Northerner" in East Peck. Each episode introduces a quirky tradition, saying, or aspect of the town making viewers shake their heads while laughing at the absurdity. However, I won't go into too many details because this is a spoiler-free review. Just know, in every episode something goes horribly wrong and it's amazing to watch.
I have to hand it to the writers, the things they come up with are mind boggling and absolutely hilarious. Trial & Error Season 1 has managed to make us feel grateful for our own world despite all the political splits and issues. No one wants to be in such a topsy-turvy town, however, it sure does make for great television. If you give the show a shot, let us know your thoughts in the comments below or on Twitter, @Pure_Fandom! Plus, look out for our review of Trial & Error Season 2 coming soon! Kristen Chenoweth is in it and she is killing it!
Trial & Error Season 2 is currently airing on NBC, Thursdays at 9/8c.
(image: NBC| Trial & Error)