Anime
Anime Bon Festival: Honoring five anime spirits
What better way to celebrate the memory of dead anime characters than have an anime Bon Festival? The Bon Festival is a tradition over 500 years old. It is a Japanese-Buddhist custom to pay respect to the spirits of ancestors. Families will gather together to clean and maintain grave sites. And tradition holds that the spirits of family members that have passed on will return to visit alters.
Rituals involving death are generally practiced to bring comfort to those of us left behind. We don't know what lies beyond that veil that separates life from death. We do know that energy can't be created or destroyed – it can only be transferred or changed. If the soul is energy, then maybe it lingers here. If so, then the spirits may witness our rituals.
Covering a holiday isn't a new tactic for me. I find it a joy to have so many diverse ways to share episodes, moments, images, characters, and themes through the lens of holiday celebration. Let me share again the anime holidays you can find here on Pure Fandom:
Christmas/New Years – Valentine's Day – Cherry Blossom Festival – Father's Day – Tanabata Star Festival
The Bon Festival provides an opportunity for us to remember and celebrate anime characters that have died. Now death in anime isn't an uncommon thing. Heck, bringing a dead character back to life isn't all that out of the ordinary either. But here I want to focus on character deaths that have a real emotional impact. That means that there is no coming back for these characters.
Spoiler: This one is a little different from the others. You are probably tired of my standard spoiler warning, but this one should be weighted differently. I'm one of those people that don't really mind spoilers unless it is something as significant as a character's death. I understand if you skip this article because going in knowing a character dies can be an obstacle too hazardous to avoid.
YouTube Video: Full Metal Alchemist Brotherhood – Aniplex
Anime Bon Festival – Korosensei
Oh, the irony of Korosensei's purpose in life is a bittersweet one to swallow. He's the world's greatest assassin, genetically modified by science with the power to destroy the world. Yet Korosensei becomes the homeroom teacher to a group of students thought to be failures. His goal: train these kids to assassinate him before he blows up the world. How can you not fall for this twist? A teacher that must instruct his students in the how-to of eliminating himself. Yet, even the student that must do the deed succumbs to emotional hesitation at the end.
Anime Bon Festival – L
In a story about a serial killer with a god complex, you've got to expect deaths in prodigious numbers. However, there is only one death that is truly profound. This game is like a chess match between geniuses. The moves and countermoves between Light and L border on precognition and an intimate knowledge of human nature. L sets up so many meticulous safeguards: never using his real name, disseminating misinformation, keeping vigilant watch over the suspects. The good in me wants to see the master detective outwit the brilliant criminal but a power beyond human capability brings about his demise.
Anime Bon Festival – Maes Hughes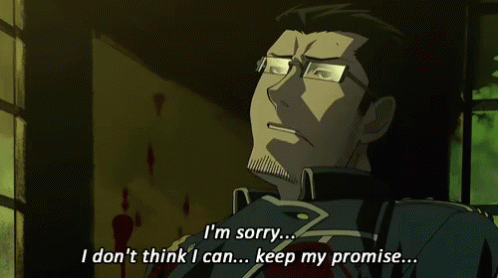 When a good person dies it impacts everyone around. A husband and father dying creates a void for a family. The loyal supporter dying leaves an empty spot that can't is impossible to fill. Maes is a rock for so many. He is so enthusiastic and helpful. The man will nearly assault anyone within his reach with photographs of his wife and child. However, Maes alters the trajectory of his career to make sure he is in position to assist his best friend to achieve his goals. But when his life is cut down his world loses all the good that he could've done.
Anime Bon Festival – Kamina
I have a soft spot for characters who support others. Kamina does this in a unique way from a traditional helper. He sees potential in his friend Simon. Kamina is an extraordinary type of leader. He is an enabler. What does that have to do with his death? We all lose when enablers die. Kamina's ability to draw out the best in Simon is what the whole first half of Gurren Lagann is about. You can see how much Simon struggles after he loses his partner. And that is just heartbreaking for me. I feel like a lot of people miss out on experiencing their potential because they don't have an enabler.
Anime Bon Festival – Jiraiya
If I could bring any dead anime character back, then Jiraiya would my pick. He combines the highlights and emotional depths of all the characters here. His mentor ship of Naruto – passing on the lessons from Minato and his own philosophy of what a shinobi should be. Jiraiya applies his time and talents to protect what is precious to him…his village, his family. Again, Jiraiya's absence creates a hole that no one can fill. His death touches the entire ninja world. I feel like it reaches beyond the anime. Losing Jiraiya leaves the impression of suffering deprivation of someone significant.
Anime Bon Festival – Conclusion
We remember those that have passed through ceremony and tradition. There are countless memories for us to share. We gather around and try to put words to the feelings we have for the ones who have passed beyond the world we can see. Maybe we can say the right thing…but more often than not, the rain comes…
What anime deaths touch you on a deep emotional level? Share them with me here in the comments or on my social media (Facebook – Twitter – Instagram). Or come hang out with me in the RightStufAnime Manga Library at Wizard World Chicago! We can talk about all things anime – just use my code OTAKUANTICS for 20% off your general admission ticket (it is good for any show in 2018, not just Chicago).
Featured image: Viz Media