Virago – a woman who demonstrates exemplary and heroic qualities, a valiant maiden, a female warrior, Amazon-esque, Valkyrie or shield-maiden, a heroine…or, in other words, a fierce female.
I hope you don't mind the definition of virago to begin this article. It would probably be just as easy to call the characters I'm going to include fierce females. Nevertheless, I must use this arcane term. Virago occupies a special place in my vocabulary. My Erika-in-otaku-antics and I adopted this term into our discussions of anime, manga, and light novels long ago. It crawled forth from a realization that that these women possess a power of their own. It is a power that requires recognition.
These women are no damsels-in-distress. They are not Mary Sues. You will not find these "princesses" in another castle unless it is a castle they have taken by force. There is power intrinsic in the essence of the word and in these women. At some point in history, virago lost that power and took on a negative connotation. I think it would be appropriate to restore virago to a position deserving awe and respect. I'm lucky enough to get to work with not only the wonderfully powerful women here on Pure Fandom but also many immensely talented friends. I feel like my experiences around so many viragos allow me a unique qualification to speak on this subject.
Alert: Here's my standard cautionary warning that there may be a spoiler or two in each of the following descriptions. As always, it is my hope that by exposing a little bit of the depth in these characters that you'll find yourself wanting to find out more. Take a chance on these anime selections because they are worth it!
I want to include another kind of heads up as well. My words simply cannot capture the essence of seeing a virago do her thing. I have to recommend you take the time and watch these characters in action. I will link to the animes in each description. When you watch them, it is my sincere hope that you will see the power I see.
Virago – Marie Bell Breguet
You may be surprised to see one so young in this list, but the traits of a virago know no age. Marie Bell Breguet is only a mere 16 years old. However, she projects an air of mature aristocracy. Marie is a Meister and holds the respect of other clockmakers. She possesses a genius intellect that she is constantly putting to use for the good of the world around her. Marie is the valiant maiden, planting her flag in Kyoto while promising to rescue people with her skills. She adopts the moniker of terrorist to fight the corrupt organization from the outside to save the world.
A real-life virago she emulates: Joan of Arc
Virago – Sen Yarizui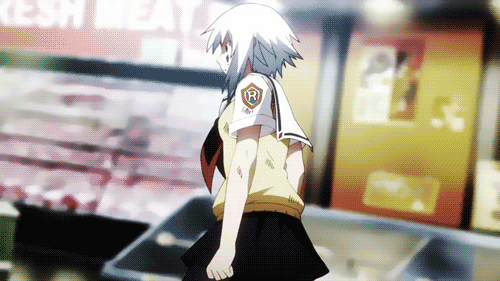 There is a code of honor for all warriors that they must abide. The most honorable of fighters will uphold the rules despite others breaking them (either in reality or in spirit). Yarizui, who owns the nom de guerre Ice Witch, ranks among the best bento brawlers. She staunchly fights by the rules of the Wolves. Even when she is singled out because of her notoriety, Yarizui uses her skill and power to stay true to her convictions. She fights nobly and gives thanks for what she wins.
A real-life virago she emulates: Tomoe Gozen
Virago – Yang Xiao Long
Strength and aggression can elevate a warrior to go beyond their limits. (Actually if we were making this a DnD metaphor, it'd be like a fighter turning into a berserker.) This is what Yang brings to the table. Straightforward and confident, she (literally) burns. Yang burns with an enthusiasm for both adventure and a love of her friends. Her abandonment issues put her on the trail to find her mother while giving her an insight into the problems of her teammates. Even the shock of losing an arm isn't enough to extinguish her flame. Yang struggles physically (her fighting style crippled) and mentally (with the PTSD from the fall of Beacon and loss of her friends). She hones her skills under her father's careful tutelage. Finally, Yang comes back stronger and with a more precise focus.
A real-life virago she emulates: Amazons
Virago – Olivier Mira Armstrong
It may be a stretch to draw a comparison between the mythological Valkyrie and a talented general. However I hope you'll see the similarity in the phrase "those who choose who may die in battle and those who may live". I see this extraordinary power in Olivier Mira Armstrong. Olivier is a general with the strength to command the undying loyalty of her troops (both in the security of a fortress and in her own home during a crisis). This is no easy task. Not to mention that in a world filled with alchemic "magic", she has power that is all too real. She must use her instincts to support the morally right side because her decision affects her subordinates. Olivier's decisions bring death to those against her and provide the possibility of survival for those that obey her orders.
A real-life virago she emulates: Valkyrie
Virago – Conclusion
In terms of settling on a limited number of selections, this article challenged me in a way I have not experienced yet. I started with 40 possibilities before whittling it down to just the four above. So, you can expect that I'll return to share more viragos at some future point.
I hope you see the power, heroicness, and ferocity that I see in these female characters. Are there any anime characters you'd call a virago? Share them with me in the comment section below or engage me on social media (Facebook – Instagram – Twitter)! I want to know what you think. What makes a fierce female in your estimation? Do you have any viragos in your real life? Share this article with them!
Let me also share with you some viragos in my life: SuperKayce, No_Face, Pure Fandom, Princess Morgan, Marie, Oh My Sophii, Lauren of Thousand Faces Cosplay, Galaxy Amethyst, Lauren of Til the Rooster Crows & Kyami Rin.
Featured image: Blizzard Entertainment's Overwatch (because yes, Mercy is also a pretty kickass virago!)