Anime
Here, let me help you with that: 5 anime assistants making life more manageable
The duty of any good assistant is to make life a little easier for their boss and that is true of anime assistants as well. Whether it is in a personal or business context, it is the duty of all assistants to relieve a bit of the stress on the plate of their manager. Anime assistants pop up all over the place. Sometimes they are assistants in an official capacity; other times they play their part out of devotion. If you want a punch in #thefeels, just take a look at this and this:
Assistants come in a variety of diverse types. I want to highlight the differences. It isn't only the characteristics of the assistant that matter but also the demands of the job. I feel like I have a unique expertise to speak on this topic. You may not know this, but I get to be a special kind of assistant for a special cosplayer – a handler. In my role as a handler, I try to be ready for all kinds of situations while attentive to whatever my cosplayer may need. I'll make food runs, help set up the booth, take photos, do a little repair, and carry a backpack full of supplies. So, this topic of people who help others is near and dear to my experiences and heart.
Spoiler: A standard warning that there may be a spoiler or two in my character descriptions. Hopefully, I'll keep them small enough to not ruin the experience for you. Yet, I hope you'll take the small spoilers as encouragement from this writer and watch each of these anime selections.
Anime Assistants: Apprentice Minori of Log Horizon
Aide – an assistant to an important person, right hand person
Minori may not be Shiroe's right hand person right away. This is due to Shiroe depending on his own management skills in running Log Horizon. Yet, Minori is persistent. She asks Shiroe for advice then pursues a solution all her own. Minori is perceptive enough to see how the hard work Shiroe does for Akiba isn't appreciated by other players. She takes it upon herself to become his apprentice and do thankless work to promote Shiroe's good works. Minori's greatest challenge comes while assisting with the organization of the Libra festival. Her diligent work uncovers a clue to the plot against the Adventurers, giving Shiroe the clue he needs to solve the big problem.
Anime Assistants: Demon General/House husband Shiro Ashiya
Deputy – an assistant with the power to act as a substitute
When we examine the command structure of a military, a general is an obvious choice as a role for a trusted assistant. While the King sits on the throne, his generals are entrusted with a portion of his power to enact his will across the world. It is no different for Maou and his greatest general, Ashiya. However, after being removed from the exciting life of running a demonic kingdom, he takes on the role of house husband in modern day Japan. Maou leans on the domestic skills that Ashiya cultivates. Ashiya learns to cook (on a budget), do the laundry, and manage the household finances. He is the de facto number two in their apartment. Ashiya is free to make suggestions to his king without fear of reprisal. His advice finds value in Maou.
Anime Assistants: Liliruca Arde, Supporter in the Hestia Familia
Supporter – an assistant that abets, often in a physical way, while providing encouragement
Sometimes an occupation can succinctly find its TRUTH in a single word that it makes too much sense to ignore. That is how it is for Liliruca and her role as supporter. In the Dungeon there are simply too many dangers for adventurers to keep track of solo. To this end, parties come into play. In Bell's first party, he takes the role of protector and Liliruca is the supporter. Supporters carry backpacks with backup weapons, potions, and emergency provisions. However, there must be enough empty space to pick up any drops or valuables along the way. Liliruca is responsible for watching Bell's back as well. It is a mutually beneficial symbiotic relationship.
Anime Assistants: Hisako Arato, secretary to Miss Erina Nakiri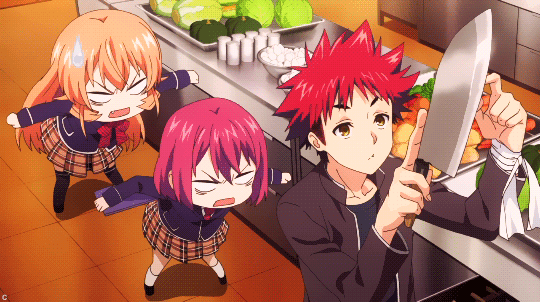 Secretary – an assistant that provides organizational and managerial support
I don't believe there is a character that better embodies the role of secretary than Hisako. From her introduction, there is no doubt of her loyalty and devotion to Erina. She tracks Erina's schedule and keeps her on schedule. Hisako literally organizes her life so that Erina may focus on her duties as a taste tester and growth as a cook. When you look at Hisako's cooking specialty, medicinal cooking, you see that her whole life is a commitment to her "Empress". Her allegiance runs deep, always standing behind Erina to support her and fulfill all requests.
Anime Assistants: Kazuma the Blessed Vessel of Bishamon
Enabler – an assistant that facilitates another to get the job done
Kazuma is the ultimate navigator and tracker. As the exemplar for Bishamon, he is the shinki that all others look up to. He risks his name (his very life) to save Bishamon from death and thus transforms into a blessed vessel. It is Kazuma's job to direct the efforts of all of Bishamon's regalia. While they search for Yato, Kazuma guides the others in a search grid. During battle, Kazuma handles the practicality of aiming the twin handguns (Kazuha and Karuha) as well as drawing borderlines for the gigantic sword (Yugiha). While Bishamon could use her numerous shinki without Kazuma it is obvious that she couldn't employ them as effectively. Kazuma enables all of them to work in harmony as a team.
It is my hope that you see the traits that make these assistants so special to me. I think it is natural to want to see the best in those you see yourself in. And that is what I've done here. I take a lot of pride in being an able and adaptable handler. So as much as this anime article is written for you to read and enjoy, I also wrote it for myself and the wonderful people I get to help out. What do you think? What other anime assistants have you seen? Leave a comment below and I'll check it out. Or reach out to me on my social media (Twitter – Instagram) because I'd love to get a discussion going!
Featured image: Funimation (Black Butler – Sebastian was on my short list for this article as he is simply "one hell of a butler")