It's been a month or so since we last Captain Swan. For the last time, might I add, and well, I miss them. However, there are still other ships out there just as great as them, both romantic and friendshipy. Is that a word? It is now. Obviously, no ship can come in the way of Emma and Hook because they're the best. Obviously. However, here's some you should totally check out.
Liv and Ravi ("iZombie")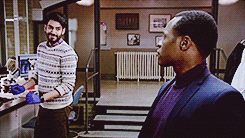 I have always loved their relationship. There was never any awkward chemistry between them. Just a whole lot of sass and fun. I mean, look at the fun they have at work! They are totally friendship goals. Plus, it was pretty cool of Ravi to keep Liv's secret of being a zombie for all of that time. That, my friends, is what true friendship is. They've always got each other's back.
James Gordon and Lee ("Gotham") I just want them to be together. Again. They make sense together, and it's clear they still have feelings for each other. Even long after they called it quits, I have been anticipating their reunion because they deserved happiness. Together. Like I couldn't even believe that thing between Ed and Lee when hello, JAMES GORDON IS RIGHT THERE! He's so cute. This ship comes with a bunch of angst, so if that's your thing, here you are. Captain Swan had tons of angst, but the payoff was great, just as I hope this will be.
Star-Lord and Gamora ("Guardians of the Galaxy")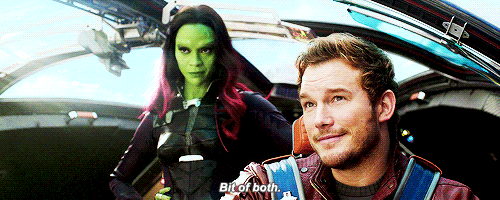 *SOBS* You know that feeling when it feels like you've waited like 25 years for your ship to just stop being stubborn and kiss each other? This is how I felt with Star-Lord and Gamora. Every time in GOTG when you thought they'd kiss, they never did! Hmm sounds like another ship we know that includes a form of a captain. Huh. They're just a really great ship, and they deserve the world. Or galaxy, rather. They deserve the whole dang galaxy.
Claire and Shaun ("The Good Doctor") This might be my favorite friendship on TV right now. Or ever, really. Although they didn't get off on the best foot, it's been quite the journey seeing these two forming a friendship. Claire would do anything to make sure Shaun was being treated as an equal, and I love that so much. It was a little rocky in the beginning, but over the course of the firsts season, it has developed so well.
Okay, so, most of these are more along the lines of a friends ship, but nobody can ever beat Captain Swan. Unless I'm missing out on a really good ship. In which case, you should definitely let me know. Feel free to drop a comment or tweet me with a good ship! Who's your current OTP or BROTP on TV or in the movies?
Feature image from Geeks Media