TV
5 Reasons why 'Younger' should be your next binge
Summer is upon us, y'all! Now, I know for some of you this may be synonymous with a lack of TV options, and an excuse to pretend to be interested in the World Cup (and if you are for real, that's fine! More entertainment is always a plus), but fear not. One of summer's very best distractions is back: TV Land's Younger!
Younger premiered back in 2015, with the following premise: an almost divorced, 40-year-old, stay-at-home mom lies her way into the publishing world to support herself and her daughter, by pretending she's 26. Adapted by Darren Star (of Sex and the City fame), it's a fun, sweet, refreshing show that's hard not to enjoy. Here's why you should catch up on it ASAP if you aren't addicted already.
The Friendships 
Since Liza starts out at her new job by lying to absolutely everyone, most of the relationships she has both in the office and in her new life as a millenial, are, well… on a pretty shaky basis, minus the one with Maggie (best friend) and her daugher. This makes for interesting dynamics, as, you'll have guessed, more people from her inner circle finally learn about her situation. But even despite the premise, whether it's going out for drinks with Kelsey (initially, a book editor who also works at Empirical) and her string of weirdly similar looking boyfriends, Josh (tattoo artist turned love interest turned ex turned… you get the picture) and his not-so-clean roomates, or her boss, Diana, they're all heart-warming and hilarious.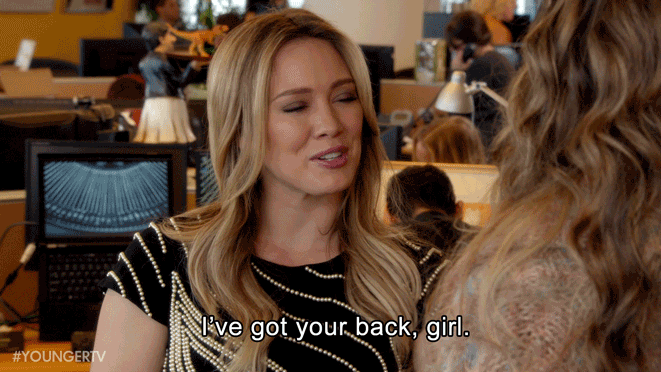 The (Crazy) Fashion
In order for Liza to maintain the illusion of being 26, the show's costume designers put her in increasingly insane outfits. These are supposed to reflect how millennials dress, but more often than not, I find myself frowning at whatever polka dot skirt paired with a bright orange workout hoodie Liza has been forced into.
This is actually pretty cute though, school girl revisited, maybe? Mostly the fashion is a hit though, especially when it comes to Diana. Now, I haven't mentioned Diana yet because she deserves her own bullet-point, but here's a tease:
Her jewelry is a statement in itself, really.
The Boss 
She's all at once fierce, insufferable, kind, unforgiving, an icon, she's… Diana Trout, the one and only. You will come to worship her, as she rightly should be. She makes Liza's life hard(er), but she really comes into her own once you get to know her. Virtually, I mean. Sadly, Diana Trout does not exist, but Miriam Shor does a mean impression.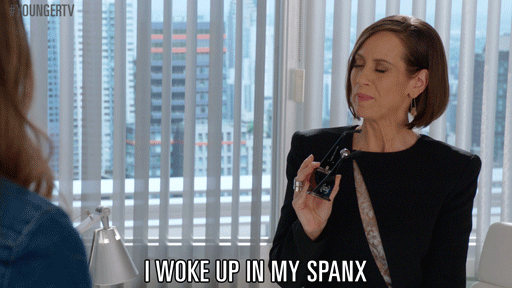 The Boss's Boss 
All right, so there is a love triangle, sometimes a square, but it's very entertaining. Liza, our pretend 26-year-old (please suspend your disbelief on this one. Sutton Foster is fantastic, but part of the joke is how unbelievable it is that Liza  pulled this off), starts out by hooking up with a hot tattoo artist: Josh. Complications (namely: the truth coming out, but also Irish girlfriends and college-age daughters) arise, but Liza can't seem to stay away, and neither can Josh.
On the other hand: Enter Charles, Liza's boss. Or boss's boss, rather. I'll just leave this here for you, it really says it all.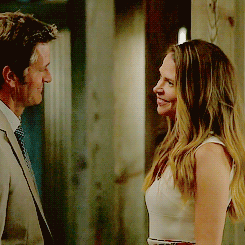 The Publishing World 
For someone who reads as much as I do, this insight into how authors are discovered, pursued, and promoted, is fascinating. From a book about life advice from a dog (yes, you read that right), to Marriage Vacation (which now exists in real life, too!), the publishing world is a lot more cut-throat than you would think. On the surface, what could be better than perusing the slush pile (unread manuscripts just waiting to be discovered) and bringing forward the next, new, page-turner? Then again, at one point, Liza has to dress up (or not, actually) in a fur bikini as a character from a certain author's book, and I would draw the line at that, but still.
I could go on and on, but at this point your best option is to check this out for yourself, and join us in our little Younger corner! Younger is on its 5th season, already renewed for a 6th, so the best part about this is that you're sure to be in for a wild ride, with no cancellation on the horizon!
Younger airs every Tuesday at 10/9c on TV Land