The Bold Type Season 2, Episodes 1 and 2 aired Tuesday, June 12th at 8/7c.
Hey there, Bold Types! You've waited patiently, and it finally paid off – The Bold Type premiered its second season tonight! Whether you caught the first episode on Hulu or waited for Freeform, we all got at least one new episode tonight.
Let's take a minute to reflect on the past two hours, shall we?
Here are 90 thoughts we had while watching the two-hour The Bold Type premiere.
1. Jane and Sutton are amazing friends. Kat is an amazing friend. This trio is incredible.
2. Why oh why is Jane at Incite? It's just not the same without her at Scarlet.
3. Jane would run into Jaqueline while trapped half naked in a blouse.
4. Isn't Kat always ready to kick ass at her job? It's like, her middle name.
5. Good to see that Oliver still, inexplicably, calls Sutton "Red."
6. Sexual harassment. Timely.
7. Did Richard really just change a whole corporation's policy just to get back together with Sutton? That's commitment.
8. The "waaaaay different levels" clip in the promo was a lot longer than the actual episode, but that's okay.
9. The music on this show is still so on point.
10. Incite seems really important. Not diminishing that. But it sure looks… boring.
11. Something tells me that the word "menstrual cup" would never have been mentioned back on ABC Family!
12. Go, The Bold Type. Keep calling out all the ridiculous misogynistic government policies.
13. We hate this. Jane needs to be in the fashion closet in person. Chase your dreams, girl (but come back.)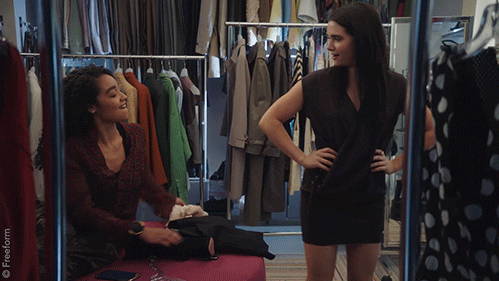 14. Sutton's basically like "but without work, what plot point will keep us apart? This won't work."
15. Sparkle Pony!
16. "24, 25…" Kat is great at getting her point across.
17. Mitsy! I don't know you, but you're on my list. We don't slut shame Sutton (or anyone!)
18. Do these people know about Richard? How is Sutton hooking up with one guy enough for them to suspect this?
19. No Kat, don't raincheck Adena.
20. No, Kat, she's clearly uncomfortable with the PDA!
21. Sutton, why wouldn't he choose you? You're clearly great at this.
22. Sutton cannot jeopardize her career because of some dumb slut shamers.
23. Yikes! This cups situation is… yikes.
24. Is it worth it to misrepresent if it eventually helps those in need?
25. "All day I have been craving you.." wow #kadena
26. Kat no don't ruin this.
27. I hope Kat and Adena aren't going to be having issues.
28. Stress-tweeze. This show is so relatable.
29. If it's career or love life for Sutton, I'm team career. Love can come later.
30. Kat and Adena seem to have conflicting goals for this relationship. Do you hear that? It's my heart breaking.
31. "You are ready to show me off and introduce me to the world as your girlfriend.. but you're not ready to go down on me?!" OH MY GOD.
32. "We don't do bathrooms, we do closets." RT.
33. Sutton is so sassy this season! Love it.
34. Jane's vertical launches tomorrow and she's not even stressed. She's just chillin at a party. Goals.
35. So Season Two Suttard lasted like… 2o minutes?
36. "I am putting my money down on my career and believing that love will fall in place." YAS, GIRL!
37. You know what to do, Kat.
38. This open communication? It's amazing.
39. Can you believe this scene got past the censors?? Incredible. Amazing. Showstopping. Spectacular.
40. Yay! Jane made the splash page!
41. Adjustments?
42. Oh SHIT.
43. Time for episode 2!!
44. Omg, they are all at separate locations.
45. Kat liked it!! Yay Kat!!!
46. Okay Jane it's time to come back to Scarlet.
47. Jaqueline would never have made those changes without asking Jane.
48. It's not even an issue of whether the article was wrong or not, the huge changes under Jane's name are NOT OKAY.
49. Electric toothbrush! Alright!
50. Go kick ass, Kat.
51. Jacqueline 100% should be on the board. I am on board with this idea.
52. Oh Jane don't leave a voicemail. No.
53. Kadena meet the parents! Big step!
54. A binder full of men! LOL! I see you, Bold Type.
55. YIKES. Those notifications can't be good.
56. Life Tip: Never leave a voicemail. Ever. For any reason.
57. Hello, boys. *Heart Eyes Emoji*
58. The tone this season feels a little weird, but I can't place it.
59. This conversation is rough.
60. These girls need to STOP.
61. I can't believe these women are throwing Sutton off of her game like this. Unacceptable.
62. Victoria is not super nice. In fact, she not nice at all.
63. Sutton ran right on outta there!
64. Oh no, Adena and the 'rents don't agree.
65. Sounds like Incite doesn't want writers with voice, they just want mindless clones of the same Incite ideal writer. Yuck.
66. Kat was only gone for two weeks, right? Everyone is acting like it was a lot longer.
67. Side by side dryers. Not a waste of space!
68. Adena is great. "It doesn't make my way, or Alex's way, any better or worse than yours."
69. Okay, workout girl needs to chill just a little.
70. It is so messed up how self-conscious Sutton is. She did nothing wrong.
71. I want to see Kat's boomerang of Sutton!
72. Kat's racial dilemma is something that you don't hear about often, but its probably not uncommon among biracial kids. This show is great for highlighting those struggles that others may not otherwise consider.
73. Why did Jane have to go full Clark Kent for this interview?!
74. Jane, don't be a mindless Incite clone. You can be honest and still represent the site. If you can't, it's not the right website.
75. Jane's speech was amazing. Victoria probably won't like it, but it was great.
76. Yes! Get Jacqueline in there, she fixes everything.
77. Jacqueline is so right. Sutton is a people person, and there's nothing wrong with that.
78. Sutton is SO GOOD AT HER JOB.
79. Good for Kat for going straight to the source with these questions.
80. You have to understand Kat's parents, people's assumptions had to have been rough on them.
81. Kat, you go be whoever the hell you want to be. And label yourself (or don't) according to what you're comfortable with.
82. "The slut-shaming thing you're doing? It's gotta stop." Hell. Yes.
83. Is Sutton gonna date the list-of-uncomfort guy?
84. Plot twist! Jane is!
85. Gotta love how domestic Kadena is these days.
86. We love Scarlet Magazine's first black female department head.
87. Why can't Jacqueline be on the board and run Scarlet? She can handle it.
88. Even if Jane's firing was necessary (it wasn't) the way that Victoria went about it was extremely inappropriate and immature.
89. Victoria will regret this. Jane will look back at it as a blessing.
90. We have to wait a whole week for the next one?!
That's it for this week's premiere! Stay tuned for an article about the incredible friendship between The Bold Type's core trio, which will be published later this week. And as always, find us on twitter @Pure_Fandom and @reagandpierce! We will see you next week for a recap of episode 3!
Featured image via Freeform/Phillippe Bosse