This week's episode brought several things to light: a vampire is who (we believe) took Hayley, Hayley is nowhere to be seen—except for some of her body parts being shipped in a box, an old threat of Klaus' has returned, and we are STILL getting hints of Alaric—but no Alaric.
Let's break down these new revelations, plus what needs to happen in the last half of The Originals before the series closes.
Alaric, you can come out now.
Alaric Saltzman, who everyone of course knows from The Vampire Diaries and is now one of the founders of the school Hope attends, has been mentioned several times this season. His twin daughters (who he shares with Caroline Forbes) sound like the school's mean girls, and I can't help but think their magic will somehow be used to tie up the big bad(s) of this season.
On a completely selfish fan-girl note, I'd love if Alaric made more than one appearance before the show wraps.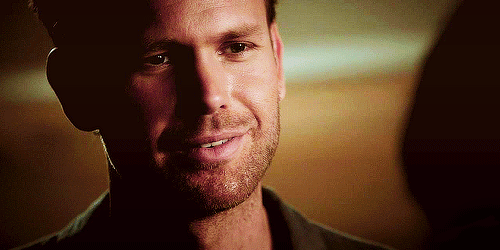 No more episodes sans Elijah. Or better yet, sans Halijah.
What. Is. Happening?! As beautifully tragic as last week's episode was, I can't handle one of the greatest romances of this TVD/OG universe to be a side story this season. Hayley is MISSING and parts of her are being shipped to the Mikaelson compound. If I need to head to France and drag Elijah back to save the love of his eternal life, I will. Antoinette, you seem like a real catch and a classy gal, but this gentleman is taken. You may not like the daylight, but Elijah looks damn fine in a midnight blue tux in the afternoon, and we aren't ready to give that up.
Klaus and Co. get rid of Nazis for good. (PS: I bet that's what Diamond Dude is, too.)
Now that we know Nazis are the new big bad of the season, I'm thinking we'll be getting a heavy dose of flashbacks explaining how Klaus' beef with them began. I'm also willing to bet that Hope's crush is a Nazi and has been planted at the school to "woo" Hope and ultimately capture/kill/etc. her. He looks like Hitler's dream, and I can't devise where else his story would go at this point.
Kol/Davina/Rebekah make a proper return
We know they'll all make their return this season, and I hope their scenes aren't fleeting. Because the core of this story is about family, I think we can all expect that their appearances won't be cheap cameos, but something pivotal to bring this season and series full-circle.
Klaroline, obviously.
We know more is coming, and we know it will be epic. Just like the inevitable reunion of Elijah and his family, the Klaroline storyline will surely not disappoint.
These are only a few of the many things fans want to see happen. What do you want to see unfold in the rest of season 5?  Tweet us your questions and predictions @Pure_Fandom and @lizprugh!
The Originals airs Wednesdays at 9pm/8c on The CW.
Featured image: The CW