Throughout the seven-year run of Once Upon a Time, viewers have been graced with a wide array of ships, both romantic and friendship ones. There's a ship for anybody in the fandom. From Captain Swan, to Captain Charming, to newer ships like Mad Archer, the show has crafted pairings in such a fun and captivating way. In fact, it was a ship that brought me to this fandom. I bet you can't guess which one! So with the help from Twitter, a ranking of the top ships in order:
Top 4 romantic ships
Emma Swan and Killian Jones (Captain Swan) Captain Swan is honestly the best ship to ever be on TV, and you can't even try to tell me otherwise. But seriously, these two have managed to beat the odds—come Hell or high water. Literally speaking. They've come a long way, and we have been able to see almost every milestone with them: first kiss, first date, first 'I love you,' first wedding, first pregnancy announcement. What a ship! I am so ready to see them once again in the series finale with their baby. Aw.
Prince Charming and Snow White (Snowing) She may have hit him over the head with a rock, but he got over it. In fact, they are each other's true love, and there's not any love greater than that. Snow and Charming are a more traditional love story, but there's no denying that they are not relationship goals. They would do anything for each other.
Robyn Hood and Alice from Wonderland (Mad Archer) While this ship may be fairly new, Robyn and Alice balance each other out. Robyn cares for Alice, even though Alice may struggle with some inner turmoil. They're just a young, sweet couple.
Belle French and Rumplestiltskin (Rumbelle)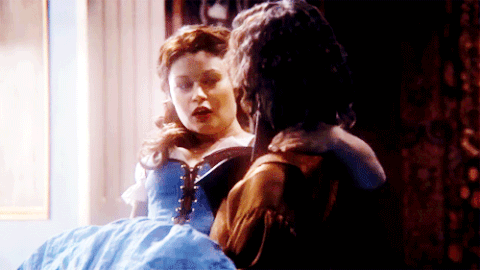 As I've stated before, 7×04 was a gamechanger for me. Once Rumple put aside his thirst for darkness and focused on Belle, it was clear they shared something special. It may have been a looooong journey to see this, but this show is all about redemption and second chances. Belle knew she couldn't give up on him, and it's a good thing she didn't.
Top 4 friend ships
Killian Jones and David Nolan (Captain Charming) If there's one ship I love almost as much as Captain Swan, it's Captain Charming. Killian and David have come so far! Their development is seriously what I live for. I mean, seriously. David went from absolutely hating Killian, forbidding him from going near Emma. Then they became bffs, and David became Captain Swan trash like the rest of us. Although, he tried to hide it from Emma and Killian, but we knew. Remember their bromance adventure in 6×12? That was a great time.
Belle French and Killian Jones (Captain Beauty) Belle and Killian's friendship is so underrated! If we're talking development, let's start here. Back in the day, he tried killing Belle…multiple times. However, as time went on, Killian admitted the errors of his way. They bonded over loving Dark Ones; they understood one another on a different level. Not only that, Belle trusted Killian enough in season 6 to protect her from Rumple. It was then Killian admitted he still hadn't forgiven himself, but she had. I wish we'd gotten more of them!
Emma Swan and Mary Margaret Blanchard (is there a name of this circa season 1?) Before they became mother and daughter (they always were, but you get me), they were just two friends who talked about one-night stands and stuff. We saw them in season 1 always having each other's backs, and that's what real friendship is, you guys. Mary Margaret immediately wanted to protect Emma, and Emma in turn, wanted Mary Margaret to be happy.
Emma Swan and Elsa (Frozen Swan) Very short-lived, but Elsa and Emma totally got each other in ways nobody else did. Think of your best friend who you know what they're going to say before they say it, and they're exactly like you. That was Emma and Elsa. They empowered each other, encouraged each other.
There are many other ships on this show I could talk about. However, that would make one very long post. Who is your top ship, romantic or otherwise? Sound off below!
Feature image by TV Guide