Anime
Anime DnD Party: We're going on an adventure
An anime DnD party…
I think that this topic is one with good timing for me. I'm a otaku with varied interests and passions. One of my favorite activities is to play Dungeons and Dragons with my friends. Additionally one of my favorite genres of anime is the trapped in another world variety. So my thought was who would I want in my DnD party if I could pick and choose characters from all over anime and drop them into a fantasy world. My goal was to construct a well balanced party. I went with a five person party: a fighter, mage, healer, melee damage, and ranged damage. Taking it a step further, I also selected an appropriate villain for these heroes to oppose.
I did my best with the formatting to try to make my entries resemble how a character sheet might be laid out in print. I tried to find relevant choices for each individual's class. In the background sections, I provide a reason for the character to become an adventurer in this hypothetical story. Included is a special skill that each selection brings to the party. And finally, I explore what the character's role would be in the party.
Warning: Minor spoilers may be present. Yet I hope they are minor enough that if you dig the character, then you'll take a chance on the story.
---
Anime DnD Party – Front line fighter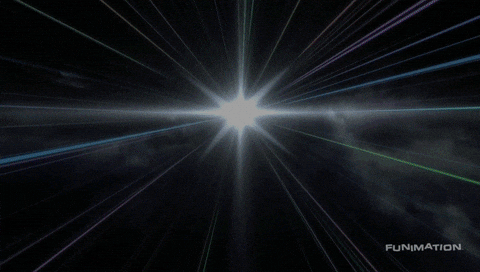 Name: All Might
Class: Paladin – a warrior of justice with a special power honed by training and belief
Alignment: Lawful Good (at times lawful stupid) – will sacrifice himself to save others
Background: All Might was a kid born without power in a world brimming with power. His inner drive to pursue justice motivated him to go beyond his lack of abilities. An extraordinary power became his and he transformed into the hero all children dream of becoming.
Special Skill: One for All – a sacred torch of power passed on from master to student. One's body and mind must be trained to harness the power. Yet once prepared One for All imbues the user with cataclysmic levels of power, agility, and speed.
Description: All Might possesses the physical strength plus superhuman durability to stand on front lines and draw the attention of the enemy. He is the true symbol of peace. His presence is a deterance to evil-doers. All Might is a natural magnetic personality with the ability to rally the troops and common citizens alike. He would be a perfect charismatic leader for the group. His use of One for All is on a time limit restricts him from full power 100% of the time.
---
Anime DnD Party – Mage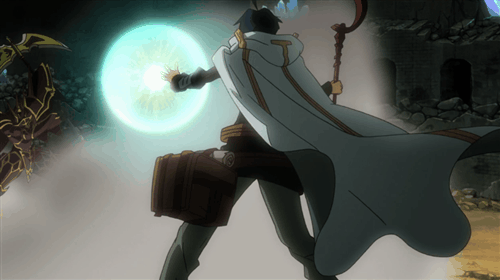 Name: Shiroe
Class: Enchanter – a mage specializing in support-type spells
Alignment: Lawful Neutral – acts in the best interest of a civilized society, honorable
Background: Shiroe was a high level solo player who found his purpose in helping stitch together a society. He is able to look at things with perspective and make the tough choice as to how to proceed. His responsible nature won't let him sit idle in the face of a problem.
Special Skill: Full Control Encounter – the strategist's most precise tool. Shiroe's attention to detail allows him to track mana, spells, and special abilities of all those in his group. He is able to use these precise details to plan combat and minimize mistakes.
Description: While Shiroe's enchanter class isn't optimal for combat, his personal ability to take command of the battlefield is invaluable. He can manage personalities, be a resource of knowledge regarding tactics, and always keep his mind's eye looking 30 seconds ahead. Shiroe's combat ability is middling but he makes up for it in his role as strategist (both on and off the battlefield).
---
Anime DnD Party – Healer
Name: Sakura Haruno
Class: Medical Ninja – trained as a ninja with a focus on chakra control and evasion techniques
Alignment: Neutral Good – devoted to helping others and protecting life
Background: Sakura's childhood could best be summed up as middling. While she was a very good student, she didn't display flashes of greatness in any field. She was often the object of her friends' attempts to save those in trouble. After Sakura became the pupil of a powerful medical ninja, she devoted her studies to the healing arts. In this way she could help her friends.
Special Skill: Summoning Jutsu (Slug) – a unique technique to remedy the fatal flaw of a single healer. A healer cannot be with everyone that needs help at the same time. Sakura is able to summon Katsuyu, a giant slug with the ability to divide and replicate. Through Sakura's connection, she can channel chakra used for healing and regeneration through the replicated Katsuyus.
Description: Sakura's ability to stay safe on the battlefield is paramount in the medical ninja code. She cannot do her job of healing others if she is injured or knocked out. Sakura's combat ability and monster strength help bridge the offensive gap. She's got an explosive anger that challenges her calm job. But her primary concern is to keep her team healthy. Her chakra control and ability to use Katsuyu clones allow her to keep everyone in fighting shape.
---
Anime DnD Party – Melee damage dealer
Name: Bell Cranell
Class: Adventurer/Rogue – relying on speed and quickness and smarts to get in and out of combat
Alignment: Chaotic Good – kind and benevolent, but uses his own moral compass to forge his path
Background: Bell is a boy driven by his own determination. After losing his grandfather to a monster's attack, Bell ventured forth to the Dungeon to gain strength. He follows his heart by believing in others and doing his best. His desire to be a hero continues to grow and grow.
Special Skill: Liaris Freese – a secret to everyone (including Bell). The rate of his growth is directly related to the strength of his feelings. His motivation to catch up to his ideal helps him grow by leaps and bounds. This allows Bell to level up faster than any other adventurer in history.
Description: Bell is the perfect melee compliment to any party set up. He possesses the speed and instincts to get in close, deal a ton of damage, and get out unscathed. He wields a pair of daggers and has mastery over his innate quickness. Bell is quiet and unassuming but capable of taking a leadership role. This makes him a great teammate in that he won't dominate a decision making process.
---
Anime DnD Party – Range damage dealer
Name: Sinon
Class: Sniper/Archer – experts in long range combat, values stealth and careful aim to do the job
Alignment: True Neutral – act naturally, without prejudice or being shoehorned into belief
Background: Traumatized as a child, Sinon fears guns and confrontation. She tries to cure herself of past trauma by immersing herself in the practice of combat with the object she fears. Sinon pushes herself to not only leap the hurtle but also become the best of the best in the process. Her fear cannot hold her desire back. She shoots towards her goal as straight as an arrow.
Special Skill: One shot, one kill – the motto of snipers in the real world. Sinon is acutely aware of her surroundings and her ammo situation at all times. If a job can be completed with a single shot, then that's exactly what she'll do.
Description: Cool and collected, Sinon keeps her head on straight under pressure. She is capable of staying hidden or navigating the battlefield safely with good quickness. An archer must maintain a measure of safety with her range to be effective. Sinon has this experience in spades. She may give off an aura of cold heartedness but give her the reason to care and she warms up.
---
Anime DnD Party – Villian
Name: Esdeath
Class: General/Swordswoman – a military and combat genius who is never content to watch from the rear lines, she inspires her troops by leading the charge directly into the enemy
Alignment: Lawful Evil – take what you want, survival of the fittest, rule and obey the system
Background: The daughter of a chieftain of a remote tribe, Esdeath was taught that "the strong live and the weak die". Her creed drove her to become as strong as possible regardless of means. She found herself recruited into the Empire's military and begun to climb the ranks. Esdeath was rewarded with a teigu containing the power of an ice demon. Her thirst for blood is only increased with this acquisition of power.
Special Skill: Demon's Extract – the blood of a demon that when ingested gives the wielder the power to manipulate ice. With this power, Esdeath can create icicles to impale her targets, form hail to smash her opponents, and literally freeze time/space while maintaining her ability to move. Her mastery with this power is so great that her enemies fear she may be the Empire's strongest living weapon and near unbeatable.
Description: Esdeath makes the quintessential villain and I feel like she'd be a challenge for the party. She possess an unmatched charisma on the battlefield that would motivate her allies to charge into even long odds. Yet she does not spend the lives of her subordinates cheaply. Esdeath is brilliant and keenly aware of her own powers. She does not falter in the face of a challenge, even going so far as to creatively develop her own trump cards.
---
Wrap-up
Well there's my party of five and a villain!
I'd be interested in hearing which anime characters you'd select for your own anime DnD party. Whether you agree or disagree with my choices, leave me a comment here or get in touch with me on social media (Twitter – Instagram). It'd mean a lot to me to get some feedback on this or any of my articles here on Pure Fandom!
Luckily I'm on my way to play some Dungeons and Dragons with my friends this weekend…I wonder if I can weave in some stories from my favorite animes into the adventure this weekend!
Featured Image: Aniplex