Ru is NOT messing around, Queens. The premiere of RuPaul's Drag Race season 10 was next level on all levels. There were throwback queens from seasons past, callbacks to the series premiere, and Ru-realness that shows she means business.
The cast for season 10 is definitely next level. Everyone has some sort of edge, and Ross said it perfectly during the judge deliberation: It's season 10, and you better bring it. If you're going to do something that's been done once, twice, THRICE times before, you better make it the best iteration.
Let's break down the episode: the tops, the bottoms, and the shade to come.
Someone call Andy! It's The Real Dragwives of New York!
The seed has been planted, and our feud of the season is already burning. There are several New York queens this season, two of which have a history of turmoil. Aquaria, a 21-year-old stunner from the Big Apple, has a bit of a riff with Miz Cracker, a queen out of Harlem that mirrors Aquaria's skinny shape and quirky ways. They are both stunning…and quick-witted…and have the same eyebrows…and it's not a good thing. Aquaria is not happy that Cracker is there, and she wasn't any happier seeing Aquaria mirroring her eyebrow look for the runway challenge—and then being praised for it by the judges.
My question is: Do we care about this feud?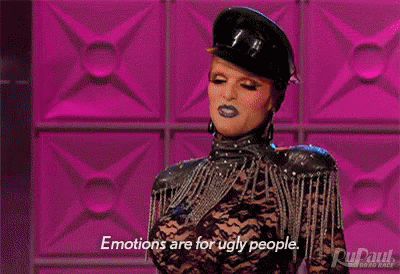 Our favorite Queens return for a mini challenge
This is the season 10 premiere, and of course Ru is going to ask some of our favorite All Stars (hey, everyone's an All Star in my book) to return and celebrate the series' 10-year milestone. While some notables were absent (Bianca was #busy, Raja is off being perfect with her husband), we still had plenty of queens to gush over: Adore, Manila, Bob, Kim Chi, Raven, and of course our newest All-Star winner, Trixie. The ladies welcomed—and also judged—a celebratory runway for a fun first mini-challenge. There were several cartwheels, splits, and first impressions.
Here's a quick breakdown of the mini runway challenge, plus initial thoughts of the queens: (These are my real-time notes as I watched the episode live.)
* Eureka: "OMG please don't tear another ACL." She slipped for a hot second and my heart fell. She later said that was her first dance post-surgery. I cried. You cried. I love her.
* Miz Cracker: She's clearly a fan-and-queen favorite, and I really hope she's not defined by the "feud".
* Kalorie: I loved the confidence…but the look was a bit amateur. Were her fishnets actually ripped, because WTF? Get you to a CVS and get you something fresh, sister. I was once 10-minutes away from a wedding ceremony with a ripped ho toting my breast-pump backpack and still Google-mapped a CVS to fix that shit. It's doable.
* Monet takes home the prize: She's profesh AF, and I was fine with it.
* Kameron: There wasn't much reaction from the other queens, and I honestly think it's because they were shell-shocked. She's f*cking beautiful. Go Fish, bitches.
* Asia: I was feeling the fringe and loving the confidence. She's a force to be reckoned with.
* Monique: Don't hate me, but this wasn't my favorite. It was a rockin' look, but it felt a little safe and not as memorable as the others.
* The Vixen: She kept me entertained, but so do my white-girl wasted relatives at Thanksgiving. I'm not sure about her yet.
* Dusty: I lived for scary Carrie Bradshaw. I also love her signature splattered eyebrows. It's edgy and different, and Michelle I need you to give her a chance.
* Yuhua: Kim Chi loves her, so I do too.
* Vanessa: In my notes I forgot to write something down for her…#foreshadowing
* Blair St. Clair: I'm from Indianapolis, so I want to root for her.
* Aquarius: Can I have your eyebrows?
Out of drag: Where are Blair's parents?
I'm sorry, but Blair out of drag looks like someone on their first babysitting job, watching the kids down the street in exchange for pizza and grape soda.
Blair, you're fierce AF, and your drag look is seriously stunning. Own that shit, or call your parents to pick you up. I don't feel comfortable with you taking an Uber without an adult present.
Out of drag: KAMERON!
I want to play seven minutes in heaven with her, and also look like her. She's breathtaking. But, can she talk? I feel like she's trying to Ben-Dela herself and stay out of the drama, but she's coming off like she's too good to hang and I don't think that's the case. I need more from her.
Throwback challenge: Penny for your thoughts
I love Ru paying homage to the show's roots. She brings back the first challenge from season 1 with the queens doing drag-on-a-dime. The Pit Crew brings in shopping carts full of dollar-store goods, and the ladies go to town. Cracker's story about growing up without a lot of money and making a dollar out of two cents was heartwarming, and my Molly-Ringwald heart was bursting. Get you some Pretty in Pink, Cracker!
I love the workroom moments, because you get the realness behind the Queens. We catch up with Eureka, and she squashes any concerns of being "old news". E, we're rooting for you. We also discover that Yuhua is as adorable as she seems. I was worried that she'd be insecure and need validation for everything, but her look for the runway squandered that. Literally everyone told her to not do the caution-tape look, and she did it anyway. And it looked great. It wasn't original, but it served the purpose of the challenge: high fashion, complimentary to her body type, and she owned it.
The winner and the lip sync
Mayhem deserved to win, hands down. Her look was couture AF, and that's extremely impressive considering she had a latex glove on her forehead. She was so deserving of this win, and you could tell all the other queens agreed. I agree with Vanessa and Kalorie being in the bottom two, and I honestly thought it was going to be Kalorie going home. Kalorie's runway energy is awesome, but her overall look hasn't graduated to the level all of the other queens are on. (It's season 10 for crying out loud—center your damn back-corset!) I think that's why Vanessa losing the lip sync felt harder than it was. Kalorie owned it, though, so I have to give it to her. Vanessa was looking at Kalorie the entire lip sync, meanwhile, Kalorie was winning Xtina's heart. Regardless, I don't think Kalorie will last long.
Notables:
I want Yuhua's ombre.
Ru's jumpsuit for the final runway challenge is what I want to be buried in.
Monique gained more points with me with her Queen of Hearts look.
I want Eureka to open Kameron's (perfect, muscular) shell. Get her to talk!
Seriously, can someone get ahold of Blair's parents?
RuPaul's Drag Race airs Thursday at 8pmET on VH1.
Featured image: VH1