American Crime Story: The Assassination of Versace recap: Season 2, Episode 7, "Ascent", Aired March. 7, 2018.
Oh, how we love a dose of the Versace family! This week we watched Donatella on the path to fame after creating the dream dress for red carpets and having to take over her brother's business after finding out he has a rare form of cancer. Donatella has been in the background of this show up until now, and it was nice to see her centre stage.
Here are the 5 best moments of American Crime Story: The Assassination of Versace 2×07:
The dream dress that nobody wanted

This episode shows Donatella trying to be a part of the Versace team, designing her own clothes, however she doesn't seem to have an artistic streak and doubts her ability to take over the company if anything was to happen to Gianni. Gianni confronts Donatella about how unartistic he also is and the pair create the most magnificent leather, belted, bondage dress that soon enough catches the attention of everybody at the 1992 Vogue's 100th Anniversary party. Donatella refused to wear the dress herself at first and believed it belonged on model's, however, Gianni convinces her that she is to become a star and when they both appear on the red carpet, Gianni helps his sister find her confidence and she shines immaculately, with every reporter and photographer begging for her to pose for them.
Although the newly designed dress seemed to be a huge success on the carpet, it seems that is all the dress is made for, as sales became increasingly low due to it's high extravagance. Gianni is outraged by the public not purchasing the dress and appreciating his sister's dedication and hard work. Donatella suggests creating a similar dress, but more low, which doesn't bode well with Gianni, as he reaches for his scissors and cuts away the belts, leaving a simple LBD in it's place.
Gianni's Illness
After Gianni's outburst over people not purchasing his sister's dress, he freaks out because he is unable to hear his sister and his partner. Later on, Donatella tells the staff of Versace HQ that their boss has a rare form of ear cancer and that she will take charge of the business until her brother's return.
Andrew's sugar daddies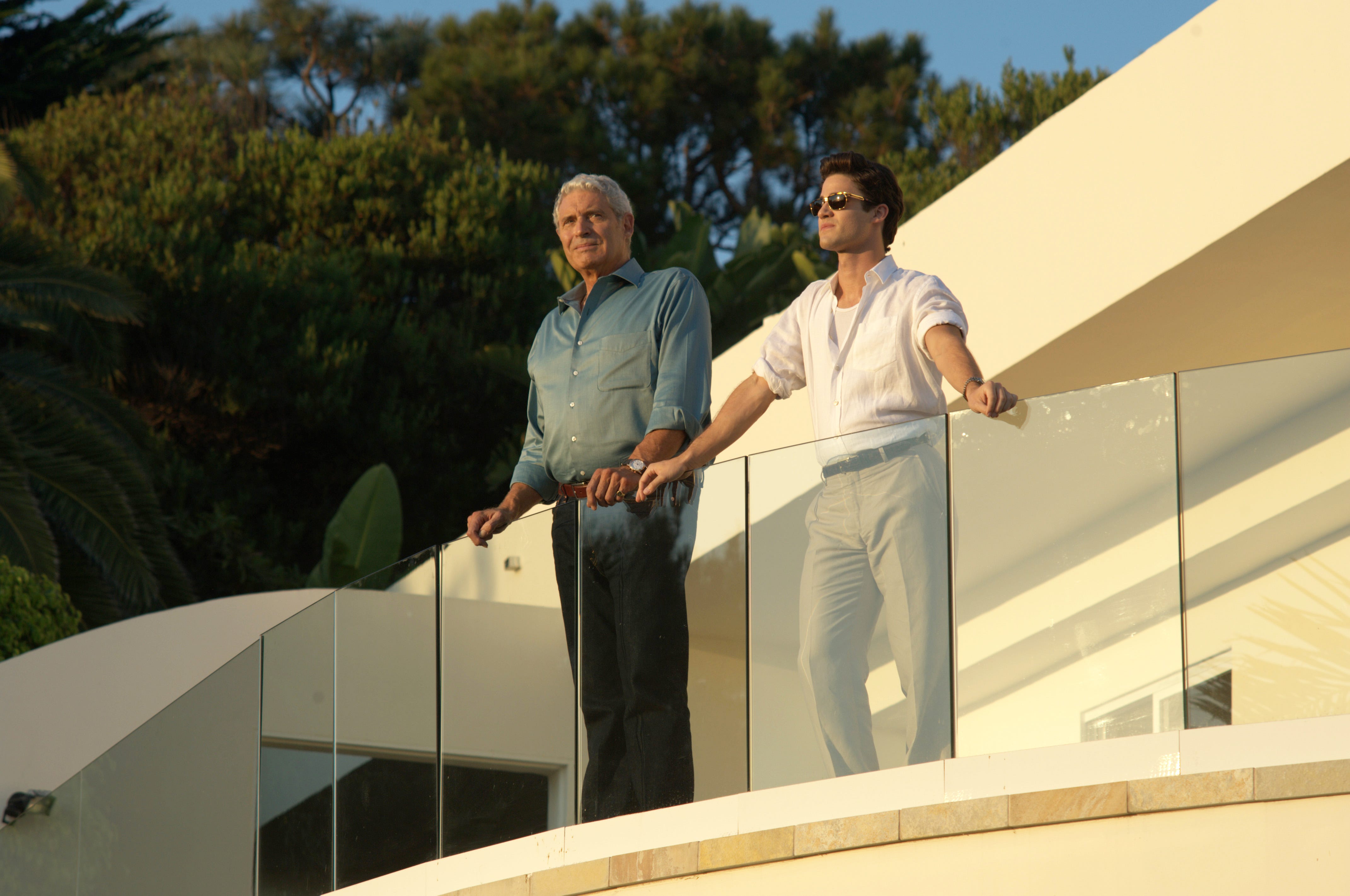 Andrew has always dreamed of a rich and extravagant lifestyle… So what's the best first stop in that direction? An escort agency. Although Andrew has all of the qualities to be a successful escort, the fact that he is an Asian-American leaves him facing rejection, as no man ever requests for an Asian.
Andrew takes being an escort in to his own hands and tries to sell himself. He sets himself on high society rich man Norman, who he purposely bumps in to at an Opera House, setting the motion of what will be a disastrous relationship in the future. Norman introduces Andrew to his other two highly successful friends, Lincoln Aston and David Gallo, finding himself invited to dinner later with the three. Andrew finds himself alone with Lincoln, offering to be his sugar baby – however, after focusing more of his attention on his new found crush, David, Lincoln heads back out to the gay bars.
Lincoln meets Kevin Bond, a man who introduces himself as a straight man, but always finds himself at a gay bar. Kevin goes back to Lincoln's place, however the night ends abruptly when Andrew witnesses Kevin brutally beating Lincoln to death after swiftly going in to panic defence because he thought Lincoln was trying to kiss him.
Later on, Andrew and Norman form a bond over their mutual fear of being a public gay man. Andrew convinces Norman to let him create his dream home, where Andrew later holds this against him when Norman ever tries to kick him out or not give him what he wants.
Norman Bates round 2
Andrew promises his mother that he will take her all over the world and out of the small home they live in now, however, he breaks that promises when he decides to live alone with Norman. This was heartbreaking to watch, as Mary consistently tried to convince Andrew to let her go with him, even offering to do everything for him when they begun their journey. Andrew didn't like how forward his mother was being and there was somewhat a moment of physical abuse, when he throws her in to a wall.
While checking on Mary's injuries, the nurses seem quite wary of Andrew and try to silently hint at Mary to tell the truth about how she really got her injury – however, she continues to tell them that she slipped and Andrew called for an ambulance because he's a good boy.
Andrew and David's First Meeting
We was finally introduced to how Andrew and David came to meet – and it was all down to one drink Andrew requests to be sent to David whilst he sits alone at a bar. David goes over to Andrew and his friends to thank him for the gesture and he joins them for the rest of the night to celebrate Andrew's friends birthday. The first night spent together that we heard of from David in episode 4 beings to pan out in front of us – the intensity of their connection and romance would allow you to believe that this could be a true love story, but, as this show is going backwards, we already know this is a love story that would definitely make for one sick and twisted romance novel.
What did you think to this episode of American Crime Story: The Assassination of Versace? Write up a comment and let us know your thoughts! 
Watch American Crime Story Wednesdays at 10pm on FX.