American Crime Story: The Assassination of Versace recap: Season 2, Episode 6, "Descent", Aired Feb. 28, 2018.
In this episode, we learn a lot more about Andrew and his life prior to the new and luxurious lifestyle. His web of lies begin crumbling, and people who he thought loved him, show that they are also capable of lying. We celebrate Andrew's 26th birthday, where he shows desperation for making David fall in love with him, asking extreme favors from his friends and feeding off of another rich man's money. We also get to see a more vulnerable and human side to Andrew as he reaches out to his mother and thrives in her love that others fail to give him.
Here are the 4 best moments from American Crime Story: The Assassination of Gianni Versace, "Descent" : 
Love is NOT in the air
Andrew begins this episode living the good life; he lives in a luxurious house, he drives a fancy car, he strips butt naked in a pool and he has the most magnificent view. It's Andrew's birthday and the house is jam-packed with people who love him… Or so he thinks. His goal at this party is to make a connection with the 'love of his life', David. To show David how loved his is, Andrew asks Jeff to dress a little smarter and to give him a more luxorious present than what he already gave him… The levels of desperation are embarrassingly high. It seems that a lot of people at this party do not have genuine love for Andrew, but the love he has forced them to give him. Love is most certainly not in the air for Andrew.
"That room is full of people who love me."

"Then that room is full of people who don't know you."
David and Jeff's First Meeting
David and Jeff's first meet up had me right on board the ship and I wish that they were given the chance to have the happy ending they deserved. Their connection was genuine and was taken away in a swift second by Andrew's greed and jealousy. It's safe to say that Jeff has no problem with getting attention from men and David was gripped the second he saw him – when Andrew wanted a solo picture with David, David pulled Jeff straight in to the picture a long with some other men, not really feeling the love that Andrew was feeling.
Beautiful Liar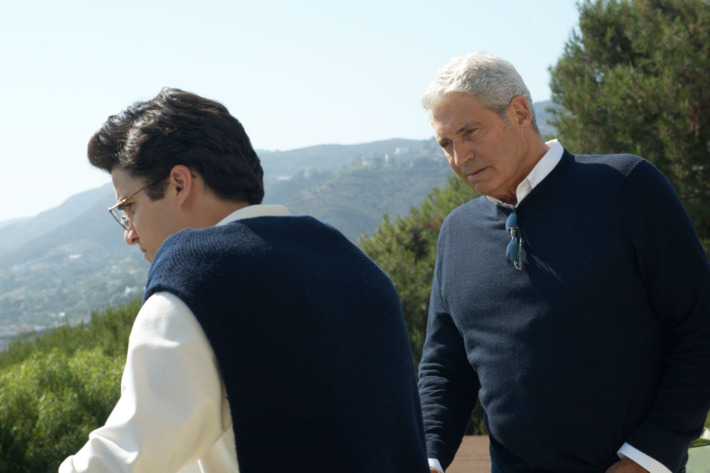 I'm finding it hard to keep writing up headings for how much of a liar Andrew continues to be throughout these episodes, but as we are most likely still crushing over Darren Criss – no matter how scary he is, I think beautiful liar pretty much sums him and his character up. When Andrew and David have a 'romantic' getaway, Andrew showers David in new suits, a fancy hotel suite and all the fancy foods… However, David see's right through Andrew's facade and isn't afraid to confront him, which caused for some serious entertainment. David is willing to take his relationship with Andrew further, if only he will come clean about his life and lay it all out on the table. Andrew does start by telling the truth about his dad; a stockbroker for Merrill Lynch who now has returned to the Philippines, however, as the truth comes out, the lies start to tangle up around them, Andrew clearly getting upset and angry at David's confrontation. It seems that he can't even tell the truth to the so-called love of his life. David, once again, see's right through Andrew's lies and tells him that one day he will make somebody happy… It just most likely won't be him.
Norman Bates, is that you?
Being a fan of Bates Motel,I received some serious Norman and Norma Bats vibes, when Andrew returns to his mother, after his sugar daddy refused to give him what he wanted. We see his mother, Mary, washing away Andrew's emotional wounds in the bath, as he sits curled up feeling sorry for himself… Mary seems to be the only one throughout this episode who shows true love towards Andrew, even if Andrew doesn't return the same love back. We finally see a more human side to the monster we've all come to know and seeing how mentally ill his mother also is, it helps us understand the reason behind why Andrew behaves the way he does.
What did you think to this episode of American Crime Story: The Assassination of Versace? Write up a comment and let us know your thoughts! 
Watch American Crime Story Wednesdays at 10pm on FX.