Dynasty recap: Season 1, Episode 7, "A Taste of Your Own Medicine", Aired Nov. 29th, 2017
It's Thanksgiving for the Carringtons! As you would expect, things don't go anywhere close to the perfectly planned event. Between bites of Turkey and stuffing, come guns, arguing, and football.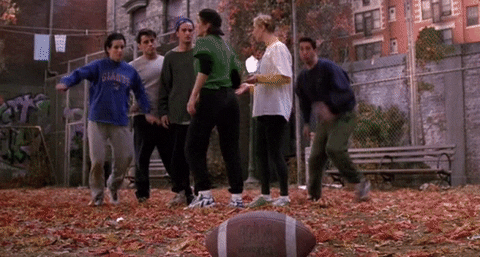 Perfect Thanksgiving
Sammy has no problem pulling his own weight in the kitchen, attempting to help with Thanksgiving dinner. Too bad Anders doesn't like him being in the kitchen. Bug surprise.
Blake has it in his head that everything is perfect and normal, attempting to play football with Stephen. He seems a bit obsessed with a big football game between the Carringtons and the staff. The staff that's paid to play football instead of being at home with their own families. Cool.
Troublesome houseguest
As much as we hate to agree with Blake, Cristal should probably listen to him and kick out Claudia.
Cristal tries to play detective by looking into who is switching out Claudia's medications. Of course, that's done between the football game and trying to convince Blake to get Fallon to come back. She's a busy woman this Thanksgiving.
Claudia's psycho comes out as she sneaks into the Carrington gun room. Sammy catches her, but she knocks him out before he's able to do anything about it. Honestly, that's probably for the best since we don't want to see Sammy hurt. Our thankfulness increases when Claudia locks Anders in the basement. We really would have lost it if she harmed our favorite characters!
Oh, Jeff
Jeff worms his way a bit deeper into our hearts as he makes sure that Fallon knows she's invited to spend Thanksgiving with him. He tells Fallon she knows where he will be, but that ends up not really being where he is anyway. But it's the thought that counts, right? No matter how confusing it is.
Oh, Fallon
Fallon attempts to worm her way back into Michael's good graces by giving him her father's football playbook. We're not really sure why she even wants back in his good graces. We thought she had something starting with Jeff now, but you just never know with that woman. Especially since she seems to have a special relationship with all the members of the team.Blake doesn't pull any punches as he childishly forces Fallon to apologize to Cristal. What's the point? We all know she doesn't mean it.  Her smart ass actions lead to Blake kicking her off their football team. Another big shocker.
Stephen tries to convince Fallon to stay, but she insists it's for the best if she leaves. But Fallon shows her good side as she tells Stephen he needs to stay. This is definitely one of our favorite sibling relationships ever. Fallon decides she should take Jeff up on his offer to the Bahamas. It's such a shame that he is lying to her. How cute would it have been for them to spend Thanksgiving together?
Giving back
With no place left to go, Fallon finds Culhane working at a church to make sure everyone has a Thanksgiving dinner. He doesn't hold anything back as he tells her that he knows the only reason she's there is because she has no place left to go. Then she meets his parents. Seems Fallon isn't the only liar around as she discovers Michael has told his parents he's Vice President of the company. He probably meant to say driver to the Vice President, right?
Fallon impresses all of us by playing nice with Michael's parents, even after they assume she's going to be coming to dinner by Michael's invitation. She is able to keep her smile as she tells them that the person they're thinking of is Michael's girlfriend Kori.
Family make you crazy
Michael and Fallon both prove how adult they are as they have a civilized and mature conversation about family. He tells Fallon she knows the best place for her is at home. Even more shocking is that Fallon actually listens to him. Just in time to face down a gun wielding Claudia with no fear and all sass. Fallon is able to get the truth about Claudia being the one who killed Matthew in no time. Fallon continues getting us to root for her by stepping in front of her father, directly in the path of Claudia. The Carringtons band together and get the gun away from Claudia.
Is there hope for Fallon and Cristal to get along and be friends? Or was it just in light of the holiday spirit? What are Steven and Jeff getting themselves into? Will Cecil Colby be making a dramatic return from prison? What about Cristal and Blake wanting to have a baby? Let us know what you think in the comments below! Be sure to check with Pure Fandom daily for all your entertainment needs!
Watch Dynasty Wednesdays at 9/8c on The CW, and follow along with my live tweets during the show @Sarah_Jeanne17!
Featured image via The CW
Gifs featured via Gifs.com and Tumblr