The Deuce recap: Season 1 finale, "My Name is Ruby", aired Oct 29, 2017
Alright, now. We've had a bit of time to let all of this sink in, and even though we don't want to deal with it…we're going to have to! So much happened on the season 1 finale of The Deuce and we also say goodbye to one of our beloved. Let's get down to it and recap what happened!
Is Ruby symbolic of the end of an era?
We all knew something was up when the episode title featured our girl, Thunder Thighs. But, oh, we were so unprepared for what followed. We got some weird feelings when Candy was shouting for Ruby from her taxi on the way to the premiere, but goes unheard. P.S. did you catch what the premiere was for? Drum roll please…..DEEP THROAT! A movie that changed the industry forever!
Not too much later, we jump to Ruby with a client who doesn't want to pay for her services. In their argumentative dialogue, Ruby holds her own against his demoralizing words shouting back, "My name is Ruby!" It's this line that ends up being her last, as the average guy pummels her through her apartment window above the Hi-Hat, and she falls to her death. UGH! We didn't want to lose Ruby, and certainly not in that way.
We'd also like to take a moment and give a round of applause to Alston for punching C.C. for his "must've been in a hurry" joke at the crime scene. Here's to you, Alston.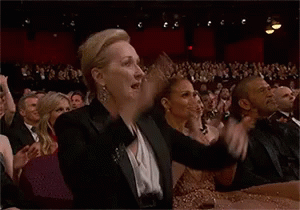 So, is Ruby symbolic of the end of an era? The end of prostitution and the transition into adult film? We think it might be possible, and it might foreshadow where next season is going. The whole industry is about to change. However, she won't be forgotten. Did you peep that fur jacket Candy was wearing? Yea, it was Ruby's. RIP, love!
Candy's underrated speech
We really saw Candy take off this episode. When Harvey calls the studio about his car breaking down, instead of following orders to wait she takes over. *Tear* we've been waiting for this moment, and frankly, Candy, you don't need any man running the studio above you! It would be marvelous to see her get into her own work in season 2.
However, her most shining moment was when we find out about her brother. Candy visits her brother who's in a psych ward for his homosexuality. Candy gives such a heartwarming speech to her brother about not giving a fuck about pleasing their dad or worrying about what the rest of the world thinks. She tries to tell him that things are changing in the world around them (especially in regards to sexuality). You go girl!
Alston's choice: career or relationship
Alston is still toying with his role in the force after his talk with the chief. Meanwhile, he's sleeping with Sandra who is ready to expose everything going on in the streets of NYC, including the corruption in the force. Throughout the episode, Sandra tries to get Alston on as a source so that her boss will let her publish her article. However, Alston knows that the chief wants to clean house from the inside out. The chief asks Alston what his career goals are in the force, in an effort to foreshadow promotions for his loyalty.
Alston has an interest in the detective bureau and it's this interest (along with a little help from Danny tipping off the captain) that ends up winning. Sandra ends up being left with an underwhelming news piece about pimps and prostitutes instead of exposing what she really wanted. So, this leaves us with questions on where their relationship is headed in season 2? The decisions made in the season 1 finale of The Deuce could clearly justify some rocky waters ahead, but we aren't given any conclusion.
So…who takes out the trash?
In this season 1 finale of The Deuce, Vinnie suggests he and Abby find their own place together. With this comes the discussion of if they're exclusive. Like an old married couple, they try to discuss who will take out the trash, and things like that. They decide that they will be together but also see other people, in an open ended conversation. I guess we will see where that goes.
However, there still seems to be some uneasiness in their relationship when Vinnie goes and beats up Eddy, a man who beat his ex-wife Andrea. I mean, man, does he nail him with that billiards pole or what? Abby seems to be a little perturbed that he's protecting his ex-wife.
Season 2 predictions
First things first, we see Frankie bringing together the real life partitioned peep show masturbation booths. You best bet we'll be seeing those next season.
We also bet Paul will be opening up his own gay bar downtown.
More and more and more and more parlors! It's no surprise that Rudy and the boys check out another possible parlor location. While Vinnie is trying his best to stay out of the sex industry with a few "respectfully, fuck you" lines, we know Bobby and Frankie are in it for the long run. Did I hear Frankie say that after paying off the cops they've probably pulled in about $20k in 4 weeks? Even if that is to split, they can't complain about that kind of money in the '70s.
There will most likely be trouble on the horizon for Bobby and Fran. Bobby bought Fran a new ring….and one for Tiffany, his favorite blonde from the parlor. They're getting handsy at the end of the episode. Not cool, Bobby.
Lori moves on from C.C. (or so we hope). He calls her a bitch when they can't get into the movie premiere. Girl, you don't need him!
What else do you expect to see in season 2? What were your favorite parts about the season 1 finales of The Deuce? Let us know what you have to say!