This post contains spoilers from The Walking Dead season 8, episode 3, "Monsters," which aired Nov. 5.
The war still rages on, and while Negan is in hiding (see: stuck in a trailer with Father Gabriel), Rick and the gang are doing their darndest to kill every single Savior left on the planet. And since this is The Walking Dead, we can assume that at least one important person will die as a result of this all-out war against Negan. We've narrowed down four characters who are most likely to end up six-feet-under by season's end.
Ezekiel
Here's why: It's not that we don't love Ezekiel — we do. But there has definitely been some criticism over the character this season, mostly stemming from his larger-than-life demeanor, speeches, and personality. The character of Ezekiel worked better last season when we had entire episodes dedicated to him where the tone of the episode could match his eccentric characteristics. It all made sense and felt fun. But this season, he's mixed in with the morose and dark world we're used to, and his quirkiness is a stark contrast to that of our main characters. As a result, his scenes this season just tend to feel a bit… off.
Our prediction: He is integral in helping Rick and the group win in the war, but ends up dying in the process. It's just hard to imagine a future for him on the show with how grandiose of a character he is.
Carol
Here's why: Don't hate us! We certainly don't want this to happen, but it would make sense for her character. Carol found peace (somewhat) when she was living alone. She already left the group and clearly expressed that she mentally couldn't be a part of this world any longer. Yet, she was drug back in by her love for her friends. She's a valuable warrior, but in the end, she still doesn't want this life. Much like how Tyreese's death was almost a blessing because he wasn't meant for this cruel world — maybe it will be Carol's time too when she feels like she's done her duty.
Our prediction: Carol goes out in a blaze of glory, protecting her loved ones, and finally finds her peace.
Morgan
Here's why: Morgan can operate on either one of two extremes: kill everyone or kill no one. Mercy or ruthlessness. He doesn't know how to walk that fine line of humanity — that's clear in "Monsters" when he ultimately walks away from the group after having a mental breakdown of sorts. There may be more to tell when it comes to Morgan's story, but he's tried living both ways. While he's served as a catalyst for storylines because of his extreme nature (one way or the other), things just don't seem to work out for him long term because there is no balance. It's a cruel world, and much like our reasoning for Carol above, perhaps Morgan's death is how his story comes full circle.
Our prediction: Morgan goes crazy but ends up sacrificing himself to save someone from Rick's group at the last minute.
Judith
Here's why: This is certainly a touchy one to talk about, but there is some serious evidence pointing to Judith's death. It all has to do with Gracie. Yes, the little baby that Rick saved from the Savior compound and handed off to Aaron.
In the flash forward from episode one, we see an older Judith running to her father, stuffed bunny in hand. But, what if that isn't Judith at all — what if it's actually Gracie? Gracie also had a stuffed bunny in her crib. Are the writers trying to tell us something here?! Otherwise, what's the point of even throwing a new baby into the mix? It wouldn't be to make a statement about Rick still being a good guy. We already know that he wouldn't harm a baby.
But hey, if this all turns out to be true, we'd like you to know we called this theory on Twitter the second little Gracie popped up on the screen. #horntooted
Our prediction: It's all just too morbid to think about, but we'll go out on a limb and say Negan will have something to do with it.
Happy prediction: Judith is also there in the future somewhere. She's not dead. She's just off helping prep for the town's Fall Festival with her friends.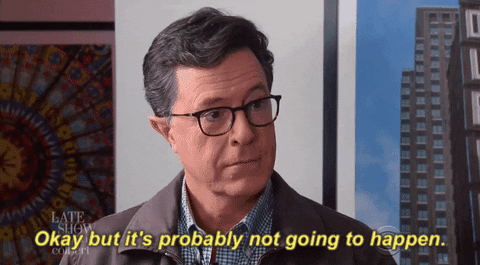 Recap and discuss the show with us all season on our Talking TV With Liz & Lindi podcast!
(All images property of AMC)