Unless you've been living under a rock, you know that the beloved cast of USA's Psych will be returning soon in a TV movie.
Until now, that's about all we knew. Lucky for us, Psych attended New York Comic Con and gave us a lot of new info about the upcoming film.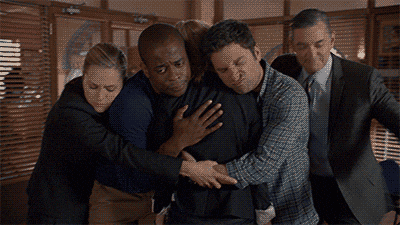 We have a release date!
Psych: The Movie will be premiering on December 7th, 2017. That's less than two months, folks!
It's… JOHN CENA!
That's right! John Cena will be reprising his role as Juliet's brother in the movie!
Gus's love interest will be played by Dule Hill's real life love!
This bit of news has been circulating for a while, but it was officially confirmed at New York Comic Con that Dule Hill's fiancee, Jazmyn Simon, will play his love interest in the movie.
"Dule is in love with her, and she's in love with him, and you see it in every scene they share together." -James Roday
More seasons to come?
Steve Franks was extremely open to the idea of more movies or seasons of Psych after this one. Franks stated that his plan is six movies, but Maggie Lawson took things up a notch and suggested ten! There's a catch, though. The cast heavily stressed that Psych cannot continue if they don't get fantastic viewership on December 7th, so if you want more Psych, watch live!!
Don't expect a full resolution – ever.
Steve Franks revealed that Psych will always always end on a cliffhanger. Partly because that's how he likes it, and partly because he never wants to fully shut the door on more Psych. He doesn't want to give the network any reason to believe the show is wrapped up.
"There's always going to be a cliffhanger as long as there's a Psych movie." – Steve Franks
This is good news and bad news. Good, because we also don't want Psych to ever be officially over. Unfortunately, though, all good things must come to an end, and we are a little concerned about never getting our nice happy ending wrapped in a pineapple printed bow.
The first 15 minutes of Psych: The Movie
Warning: Things are about to get very spoilery.
We had a chance to watch the first fifteen minutes of the upcoming movie, and you're going to love it. Without giving too much away, here are some tiny tidbits to hold on to until December:
The theme song plays early on in the movie, and yes, it's amazingly nostalgic.
"Shules" shippers, rejoice! Shawn and Juliet are still together, and still engaged.
Shawn is still the same old Shawn, though, and he has still not replaced her stolen engagement ring. This means the show opens with a ringless Juliet – but don't worry. It doesn't mean she's single.
Shawn and Gus's dynamic has not changed one bit, and the opening scene is a really fantastic example of it. It's hilarious, and it's just so Shawn and Gus.
Gus is once again working as a Pharmaceutical salesman. Shawn is still a fake psychic.
The movie is set in San Francisco, but Santa Barbara will get some play, according to Steve Franks.
Here's a fun one: The new Psych office is an inch for inch replica of a certain shop in a certain 80's classic movie. And the name of the business is different than simply "Psych."
The Psych movie feels like returning home, can we can't wait to see the entire thing. If you can't wait either, stick with us here at PureFandom.com for all things Psych, leading up to the movie!
Psych: The Movie airs December 7th, 2017 on USA Network.
(Featured image via Cindy Ord/USA Network.)